Ege T. Kavalali, William Stokes Professor of Experimental Therapeutics, has been named chair of the Department of Pharmacology in Vanderbilt University School of Medicine Basic Sciences. National leaders in pharmacology, members of the pharmacology department at Vanderbilt and Lawrence J. Marnett, dean of the School of Medicine Basic Sciences, all provided input in his selection.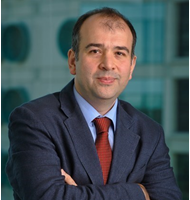 Kavalali joined the pharmacology faculty in September 2018 and has served as vice chair for research for one year and acting chair of the department since 2019. Across the discipline, Kavalali is well known for his seminal contributions on synapse formation and function in the central nervous system.  
"We are very fortunate that such an outstanding scientist is willing to assume the leadership of a premier department," Marnett said. "We look forward to the department ascending to new heights under Ege's leadership." 
As leader of the department of pharmacology, Kavalali is responsible for 78 staff and 54 faculty members. The department is associated with several interdisciplinary centers, including the Vanderbilt Brain Institute, the Vanderbilt Center for Addiction Research and the Warren Center for Neuroscience Drug Discovery. The department is ranked seventh nationally in overall National Institutes of Health research funding.  
"I am honored to serve as the chair of one of the most prominent departments of pharmacology in the country," Kavalali said. "I look forward to working with our faculty to foster creativity, new discoveries, an outstanding training environment and attract the best talent to Vanderbilt."  
Kavalali's lab focuses on the molecular basis and functional consequences of heterogeneity among synaptic vesicle recycling pathways within individual synapses and uses novel electrical and optical recording techniques as well as molecular tools. He discovered that there are two kinds of neurotransmitter release—referred to as "spontaneous" and "evoked"—which are segregated by their molecular mechanisms and function. These studies gave rise to the hypothesis that spontaneous neurotransmission acts as an autonomous neuronal signaling pathway independent of action potential-evoked synaptic transmission. In addition, Kavalali and colleagues have identified spontaneous neurotransmission-dependent signal transduction mechanisms that are required to trigger rapid antidepressant action. 
Author of more than 135 peer-reviewed articles, review papers and book chapters, Kavalali is a frequently invited guest speaker around the world on topics related to the brain and neuroscience.  
He is recipient of the Humboldt Research Award, member of the Society for Neuroscience, recipient of the NARSAD Distinguished Investigator Award from the Brain and Behavior Research Foundation and a member of the American Association for the Advancement of Science. He sits on the editorial board of the Journal of Neuroscience Research and Synapse and is a frequent reviewer for leading academic journals, including Cell, eLife, Nature Neuroscience and Science, among others.  
Kavalali earned his undergraduate degree in electrical engineering at Bogazici University in Istanbul and his Ph.D. in biomedical engineering from Rutgers University. He completed his postdoctoral studies in molecular and cellular physiology at Stanford University and in 1999 joined the faculty at the Center for Basic Neuroscience at UT Southwestern. Kavalali spent 19 years at UT Southwestern as professor of neuroscience and of physiology, as well as the Rosewood Corporation Chair in Biomedical Sciences. He also served as chair of the UT Southwestern graduate program in neuroscience for eight years.