Media Inquiries
Latest Stories
Graduate student Catherine Shelton has been selected as one of two students nationally to receive the ninth annual Gut Microbiome, Yogurt and Probiotics Fellowship grant from Danone North America, the fresh dairy and plant-based products company. Shelton will use her grant to fund her research on identifying early-life microbiota components that may prevent obesity in children.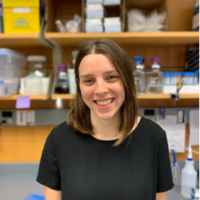 The Danone Fellowship Grant is awarded to incoming or current graduate students who have demonstrated an interest in exploring the gut microbiome, probiotics and yogurt to better understand how they help support and maintain human health and wellness. This year's award is $25,000.
"Danone North America strives to empower scientific, creative minds," said Miguel Freitas, vice president of scientific affairs at Danone North America, in a release. "We recognize that supporting the pursuit of academic and scientific excellence will lead to meaningful advancements in the study of human health."
"I am honored to be selected as one of the 2020–21 Danone Fellowship Grant winners," Shelton said. "I am very excited to receive this grant as it will help advance my scientific career and support my research. The role of the early-life microbiota in childhood weight gain is largely unknown. I'm excited to address this critical gap in knowledge and gain a deeper mechanistic understanding of how the early-life microbiota protects against obesity."
Research has shown that early perturbation of gut microbiota—the microorganisms in the intestines—by environmental triggers like antibiotics or a high-fat diet may cause childhood obesity, Shelton explains. While these studies suggest that the early-life microbiota and their metabolites may be protective against childhood obesity, their specific protective role in host metabolism remains unknown. The purpose of Shelton's research is to find ways the gut microbiota supports metabolic health in early life.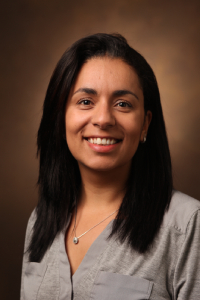 "I am very proud of Catie for receiving the Danone North America Gut Microbiome, Yogurt and Probiotics Fellowship. This award is a testament to Catie's outstanding potential as a scientist," said Mariana Xavier Byndloss, assistant professor of pathology, microbiology and immunology. "The fellowship will be a valuable support to her groundbreaking research on understanding the mechanisms by which beneficial microbes activate protective mechanisms in our gut to protect against childhood obesity."