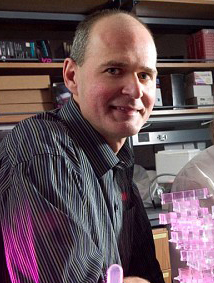 Bruce Carter, professor of biochemistry and an associate director of the Vanderbilt Brain Institute, has been appointed to the scientific advisory board of the CMT Research Foundation. He joins a team of international experts assisting the foundation with its research directions and funding strategy in combating Charcot-Marie-Tooth disease.
The debilitating disease, caused by spontaneous genetic mutations, results in the loss of sense and movement ability of muscles in the arms, hands, legs and feet. CMT affects one in 2,500 people in the U.S., and there is currently no cure or treatment.
"I'm enthusiastic about being part of the CMT Research Foundation's scientific advisory board, not only because I have been studying Schwann cell biology [the cells essential to development and regeneration of peripheral nerves] for many years, but also because my nephew has a severe form of CMT," Carter said in a release. "Efforts to find cures for CMT appeal to me intellectually, scientifically and personally in a poignant way."
Recently, Carter and Charles Sanders, associate dean for research and professor of biochemistry, successfully identified mechanisms contributing to CMT. In November 2020, the researchers received funding for therapeutic development from Ancora Innovation LLC, a Deerfield Management company that supports Vanderbilt University's innovative life science research.
The CMT Research Foundation is a nonprofit dedicated to delivering treatments and cures for CMT. The foundation's scientific advisory board consists of leading experts and scientists worldwide who dedicate their time and talents to guide the funding and delivery of CMT treatments and cures. The foundation invests in research exclusively focused on drug development, pursuing unconventional strategies to advance scientific discovery.