Ancora Innovation LLC, a Deerfield Management company that supports Vanderbilt University's innovative life science research, will fund further research into therapeutics for Charcot-Marie-Tooth disease, an inherited condition that damages peripheral nerves. This is the third Vanderbilt project Ancora has funded.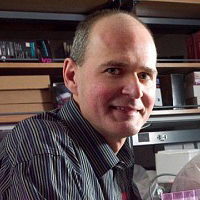 Charles Sanders, associate dean for research and professor of biochemistry, will continue to lead research and pursue a therapeutic treatment for Charcot-Marie-Tooth disease, a disease that affects one in 2,500 people. His lab is joined on the Ancora project by that of Bruce Carter, professor of biochemistry and associate director of the Vanderbilt Brain Institute.  
"Professors Sanders and Carter are true innovators of a promising therapeutic for this debilitating disease," said Vice Provost for Research Padma Raghavan. "I am delighted that this project has been advanced through our Ancora partnership with Deerfield and grateful to the Center for Technology Transfer and Commercialization team—particularly Alan Bentley and Margaret Read—for their support to develop this project." 
"Reviewing the work of Professor Sanders' lab was a strong reminder of the caliber and translational quality of research that comes from our colleagues in Basic Sciences," said Peter Donofrio, chief of the neuromuscular division and professor of neurology at Vanderbilt University Medical Center, who provided insight on clinical development opportunities for the project. "It was clear that the lab benchwork deserved to progress to clinical study, so I am very pleased to see this partnership come to life."  
"Our collaboration leverages the academic innovative life science research and Deerfield's expertise in accelerating state-of-the-art drug development," said Deerfield partner William Slattery. "We are thrilled to work with Professors Sanders and Carter and to support the translation of promising early discoveries into a potential treatment." 
The Office of the Vice Provost for Research and the Center for Technology Transfer and Commercialization continue to assist faculty interested in working with Ancora by providing advice and guidance and by sponsoring educational programming focused on drug discovery and development.