Media Inquiries
Latest Stories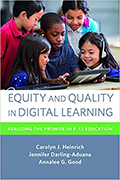 Equity and Quality in Digital Learning: Realizing the Promise in K–12 Education (September 2020, Harvard Education Press) by Carolyn Heinrich, Patricia and Rodes Hart Professor of Public Policy and Education, Jennifer Darling-Aduana, PhD'20, and Annalee G. Good
Equity and Quality in Digital Learning identifies and presents specific strategies and practices for using digital tools to reduce inequities in educational opportunities and improve student outcomes. The authors have a related blog post on the Harvard Education Publishing site at vu.edu/digital-equity.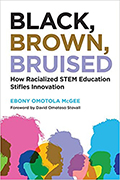 Black, Brown, Bruised: How Racialized STEM Education Stifles Innovation (October 2020, Harvard Education Press) by Ebony Omotola McGee, associate professor of teaching and learning
Drawing on narratives from hundreds of Black, Latinx, and Indigenous individuals, McGee examines the experiences of underrepresented racially minoritized students and faculty members who have succeeded in STEM. Based on this extensive research, she advocates for structural and institutional changes to address racial discrimination, stereotyping, and hostile environments in an effort to make the field more inclusive.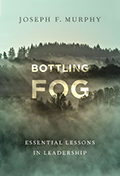 Bottling Fog: Essential Lessons in Leadership (August 2020, Columbia, Teachers College Press, August) by Joseph Murphy, Frank W. Mayborn Professor of Education
Bottling Fog is the culmination of 50 years of work to capture the core ingredients of leadership. Murphy, a preeminent scholar of leadership, has compiled this book of short and thoughtful lessons designed for today's busy professional. He unpacks the nucleus of leadership and presents it in a way that sees the fog and shapes it into meaningful forms, not textbooks or lectures.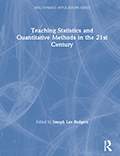 Teaching Statistics and Quantitative Methods in the 21st Century (August 2020, Taylor & Francis) edited by Joseph Lee Rodgers, Lois Autrey Betts Professor of Education and Human Development and professor of psychology
This work provides a guide for revising and expanding statistical and quantitative methods pedagogy. It is useful for novice and seasoned instructors at both undergraduate and graduate levels, inspiring them to use transformative approaches to train students as future researchers.