Media Inquiries
Latest Stories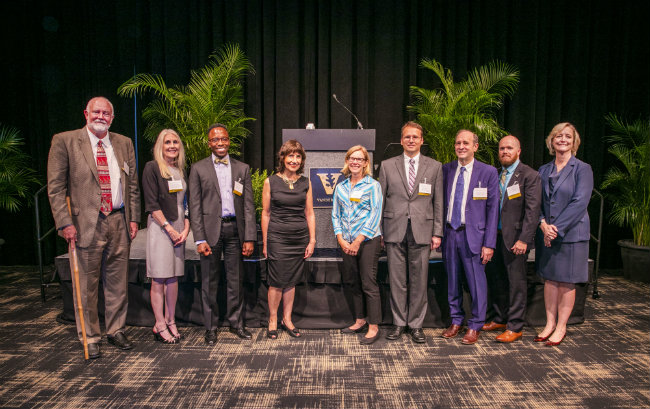 Vanderbilt's eight newest endowed chair holders were recognized by Interim Chancellor and Provost Susan R. Wente, deans, colleagues, family members and donors Sept. 16 at the Student Life Center.
Wente noted in her opening remarks that endowed chairs ensure Vanderbilt can attract and retain extraordinary scholars across all disciplines.
"Our honorees, models of excellence in their teaching and research, continue to distinguish themselves as leaders and pioneers in their fields," Wente said. "They embrace a spirit of collaborative culture and serve as outstanding mentors in many different areas of our Vanderbilt community."
Wente expressed gratitude to the university's visionary philanthropic partners, whose support make the endowed chairs possible.
A total of 299 chair holders have been honored since Chancellor Emeritus Nicholas S. Zeppos announced an initiative in August 2010 to recruit and retain outstanding scholars and teachers through endowed chairs. In addition, the number of endowed chairs at Vanderbilt more than doubled from 200 to 434 during Zeppos' time as chancellor.
The following faculty members were honored:
Nancy Carrasco, Joe C. Davis Chair in Biomedical Science
Rogers P. Hall, Wachtmeister Family Chair
Sarah E. Igo, Andrew Jackson Professorship
David Merryman, Walters Family Chair
Mattias K. Polborn, E. Bronson Ingram Chair in Economics
Peter L. Rousseau, Gertrude Conaway Vanderbilt Chair
Sean B. Seymore, New York Alumni Chancellor's Chair
Sandra F. Simmons, Paul V. Hamilton, M.D. Chair in Geriatrics
Among those attending the ceremony were Jane Cousins and Hannah Kestner, who are members of the Wachtmeister family; and Howard Kittell, president and CEO of the Andrew Jackson Foundation.
Wente concluded the endowed chair ceremony—the first of the academic year—by thanking the family, friends and colleagues of the honorees for their support of the faculty members' achievements.