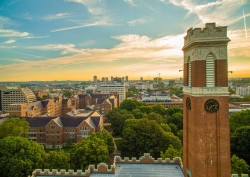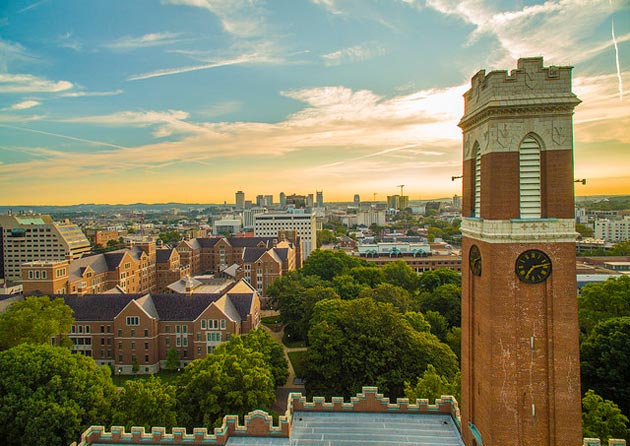 Over the course of the 2018-19 academic year, 31 faculty and other members of campus contributed their time, attention and energy to the process of supporting and nominating exceptional candidates for prestigious national awards. These partners worked with the Career Center fellowships team to prepare candidates for national review panels and interviews and to help them develop research plans and move through the application review process.
Through the support of these faculty partners, many Vanderbilt students were named semi-finalists and recipients of competitive national awards across all schools of the university. Eight students have been named Fulbright finalists and awarded grants, and eight students were named alternates, an important designation as some alternates subsequently become grantees. In addition, Vanderbilt students received the Knight-Hennessy scholarship, the Udall Scholarship, the Keegan Traveling Fellowship and the Yenching Scholarship. In addition, one alumna was named a Rhodes finalist, and one student achieved finalist status for the Truman Scholarship.
In addition to the direct support of the 31 campus partners below, many more faculty members provided critical support as essay reviewers, recommendation letter writers and mentors as students pursued these and other competitive awards.
Fulbright experts, reviewers and interview panelists
Scott Aikin, assistant professor of philosophy, director of undergraduate studies in the Department of Philosophy
Anja Bandas, program director, McTyeire International House
Ralf Bennartz, professor of Earth and environmental sciences
John Bradley, director of the Writing Studio and Tutoring Services
Carrie Cargile, language teaching specialist, English Language Center
Joy Calico, Cornelius Vanderbilt Professor of Musicology
Corbette Doyle, senior lecturer, Peabody College Department of Leadership, Policy and Organizations
Shannon Daniel, director of the English Language Learner M.Ed. Program; senior lecturer, Department of Teaching and Learning
Marshall Eakin, Distinguished Professor of History; interim chair, Department of History
Brad Hawkins, practicum director, M.P.H. Program
Ashley Heaton, study abroad adviser and outreach coordinator, Global Education Office
Chalene Helmuth, senior lecturer and affiliated faculty, Center for Latin American Studies and Department of American Studies
Martha Jones, associate professor at the Center for Medicine, Health and Society
Bryan Lowe, assistant professor of religious studies
Richard McGregor, associate professor of religion and Islamic studies
Ole Molvig, assistant professor of history, assistant professor of communications of science and technology, assistant director of the Vanderbilt Institute for Digital Learning
Jessica Oster, assistant professor of Earth and environmental sciences
Cynthia Paschal, senior associate dean for undergraduate education, associate professor of biomedical engineering, associate professor of radiology and radiological sciences
Thomas Schwartz, professor of history, professor of political science, professor of European studies
John Sloop, associate provost for education development and technologies, director of the Vanderbilt Institute for Digital Learning
Greg Swanson, financial manager, Dean of Students Office
Ben Tran, associate professor of Asian studies and English
Truman Nomination Committee and preparation panelists
Kitt Carpenter, E. Bronson Ingram Professor of Economics, director of the Program in Public Policy Studies
Xiu Cravens, associate dean for international affairs, associate professor in the Department of Leadership, Policy and Organizations
Tracey George, interim vice provost for faculty affairs, Charles B. Cox III and Lucy D. Cox Family Chair in Law and Liberty, professor of political science
Florence Sanchez, associate professor and associate chair of the Department of Civil and Environmental Engineering, director of graduate studies in environmental engineering
Thomas Schwartz, professor of history, professor of political science, professor of European studies
Goldwater Nomination and Review Committee
Beth Bowman, assistant director, Graduate Programs in Biomedical Sciences, Vanderbilt University School of Medicine
Alexander Maier, assistant professor of psychology, assistant professor of ophthalmology and visual sciences
Todd Peterson, associate professor, Vanderbilt University School of Medicine
Paul Sheldon, professor of physics and astronomy
Keegan Traveling Fellowship reviewer
Elizabeth Meadows, assistant director, Curb Center
The Career Center fellowships team expresses its gratitude to the faculty across campus who engaged in supporting students.
"Our strong faculty support has had a direct impact on our students' success this year," Jackie Sheridan, associate director of Post-Baccalaureate Opportunities said. "From sparking their passions to serving as mentors and recommenders to preparing finalists for challenging interviews, the faculty here at Vanderbilt University are dedicated to seeing their students excel."
If you are a faculty member and are interested in supporting students applying for fellowships, please contact jaclyn.sheridan@vanderbilt.edu. For more information about applying for national fellowships, visit the Career Center website.