Like many medical students, Kathleen Gallagher knew by the time she'd finished high school biology that she wanted to become a doctor. It was the tragedy of Sept. 11, however, that launched her journey into trauma surgery.
As a sophomore at Bellarmine University in Louisville, Kentucky, Gallagher decided to join the Kentucky National Guard as a combat medic after hearing about the difficult tour of duty her cousin had experienced in the Middle East. "That was the impetus for me to start thinking of something beyond myself," she says. Six months later, she was deployed to a prison camp in Iraq.
She returned from that assignment in 2009 and once again took up her undergraduate studies in biochemistry and molecular biology. Yet most of the people Gallagher treated in Iraq were healthy young soldiers in a secure location, which left her wanting more experience in the field.
"It was definitely the more taxing of the two deployments, but much more rewarding."
That opportunity arrived in 2011. With just one semester left, she and several friends who were also medics signed up for a deployment in Afghanistan. "My parents weren't thrilled," she adds.
The experience, however, changed her life and shaped her eventual medical education at Vanderbilt. "It was definitely the more taxing of the two deployments, but much more rewarding," says Gallagher, who worked closely with domestic violence victims among the local population in Afghanistan.
She left the military and finished her undergraduate studies, but the desire to train others in the basic lifesaving skills she had learned—essentially, how to control bleeding with tourniquets, pressure dressings and other simple methods—never went away. "I can remember many times during my military service thinking, 'This needs to be taught as frequently to civilians as CPR.' Perhaps more," she says.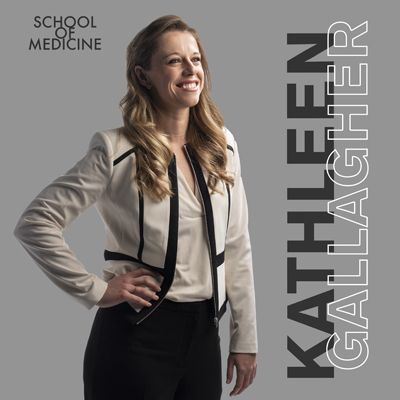 Arriving at the School of Medicine, Gallagher met members of the Vanderbilt Trauma Team who introduced her to a new program called "Stop the Bleed," which was developed by the American College of Surgeons after the 2012 school shootings at Sandy Hook Elementary in Connecticut. During her third year of medical school, Gallagher led development of Stop the Bleed courses to teach during Vanderbilt's medical-student orientation, one of the first such programs in the country. "My goal with incoming students was to set up a system in which we could introduce them to the basic skills in the first year, and then anyone interested could go on to become an instructor," she says.
Gallagher is recipient of four scholarships at Vanderbilt School of Medicine: the Willett H. Rush Scholarship, the Dr. Leslie M. and Evelyn C. Smith Medical Scholarship, the David Freedy 1993 School of Medicine Class Scholarship, and the Ann Minot Endowed Scholarship.
As Commencement approaches, and Gallagher begins a trauma surgery residency at Vanderbilt University Medical Center, she plans to remain involved with the national Stop the Bleed organization.
Whatever her involvement, Gallagher says the more critical issue is gun violence. As a former member of the military, she's torn on the issue politically.
"But," she says firmly, "it needs to be solved."
More News from Vanderbilt