Media Inquiries
Latest Stories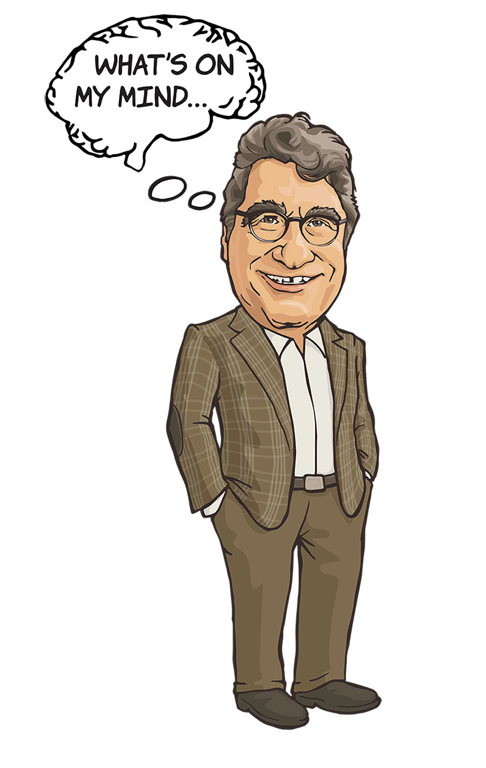 As our students return to class today and we resume our work after a well-earned holiday rest, our thoughts and efforts turn eagerly to the opportunities and promise that a new year holds. And in 2019, our future is indeed bright.
Last week, the most diverse Congress in American history convened, with a record number of women and notable barrier-breaking firsts. Congress increasingly looks more like the constituents they represent, and that is a bright point early in the year. We value our elected representatives and our ability to work with them on our research and education priorities. We look forward to continuing that this year with our elected officials in Washington, including newly elected Sen. Marsha Blackburn, the first woman to represent Tennessee in the U.S. Senate, and our congressman, Jim Cooper, now entering his ninth term representing Vanderbilt. The historic mid-term elections have furthered important national dialogue on the need to create and hear viewpoints that truly reflect our communities; we continue to create opportunities for those discussions here at Vanderbilt.
A diverse set of thinkers and visionaries from across disciplines will come to Vanderbilt to directly connect with our community on the most salient and timely topics of the year. Next Thursday, former U.S. Sen. Jeff Flake and This American Life producer Zoe Chace will join me and Distinguished Visiting Professor Jon Meacham, who holds the Carolyn T. and Robert M. Rogers Chair, for the Chancellor's Lecture Series. On Jan. 21, we will celebrate and honor the Rev. Dr. Martin Luther King Jr. with a series of events culminating in a keynote from White House correspondent April Ryan. Equity, Diversity and Inclusion will host a lecture and Q&A with Angie Thomas, author of the best-selling novel The Hate U Give, on Feb. 13. And on May 9, we will welcome groundbreaking tennis champion Venus Williams as Senior Day speaker.
In February, incoming Vice Chancellor for Athletics and University Affairs and Athletics Director Malcolm Turner will officially step into his new role. It will mark the beginning of a new era for Vanderbilt Athletics, and the conclusion of a remarkable 15 years of leadership by David Williams for the Commodores. Under Malcolm, we will see the upward trajectory of our athletics program continue as we provide an elite education for our elite student-athletes; 2019 will be the year of the Vanderbilt Way.
This year, we will continue to build out programs that educate the whole person. We will continue to recruit and develop top faculty who are leading researchers in their fields and dedicated to mentoring our students. We will continue to grow programs that create career opportunities for faculty members and create funding opportunities for creative research ideas. In a few weeks, we'll announce the next class of the Chancellor's Faculty Fellows and the first cohort of the Public Voices Fellowship. And, throughout 2019, we'll continue to raise funds for the Faculty Fellowship Challenge to develop and retain the next generation of faculty legends.
We will see the West End corridor transformation continue, with further progress on the new residential colleges that will eventually extend along West End Avenue on the northwest end of campus.
While we know some of what will unfold in the coming year, there will undoubtedly be surprises that arise, successes that we weren't anticipating, and unforeseen obstacles that we will come together to address. We ushered in 2019 with a big potential challenge for higher education: the ongoing partial government shutdown. Regardless of your stance on the issues that brought about the situation, those of us in higher education can agree that a prolonged shutdown poses a threat to our ability to conduct research. The partial shutdown could stall research funding from certain federal agencies, such as the National Science Foundation, NASA, EPA and the National Endowment for the Humanities, and delay discoveries that benefit Americans and society at large.
Let's hope that does not happen and that our elected leaders look out for our nation's best interests and work together to find a solution to the current impasse.
Vice Chancellor Nathan Green and Assistant Vice Chancellor for Federal Relations Christina West are communicating with our federal elected officials about the impact of the partial shutdown on Vanderbilt and are urging them to come to a resolution, and are keeping us aware of ongoing developments. Vice Chancellor for Academic Affairs and Provost Susan R. Wente has shared direction with faculty and academic leaders about federal grants and contracts impacted by the partial shutdown. Vanderbilt's Office of Contract and Grant Accounting and the Sponsored Programs Administration Office are working to provide guidance as well.
We will continue to communicate with those in our community affected by the partial shutdown for as long as it lasts. Among my earliest hopes for the new year is that Congress comes to an agreement to reopen federal government offices as quickly as possible.
As we embark on this new year, I am deeply enthusiastic and optimistic about the university's future and success, which is grounded in the values that unite us as a community. We will leverage our trans-institutional strengths to conduct pathbreaking research. We will educate the whole person—intellectually, emotionally and socially. We will focus on ensuring every member of our community has the ability to thrive on our campus. We will do each of these in our relentless effort to create positive change in the world. Together, we will continue to grow, to question, to discover and to lead. I wish you the very best for a productive, enriching and successful spring semester and look forward to our shared progress and success.