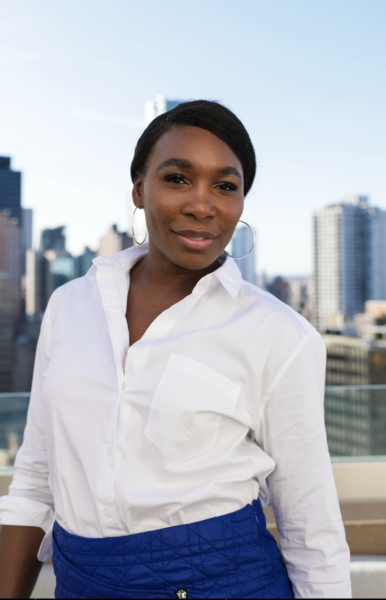 Venus Williams—an international tennis champion, entrepreneur and author—will receive Vanderbilt University's prestigious Nichols-Chancellor's Medal in May 2019, when she addresses graduating seniors and their families.
Williams will speak on Senior Day, which is Thursday, May 9, at Memorial Gymnasium. Senior Day precedes Vanderbilt's annual Commencement ceremony by one day, and is among the highlights of three days of activities honoring graduates, their families and friends.
The Nichols-Chancellor's Medal is one of the university's highest honors, given to individuals who define the 21st century and exemplify the best qualities of the human spirit. It was created and endowed by Vanderbilt Law School graduate Ed Nichols and his wife, Janice, in honor of Edward Carmack and Lucile Hamby Nichols.
Williams has been ranked No. 1 by the Women's Tennis Association on three occasions. She is a seven-time Grand Slam champion, winner of five Wimbledon championships and recipient of four Olympic gold medals.
Williams, who currently lives in Palm Beach Gardens, Florida, was born in 1980 in Lynwood, California. She learned to play tennis on public courts in Los Angeles, turning professional at the age of 14. She and her sister Serena have been fierce competitors in many tournaments through the years, but they have also won 22 titles playing doubles together.
Williams has been a longtime proponent for gender equality, and she was among those who fought successfully for Wimbledon to award equal pay to men and women tennis players. Williams' many honors include being named Glamour magazine's "Woman of the Year," ESPN's "WTA Player of the Year" and in the Forbes' "Celebrity 100."
In 2007, Williams started EleVen, a fashion-forward activewear brand. She also is founder and CEO of V Starr Interiors, a full-service interior design firm based in West Palm Beach, Florida.
Williams earned a bachelor of science in business administration from Indiana University East in 2015.
Williams is the co-author of Come to Win: Business Leaders, Artists, Doctors, and Other Visionaries on How Sports Can Help You Top Your Profession, which includes contributions from former CEO and author Jack Welch, fashion designer Vera Wang, actor Denzel Washington, and former Secretary of State Condoleezza Rice.
She also wrote Venus & Serena: Serving from the Hip.
For more information about Senior Day and other events, visit Vanderbilt's Commencement website.