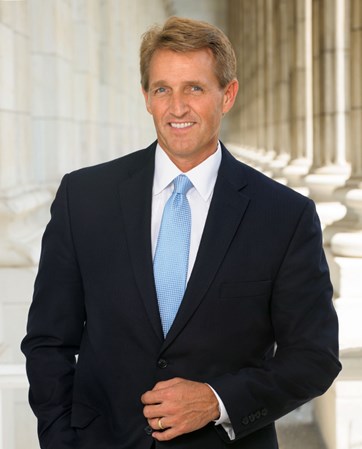 Fresh from a term that included several highly publicized ideological clashes with the president, former Sen. Jeff Flake will visit Vanderbilt University to explain his hopes for American politics going forward.
This American Life producer Zoe Chace, who chronicled Flake's Senate career for the radio show, will join him onstage at 6:30 p.m. Jan. 17 in Langford Auditorium. The discussion with Flake and Chace, part of the Chancellor's Lecture Series, will be moderated by Chancellor Nicholas S. Zeppos and Carolyn T. and Robert M. Rogers Visiting Professor Jon Meacham.
Flake is a fifth-generation Arizonan raised on a cattle ranch in Snowflake, Arizona. He served in the U.S. House of Representatives from 2001-2013 before his election to the Senate. As a Republican senator, Flake sat on the Judiciary Committee, Natural Resources Committee and the Foreign Relations Committee and was known for slashing federal spending and supporting immigration reform.
He became a strong critic of President Trump before and after the 2016 election and, in 2017, released the book Conscience of a Conservative: A Rejection of Destructive Politics and a Return to Principle, which borrowed its title from the late Arizona Sen. Barry Goldwater.
Chace shadowed Flake for four months in early 2018 as he pursued a deal to extend the Deferred Action for Childhood Arrivals (DACA) program and has continued to follow his key decisions in the Senate throughout the year, including his decision to retire.
The Vanderbilt event is titled "The Conscience of a Conservative: Returning to Civil Discourse in American Politics."
Flake spent his early life as a Mormon missionary in southern Africa before graduating from Brigham Young University, where he received a B.A. in International Relations and an M.A. in Political Science. After working as a Washington, D.C., public affairs professional and executive director of the Foundation for Democracy in Namibia, he was named executive director of the Goldwater Institute in Arizona. In this role, he worked to promote a conservative philosophy of less government, more freedom and individual responsibility.
Admission to this installment of the Chancellor's Lecture Series is free and on a first-come basis, with parking available in the 25th Avenue Garage. For event updates, register at vu.edu/cls-flake.
The Chancellor's Lecture Series strives to connect the university and the Nashville community with intellectuals who are shaping our world. For more information about the series, visit the Chancellor's Lecture Series website, email cls@vanderbilt.edu or follow @Nick_Zeppos on Twitter.