Media Inquiries
Latest Stories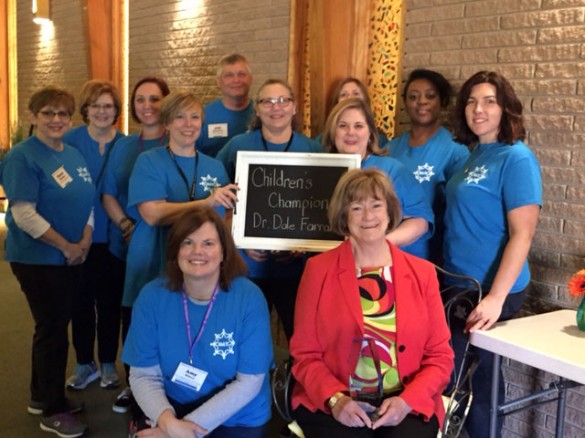 Vanderbilt education researcher Dale Farran was presented the 2016 Children's Champion award at the Nashville Area Association for the Education of Young Children annual meeting in Nashville April 10.
Each year NAAEYC honors an early childhood advocate for their work in the field of early childhood education and child development. Farran was honored for her lifetime of advocacy for children's learning, including her highly-impactful research into pre-kindergarten programs.
Farran is the Antonio and Anita Gotto Professor of Teaching and Learning at Vanderbilt's Peabody College of education and human development and senior associate director of the Peabody Research Institute.
"Dale Farran stands out among scholars of early childhood education for her commitment to evidence-based research and the rigor of her evaluations of pre-K programs and curricula," said Camilla Benbow, Patricia and Rodes Hart Dean of education and human development at Peabody. "Early childhood education in Nashville, across Tennessee and elsewhere is better because of her work. She is very deserving of this honor."
Farran has received national attention for her research, particularly as co-lead investigator of the Tennessee Voluntary Pre-K Effectiveness Study, a five-year, $6 million evaluation study that launched in 2009. It includes the first randomized control trial of a scaled-up state-funded pre-K program. Peabody research professor Mark Lipsey was co-investigator.
Tennessee legislators and education official have worked closely with the researchers to use the study results to improve educational opportunities for children across the state.