Media Inquiries
Latest Stories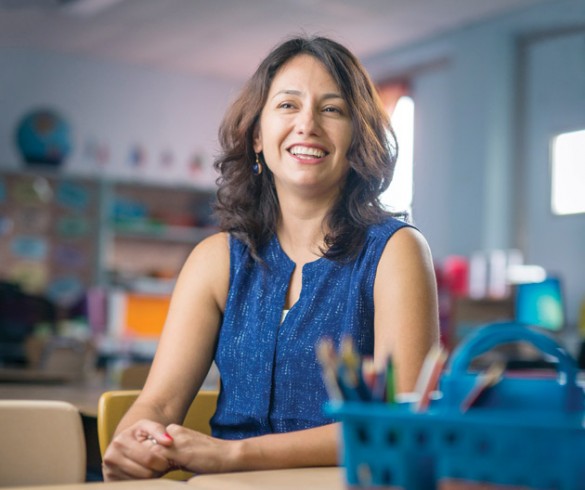 Jeannette Mancilla-Martinez grew up in a Southern California home speaking Spanish.
"My parents are immigrants from Mexico," she said. "I formally learned English in school but wasn't fully transitioned to English until fifth grade. Looking back, I see the experience of growing up bilingual as an advantage, and it has definitely influenced my career path."
Mancilla-Martinez loved reading and knew she wanted to work with children one day, perhaps as a pediatrician. Ultimately teaching won out, and she earned graduate and professional degrees at the Harvard Graduate School of Education.
While working as an elementary school teacher in low-income California public schools, she observed that a disproportionate number of children from immigrant families were struggling with reading.
"Most of my fourth graders were able to decode the words they encountered, but comprehension just wasn't there for many of them," she said. "[rquote]I began to look deeper into the idea that there is a connection between language development and literacy skills.[/rquote] After spending time in classrooms assisting these students, I knew this was absolutely the field I wanted to pursue."
Mancilla-Martinez conducted research and published on the subject at the University of Illinois–Chicago and the University of California–Irvine before coming to Peabody College this fall as associate professor of literacy instruction in the Department of Teaching and Learning. Her research focuses on language and literacy development in students with low language and literacy skills, particularly students from low-income families, immigrant children and learners in the language minority.
"The topic is ripe for research, especially here in Nashville where there is such a large growth in the number of school-aged students from homes where English is not the primary language," she said. "I look forward to finding ways to help teachers build language skills so that these children are given every opportunity to be successful. I also want people to see that it's not a 'disadvantage' or a 'negative' to speak more than one language."
Mancilla-Martinez and her husband recently settled into a home in Franklin, Tennessee, with their three sons, ages 21, 4 and 1.
"We're excited by all that we've heard about Nashville," she said. "We've already got a zoo membership, and we are ready to explore."
View the complete list of new university faculty for 2015-16.
View the complete list of new medical faculty for 2015.