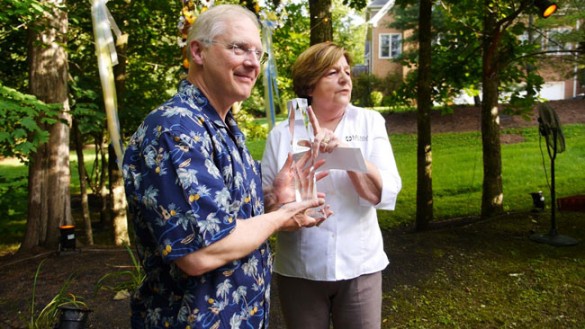 by Kurt Brobeck
Vanderbilt University professor David Lubinski has been awarded the Lifetime Achievement Award of the Mensa Education and Research Foundation.
The award was presented to Lubinski, professor of psychology at Vanderbilt's Peabody College of education and human development, by Phyllis Miller, a trustee of the Mensa Foundation and editor emerita of the Mensa Research Journal, on July 10 in Nashville.
According to the foundation's website, the award recognizes "a lifetime of contributions to the field of intelligence and related subjects. Requirements include an exceptional body of work in research, theory or other scholarly work by a living person over a period of not less than 15 years."
Lubinski co-directs the Study of Mathematically Precocious Youth (SMPY), a 50-year longitudinal study of more than 5,000 highly talented individuals, most of whom were identified at the age of 13. The study began in 1971. Now at mid-life, participants of the study continue to demonstrate unusual levels of accomplishment as well as overall life satisfaction. SMPY findings have proven to be an important source of knowledge for ongoing discussions about giftedness, talent development, and how to promote innovation and economic competitiveness.
"The research that David Lubinski and his colleagues have been doing over the past years has been invaluable not just to other academics but to thousands of children and their families and to educators throughout the world," Miller said. "The Mensa Foundation is delighted to recognize Dr. Lubinski with this award, and although it marks a lifetime of work, we hope he will continue for years to come."
In accepting the award, Lubinski paid tribute to Julian Stanley, a scholar of talent who established the study initially at Johns Hopkins University. "Julian was a great man and a dear friend, and I miss him every day," Lubinski said.
He also thanked SMPY co-director Camilla P. Benbow, Patricia and Rodes Hart Dean of Education and Human Development at Vanderbilt's Peabody College. Dean Benbow received the Lifetime Achievement Award in 2004.
"I am thrilled for David to receive this honor," said Benbow. "We have been at this work for a very long time, and it is inconceivable that SMPY—or this field—would have come this far without him."
The Mensa Foundation is a philanthropy committed to the pursuit of excellence in human intelligence. Its mission and strategic focus are directed at scholarships, education and awards. Each year the Foundation provides an average of $85,000 in scholarship support to recipients across the nation.