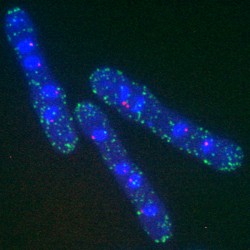 Fourteen members of Vanderbilt University's faculty have been elected fellows of the American Association for the Advancement of Science (AAAS) this year. This is the largest number of Vanderbilt fellows to be elected in a single year on record.
They are among 539 fellows from around the country selected by their peers because of their "scientifically or socially distinguished efforts to advance science or its applications." The new fellows will be recognized on Feb. 18 at the 2012 AAAS annual meeting in Vancouver, Canada.
"Vanderbilt continues to make significant contributions to science through the efforts of faculty such as these distinguished AAAS fellows," said Vanderbilt Chancellor Nicholas S. Zeppos. "Their work handsomely deserves this recognition, but more importantly holds the promise of improving our society."
Vanderbilt University has 53 AAAS fellows among its current faculty. Twenty-eight of them have been elected in the last three years. The new fellows and their achievements are:

Darryl Bornhop, professor of chemistry
For distinguished contributions to the field of micro-scale chemical and biochemical analysis, and for pioneering work in the emerging discipline of molecular imaging.

Nancy J. Brown, Hugh J. Morgan Professor of Medicine and Pharmacology, and chair of the Department of Medicine
For distinguished contributions to the study of vascular biology in humans and for national leadership in scientist development.

Bruce Carter, professor of biochemistry
For distinguished contributions to the field of developmental neurobiology, particularly for the elucidation of mechanisms regulating neuronal cell death and peripheral myelin formation.

Ellen Wright Clayton, Craig-Weaver Chair in Pediatrics and professor of law
For distinguished contribution to the ethical conduct of genetic and genomic research and to the ethical translation of these scientific advances to clinical care.

Michael DeBaun, professor and vice chair for clinical research in the Department of Pediatrics, and J.C. Peterson, M.D., Chair in Pediatric Pulmonology
For distinguished contributions in clinical investigation, authorship of federal legislation and patient advocacy, all focused on improving health outcomes of children with sickle cell disease.

Mark Denison, Craig-Weaver Chair in Pediatrics; professor of pathology, microbiology and immunology
For distinguished contributions to the field of RNA virus biology, particularly for the development of coronavirus synthetic biology and discovery of proteins regulating coronavirus replication fidelity.

Kathleen Gould, Louise B. McGavock Chair, professor of cell and developmental biology and Howard Hughes Medical Institute investigator
For distinguished contributions to the field of cell biology, particularly for her contributions to understanding the molecular mechanism of cytokinesis.

Heidi Hamm, Earl W. Sutherland Jr. Professor in Pharmacology and chair of the department
For sustained contributions to our understanding of how heterotrimeric G proteins mediate cell signaling.

George C. Hill, Levi Watkins Jr. M.D. Professor, professor of pathology, microbiology and immunology, and assistant vice chancellor for Multicultural Affairs
For distinguished contributions to tropical diseases research, leadership as president of the National Foundation for Infectious Diseases and for fostering a diverse research and healthcare workforce.

Tadashi Inagami, Stanford Moore Chair in Biochemistry and professor of medicine
For his role in being the first to purify and identify renin, and in cloning atrial natriuretic peptide (ANF) and angiotensin II type 1 and type 2 receptors and their variants, research that helped lead to the development of renin inhibitors to treat hypertension.

Prasad Polavarapu, professor of chemistry
For distinguished contributions to determining the structures of chiral molecules, which can exist in either "left-handed" or "right-handed" forms, through development of chiroptical spectroscopic techniques.  Structure determination is critical in developing chiral drugs because one form may be beneficial to human health while the other may be deleterious. This field also has important biochemical applications.

Sandra J. Rosenthal, Jack and Pamela Egan Professor of Chemistry; director, Vanderbilt Institute of Nanoscale Science and Engineering; professor of physics, pharmacology and chemical and biomolecular engineering
For distinguished contributions to the field of nanochemistry, particularly for synthesis and characterization of nanocrystals and the utilization of nanocrystals as biomarkers of protein expression.

Michelle Sulikowski, senior lecturer in chemistry
For distinguished contributions to synthetic organic chemistry and the education of graduate and undergraduate students in the chemical sciences at multiple institutions.

Scott Williams, professor of molecular physiology and biophysics
For exemplary contributions to the field of human genetics, particularly dissecting underlying genetic architectures for diseases with health disparities and the diversity of human populations.