Media Inquiries
Latest Stories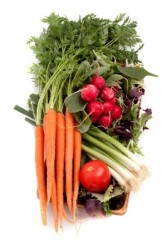 Infection with the stomach-dwelling bacterium Helicobacter pylori is a strong risk factor for gastric cancer. Because diet may also play a role in the disease, Meira Epplein and colleagues examined the association between H. pylori infection and circulating levels of micronutrients in the Southern Community Cohort Study, a primarily low-income population from the southeastern United States. The researchers previously found a high prevalence of H. pylori infection in this cohort.
They report in the June issue of Cancer Prevention Research that micronutrient levels, particularly of beta-carotene, folate and retinol, were lower in H. pylori-positive individuals (and even lower in participants infected with more virulent strains) compared to H. pylori-negative individuals. Dietary intakes, assessed by questionnaire, were similar among all participants, suggesting that H. pylori infection impairs nutrient absorption.
The findings support efforts to improve nutritional status and reduce gastric cancer incidence in high-risk populations by treating H. pylori infections.
This research was supported by the National Cancer Institute and the American Cancer Society.