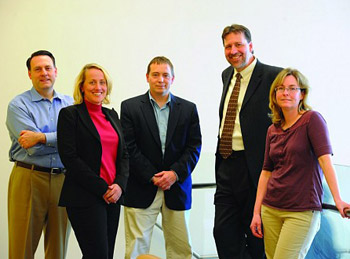 Vanderbilt University Medical Center has established a new Center for Neuroscience Drug Discovery to accelerate research that may lead to new treatments for Parkinson's disease, schizophrenia and other disorders of the brain.
The center will incorporate and build on the successes of the Vanderbilt Program in Drug Discovery, established in 2004 by P. Jeffrey Conn, the Lee E. Limbird Professor of Pharmacology.
Conn will co-direct the new center with Craig Lindsley, professor of pharmacology and chemistry, and principal investigator of the Specialized Chemistry Center for Accelerated Probe Development.
Conn will lead the pharmacology and neuroscience efforts at the center, while Lindsley will continue to direct the medicinal chemistry group.
Other members of the center's leadership team are:
J. Scott Daniels, assistant professor of pharmacology, director of drug metabolism and pharmacokinetics;
Carrie Jones, assistant professor of pharmacology, director of in vivo pharmacology; and
Colleen Niswender, associate professor of pharmacology, director of molecular pharmacology.
With support from the National Institutes of Health (NIH) and from foundation and corporate partners, Vanderbilt's neuroscience drug discovery team has pioneered approaches for "tuning" the activity of receptors in the brain involved in a wide range of disorders.
The researchers are developing "allosteric modulators," compounds that do not directly activate or block receptors but instead work like a dimmer switch in an electrical circuit to more specifically and precisely tune receptor activity up or down.
With funding from the NIH and Janssen Pharmaceutica, a Johnson & Johnson company, they are developing a compound that, by "tuning up" the activity of a metabotropic glutamate receptor, mGluR5, may improve treatment of schizophrenia.
With Seaside Therapeutics in Cambridge, Mass., the team is trying to "tune down" excessive signaling through two different pathways. The goal is to relieve – for the first time with a drug – learning, memory, social and behavioral problems associated with Fragile X syndrome, the most common inherited form of mental retardation and the most common genetic cause of autism.
Model for drug discovery
A third project, supported by the Michael J. Fox Foundation for Parkinson's Research, could lead to a new way to relieve the motor symptoms of Parkinson's disease. The researchers have identified two compounds that, by "tuning up" the activity of a different glutamate receptor, mGluR4, reduce rigidity and "freezing" of certain muscles in animal models of the disease.
Gaining center status is a reflection of the tremendous growth of the eight-year-old program, which received $16.4 million in extramural funding in the current fiscal year, and which supports the work of 94 Vanderbilt researchers. It is also based on the growing opportunities institutionally and nationally in neuroscience drug discovery.
"This program has truly been a model for how academic drug discovery can be successful, and their future visions are poised to further capitalize on the progress to date," said Susan Wente, associate vice chancellor for research.
The new center will continue to leverage opportunities for trans-departmental collaborations and for accelerating movement of their discoveries from the lab bench to patient care. For example, all three active projects are ready to advance to final toxicity testing in animals, which are required before beginning clinical trials.
"Vanderbilt has always been a pioneer at the forefront of experimental medicine, (and) . . . has tremendous expertise and infrastructure for performing early stage clinical proof of concept studies," Conn said. The progress that has been made during the past seven years "is just amazing," he said. "It's a real testament to the quality of the people here and to the dedication of our team."