Immigration and education explored in special issue of Peabody Journal of Education
by
Melanie Moran
Nov. 5, 2010, 1:27 PM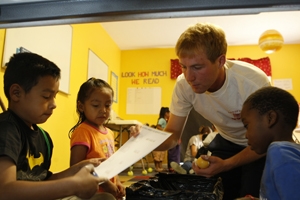 Immigration issues are as complex and varied in American classrooms as they are in the courtroom, yet answers on how to tackle these issues are elusive. A special issue of the Peabody Journal of Education released this month brings together research from a variety of disciplines to explore some of the most pressing topics surrounding education and immigration and offers decision makers guidance on how best to craft education policy for the nation's rapidly changing populace.
"The answer to who is an American and to what types of education are all Americans entitled has varied over the United State's long history of immigration, and is still being hotly debated today," Stella Flores and Christopher Loss, co-editors of the issue and faculty at Vanderbilt University's Peabody College of education and human development, said. "Building on a growing body of scholarship on immigration, this collection offers a new view of the myriad ways in which immigration and education intersect across a spectrum of different policy contexts—from language policy to disaster relief, from public high schools in Los Angeles to selective public universities in Texas, to workforce development in the United States and around the world."
Topics covered in the special issue include:
A history of the implementation and unintended outcomes of the Bilingual Education Act of 1968 in California;
An examination of how contemporary visual art can be used as a counter-narrative to explore the racialization of immigration in the United States and its relationship to education;
The effect that Hurricane Katrina had on 15,000 Latino/Hispanic children from Louisiana, who became the silent victims in light of all the attention given to the Black/White race divide in relief efforts;
A qualitative study on undocumented immigrants and reasons why so many of them do not enter the path to college;
A 10-year analysis of census data that looks at how a race-neutral percentage policy affected the admission of foreign applicants to two public flagship universities in Texas;
The role of English skills and literacy for immigrant adults' education and workforce development using nationally representative data; and
A global comparison of immigrant integration programs from Vienna to El Paso through the lens of the ever-increasing population of immigrant youth.

 
To request a full copy of any article, email jayme.l.place@vanderbit.edu.
Researchers from Vanderbilt University, New School University, New York University, University of Houston, University of Washington, Princeton University and the Migration Policy Institute contributed to the issue.
"By tackling the issue of immigration and education using historical, qualitative, quantitative and case study approaches, we hope this collection will help clarify issues and present possible solutions to some of the most pressing immigration-related education problems in this country," Flores and Loss wrote.
The quarterly Peabody Journal of Education: Issues of Leadership, Policy, and Organizations is America's second longest-running publication devoted exclusively to educational research, practice and policy.
Flores is an assistant professor of public policy and higher education and assistant professor of sociology. Loss is an assistant professor of public policy and higher education.
More information:
Peabody Journal of Education: http://peabody.vanderbilt.edu/Peabody_Journal_of_Education.xml
Peabody College: http://peabody.vanderbilt.edu
Stella Flores: http://peabody.vanderbilt.edu/Flores_Stella.xml
Christopher Loss: http://peabody.vanderbilt.edu/Loss_Christopher.xml