A team from the Office of Biomedical Research Education and Training published a longitudinal study of the career goals and outcomes of up to 1,452 biomedical sciences Ph.D. graduates. The study provides clarity on how students' career goals change during graduate school and how career goals at graduation connect to career outcomes.
The article, "From goal to outcome: Analyzing the progression of biomedical sciences PhD careers in a longitudinal study using an expanded taxonomy," has broad implications for academic and biomedical research communities, funding organizations, employers and Ph.D. trainees in the face of a changing workforce and economy. The article was published in the Federation of American Societies for Experimental Biology journal FASEB BioAdvances on Oct. 5.
This research connects career goals during graduate school with career outcomes and shows the career evolution of Ph.D. alumni longitudinally during the critical, career-defining 10 years after graduation with a Ph.D.
The job landscape for Ph.D. graduates has changed over the past decade, in part due to the country's shift toward a knowledge-based economy. There are greater chances for people with advanced thinking, analysis and communication skills developed during their Ph.D. studies to work for private companies in 2023 than in 2013. This shift is intensified by the stagnation or lessening of the number of permanent faculty positions in universities during this time. The result is that fewer Ph.D. graduates are taking the traditional route of becoming professors in universities.
"This trend is especially true for biomedical science Ph.D. graduates," said Abby Brown, first author of the article, director of outcomes research for BRET and assistant professor of molecular physiology and biophysics. "The number of Ph.D. degrees granted by U.S. institutions has quadrupled in the last 40 years, while available tenure-track faculty jobs have remained steady."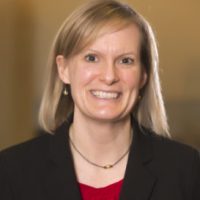 While there are numerous compelling career prospects for Ph.D. scientists, little is known about the factors that influence their career choices. Equally lacking is data about career path progression and how it aligns with the aspirations of Ph.D. students during their studies.
To address these gaps, the BRET team's study followed the careers of 1,452 Vanderbilt biomedical Ph.D. alumni who graduated between 1997 and 2021, for up to 10 years after their thesis defense. Their work was guided by their goal of more closely aligning the structure of biomedical Ph.D. training programs with career development initiatives for Vanderbilt trainees and with national workforce trends.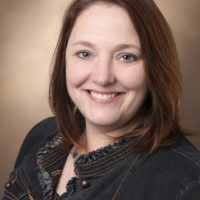 "We found that most students changed their career goals during graduate school, which speaks to the importance of universities and graduate programs providing opportunities for Ph.D. students to explore career options and their interests," said Kimberly Petrie, principal investigator on the study, assistant dean for biomedical career development for BRET and associate professor of medical education and administration. "Our findings emphasize that Ph.D. students need a wide range of career development opportunities and career mentoring during graduate school to help them transition efficiently to their future careers inside and beyond academia."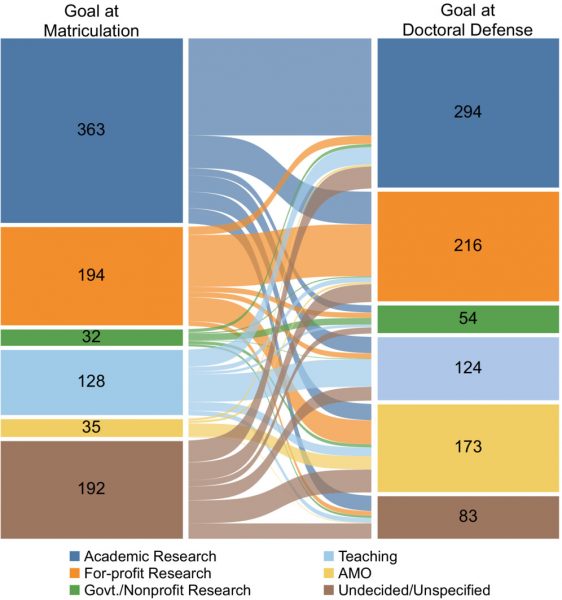 Other findings include:
Overall, about 30 percent of students were interested in research-intensive faculty jobs at the time of doctoral defense.
Students who became more interested in pursuing a faculty job during graduate school cited a high-quality mentoring experience or increased confidence in their ability to succeed.
Many alumni ultimately pursued different careers than their stated career goal at the end of graduate school, suggesting that alumni also switch goals during postdoctoral training.
By 10 years after graduation, about one third of alumni were in academic research positions. The remaining alumni were employed in other types of roles in academia, industry, government and nonprofits.
In line with national trends in postdoctoral employment over time, there is a declining number of Ph.D. students pursuing postdoctoral training.
The article co-authors include Lindsay Meyers, director of BRET operations, Janani Varadarajan, assistant director of postdoc support and office of outcomes research project manager, Nicholas Ward, office of outcomes research project manager, Jean-Philippe Cartailler, director of Creative Data Solutions in the Vanderbilt Center for Stem Cell Biology, Roger Chalkley, former senior associate dean of BRET and professor emeritus of molecular physiology and biophysics, and Kathleen L. Gould, Louise B. McGavock Professor of cell and developmental biology and senior associate dean of BRET.
This work was supported in part by a Common Fund NIH Director's Biomedical Research Workforce Innovation Broadening Experiences in Scientific Training Award (DP7OD018423).
About the Office of Biomedical Research Education and Training
The Office of Biomedical Research Education and Training was established in 1992 as part of the School of Medicine. BRET oversees and supports biomedical graduate students, postdoctoral fellows and faculty who train graduate students and postdocs. More than 900 Ph.D. students and postdoctoral fellows are supported by BRET.