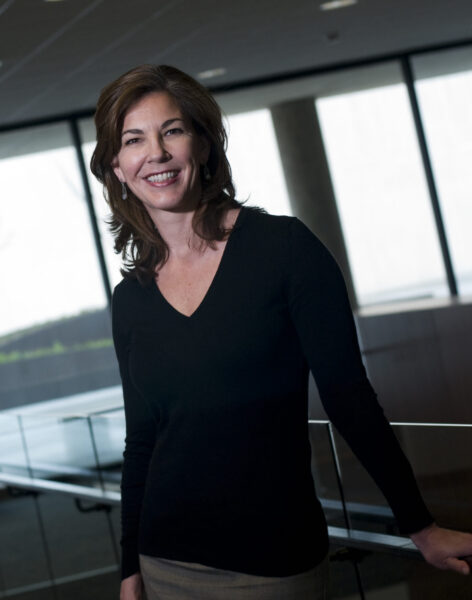 Cynthia Osborne has been selected as a 2023 Aspen Institute Ascend Fellow, recognized for her leadership in working across sectors to support the well-being of children and families. Osborne is professor of early childhood education and policy as well as the founder and executive director of the Prenatal-to-3 Policy Impact Center at Vanderbilt University's Peabody College of education and human development.
As a leading researcher in the areas of social policy, poverty and inequality, family and child well-being, and family demography, Osborne works with policymakers, practitioners, and advocates interested in strengthening outcomes for young children and their families. She has extensive experience leading long-term evaluations of state and national programs to help organizations understand what works and how to sustain implementation of effective policies.
"Professor Osborne is a national leader in the field of early child policy whose research and collaboration with partners across the country benefit the lives of countless young children and families. I can think of no one more worthy of this honor," said Camilla Benbow, Patricia and Rodes Hart Dean of Education and Human Development.
According to the Aspen Institute, it invests "in a diverse cadre of leaders, well-connected, well-prepared, and powerfully positioned to build the political will, change systems, and drive the policy agenda needed for the well-being and prosperity of all children and families."
Ascend Fellows participate in an 18-month program in which they attend four fellowship forums, develop an action plan that articulates their vision for ensuring children and families can achieve their full potential, and engage in monthly leadership and coaching activities.
"I am extremely honored to be named an Aspen Ascend Fellow. I look forward to spending the next 18 months working with a diverse team of committed and passionate people and exploring how the work of the Prenatal-to-3 Policy Impact Center can have a greater impact on shaping state policies to improve the lives of infants and toddlers and their parents," Osborne said.
Prior to joining Vanderbilt, Osborne was a professor at the LBJ School of Public Affairs at The University of Texas at Austin where she launched the Prenatal-to-3 Policy Impact Center. Osborne brought the center to Vanderbilt where she continues to lead its team of researchers and non-partisan policy experts who translate the science of the developing child into the most effective policy actions and public investments for states. The annual 50-state Prenatal-to-3 State Policy Roadmap and the Prenatal-to-3 Policy Clearinghouse are the center's two primary resources for policymakers, practitioners, and advocates interested in implementing evidence-based policies and strategies to ensure children and families thrive from the start.
Prior to leading the Prenatal-to-3 Policy Impact Center, Osborne also founded and directed the Child and Family Research Partnership at the LBJ School, which conducted research and evaluation work for federal and state agencies and non-governmental organizations to strengthen families and enhance public policy. Major research areas included early childhood investments, family supports, fatherhood, child welfare, and adolescent health.
Osborne directed the Project on Education Effectiveness and Quality at the LBJ School, which assessed state educator preparation programs' effects on student performance. She was also chair of the Responsible Fatherhood working group for the Fatherhood Research and Practice Network, a long-term project of the federal Office of Planning, Research, and Evaluation.
Osborne was an appointed member of the National Academies of Sciences, Engineering, and Medicine Committee to Reduce Child Poverty by Half in Ten Years and currently serves on the NASEM committee, Exploring the Opportunity Gap for Young Children Birth through Age 8. She serves as vice president of the Policy Council for the Association for Public Policy Analysis and Management and is also a member of the National Early Relational Health Advisory Panel at the Center for the Study of Social Policy.
Osborne holds a Ph.D. in demography and public affairs from Princeton University, a master of public policy from Harvard University's Kennedy School of Government, and a master of arts in education from Claremont Graduate University.