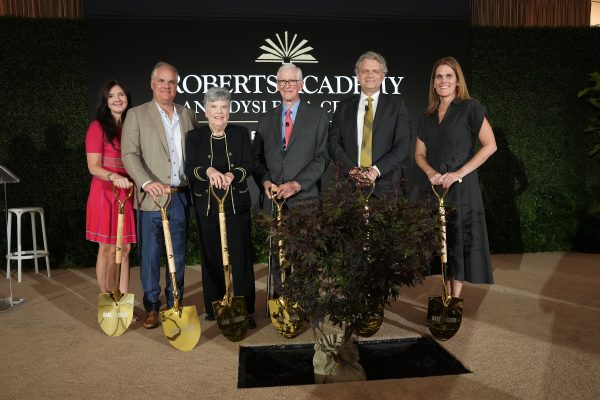 Changing children's lives is the goal of a transformational gift for dyslexia education and research
An unprecedented gift from Hal and Marjorie Hollis Roberts will establish a new academy for primary students with dyslexia and an innovative center focused on outreach and dyslexia research at Vanderbilt University. The Roberts Academy and Dyslexia Center was announced today at an event on Vanderbilt's campus that brought together government representatives, area leaders in the field and faculty to celebrate the anticipated impact on children in Middle Tennessee and around the world.
In addition to the resources currently available in Middle Tennessee, the facilities will bring a new, dynamic and comprehensive education-research opportunity that will expand access for students who benefit from a tailored learning environment. The Roberts Academy will provide focused educational services for children in kindergarten through grade 1 identified as at-risk for dyslexia and for students in grades 2–5 who have been identified as having dyslexia. The academy will accept its first class of students in fall 2024. The Roberts Academy and Dyslexia Center will provide outreach for families and build on notable scholarship that is already within Vanderbilt's Peabody College of education and human development.
Marjorie and Hal Roberts, residents of Lakeland, Florida, became interested in supporting students with dyslexia after three of their grandchildren were diagnosed with dyslexia as children. The Robertses have no previous relationship with Vanderbilt; they chose the university as a recipient of their donation based on Peabody College's outstanding reputation and research.
"The extent of dyslexia research happening at Vanderbilt's Peabody College made it clear to us that it was the right place for this center," Hal Roberts said. "We believe our investment in Vanderbilt will help transform education and the lives of children with dyslexia in the U.S. and around the world. To us, changing the lives of children is what matters most."
"Through our grandchildren's experiences, Hal and I learned about the incredible challenges dyslexia poses in school and daily life," Marjorie Roberts said. "When children struggle and think less of themselves, it's heartbreaking. We've seen firsthand how working with well-trained educators can help students turn their experiences around, move beyond their challenges and embrace what, for many, becomes their superpower to problem-solve differently. We are grateful to be able to make this gift because of the hard work and sacrifice of my late parents, William and Nina Hollis."
The Robertses' gift is part of Dare to Grow, Vanderbilt University's $3.2 billion comprehensive campaign. The Roberts Academy and Dyslexia Center is the third academy for students with dyslexia funded by the Robertses and the first research and outreach center of its kind established with their support.
"Through the Robertses' transformational gift, we are daring to grow in ways that will help children with learning differences reach their full potential and will create new knowledge and programs. We will develop new approaches to learning, educate the educators and improve the lives of countless children," Chancellor Daniel Diermeier said. "This gift leverages the knowledge and experiences of our faculty in a meaningful way and will further strengthen Peabody College as an undisputed leader in the field. We are immensely grateful to Marjorie and Hal Roberts for their generosity and partnership."
By some estimates, one in 10 individuals have dyslexia, and studies show that early intervention can have a substantial positive effect. By establishing an academy and a research center, new findings will immediately inform the education provided at the academy, which will shape future research. Teachers in training or continuing their education will be able to learn from and practice alongside educators with research-based experience in supporting children with dyslexia. These teachers will then take best practices from the Roberts Academy and Dyslexia Center into their classrooms throughout their careers.
"Vanderbilt's Peabody College has always sought to help learners of all ages and abilities to realize their goals and lead flourishing lives," said Camilla P. Benbow, Patricia and Rodes Hart Dean of Education and Human Development at Peabody. "The Roberts Academy and Dyslexia Center inaugurates a new era of service to children and their families here at Vanderbilt and offers a major opportunity to advance our understanding of dyslexia and ways to ameliorate it. We are all deeply grateful."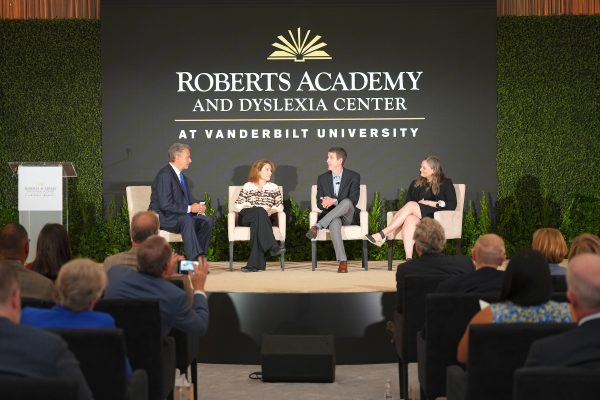 The announcement event included a panel discussion with Laurie Cutting, Patricia and Rodes Hart Professor of Special Education and professor of psychology, radiology and pediatrics at Vanderbilt University; Brett Miller, director of the Reading, Writing and Related Learning Disabilities Program at the National Institute of Child Health and Human Development; and Emily Solari, Edmund H. Henderson Professor of Education at the University of Virginia. The panel was moderated by John M. Seigenthaler, managing partner of FINN Partners in Nashville and former NBC Nightly News anchor and correspondent.
Among the attendees was Tim Odegard, director of the Tennessee Center for the Study and Treatment of Dyslexia at Middle Tennessee State University, where he also holds the Katherine Davis Murfree Chair of Excellence in Dyslexic Studies and is a professor of psychology.
"This generous gift represents a tremendous investment in the well-being and vitality of those of us with dyslexia," Odegard said. "We have learned so much about dyslexia—what it is, what it is not and how best to identify and address the needs of those of us who struggle to read and spell due to dyslexia. At this pivotal moment, a pressing need is partnerships that allow us to develop sustainable processes to translate this scientific understanding into practice. The promise of this generous gift is the ability to forge such partnerships and nest such ideals into the Roberts Academy and Dyslexia Center at Vanderbilt."