The fourth annual Fall Staff Assembly was Sept. 21 at the Student Life Center. The gathering included an address by Chancellor Daniel Diermeier and the presentation of awards to staff recognizing their many contributions to Vanderbilt's core goals and mission.
View a recording of the 2023 Fall Staff Assembly.
Community Impact Award
The Community Impact Award recognizes a full-time staff member or team that represents Vanderbilt through community engagement, service, leadership or other outreach and creates a better understanding of the university to external audiences. This year there are two winners of the award.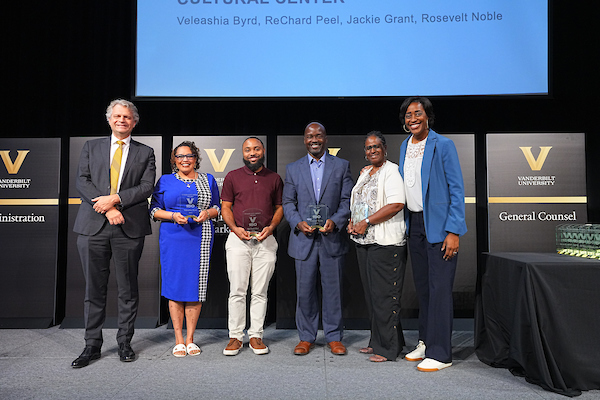 Bishop Joseph Johnson Black Cultural Center team
Veleashia Byrd
ReChard Peel
Jackie Grant
Rosevelt Noble
During the 2022–23 academic year, the Black Cultural Center adopted a community partner, the Ida B. Wells Elementary School in Northeast Nashville. The BCC team committed to supporting the school in reaching its goals. Drawing from the Vanderbilt community, the team coordinated more than 400 hours of volunteer service for the school. Efforts included a uniform drive, greeters to welcome students on their first day, a chemistry magic show, a new reading initiative and more. The school saw increases in literacy and math achievement, and 8 percent growth in satisfactory attendance. Its chronic absenteeism dropped 11 percent.
"The team at the Black Cultural Center were invaluable partners in these achievements," Diermeier said. "The BCC team is demonstrating that they—and the entire Vanderbilt community—are in it for the long haul as a partner committed to helping the students and families of Ida B. Wells Elementary build a great future."
>>Read more about the BCC's community partnership with Ida B. Wells Elementary School.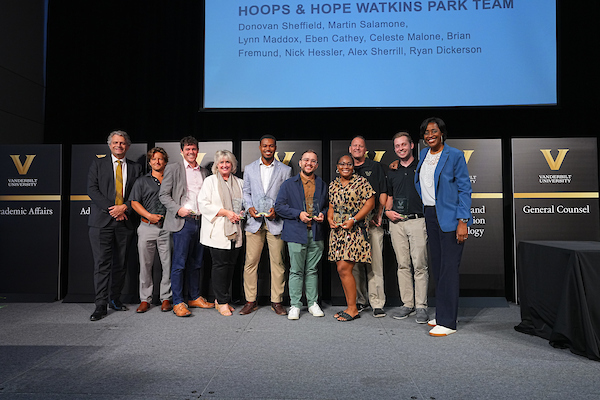 Hoops & Hope project at Watkins Park team
This project was a collaboration among Vanderbilt and community and national partners. The core Vanderbilt team members recognized are:
Donovan Sheffield, Government and Community Relations
Martin Salamone, Athletics
Lynn Maddox, Government and Community Relations
Eben Cathey, Government and Community Relations
Celeste Malone, Communications and Marketing
Brian Fremund, Communications and Marketing
Nick Hessler, Communications and Marketing
Alex Sherrill, Communications and Marketing
Ryan Dickerson, Finance
Madison Brinnon, Equity, Diversity and Inclusion
On June 15, the Hoops & Hope event celebrated the grand opening of a new community basketball court at North Nashville's Watkins Park, just 1.6 miles from the Vanderbilt campus and across the street from Pearl High School, the alma mater of trailblazing Vanderbilt alumnus Perry Wallace. Wallace enrolled at Vanderbilt in 1966 and broke the color barrier in SEC varsity basketball in 1967. The project highlights Wallace's legacy, honors the resilience of the North Nashville community and supports wellness with a place for the community to come together and play basketball. The court itself features a bright, colorful mural of Wallace that includes the word "hope" in the center.
"As Vice Chancellor Candice Lee said at the grand opening, the court 'brings together sports, the arts and community around a message of hope,'" Diermeier said.
Innovation Excellence Award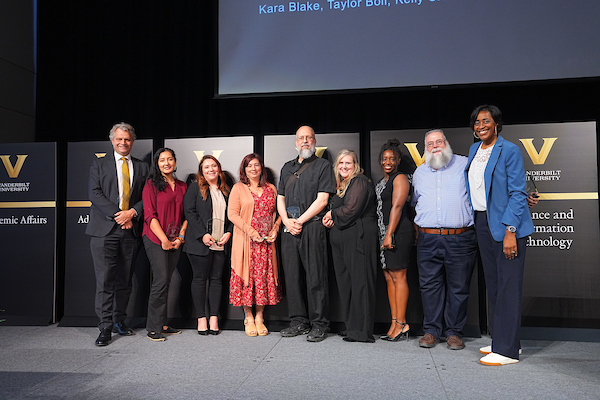 The Innovation Excellence Award is given to a staff member, or staff group or team, for excellence in innovation demonstrated by implementing or attempting a new system or approach that has had a meaningful and significant impact on a process, program or initiative at Vanderbilt. This year's award was presented to members of the D3 team at the School of Nursing:
Diana Vasquez
Carrie Sennett
Clay Sturgeon
Candace McClure
Kara Blake
Taylor Boll
Kelly Croteau
Rhett McDaniel
D3 stands for design, develop and deliver. The D3 team embodies this to produce high-quality instructional materials for the School of Nursing's academic programs in all formats: face to face, hybrid and fully online. The team, formed just over a year ago, came together quickly to identify needs, harness strengths and mobilize resources to support the school's goal of transformational education for nurses.
"The team has created a collaborative and collegial process to develop approaches that engage learners and ultimately support future nurses," Diermeier said.
Leadership Excellence Award
This award recognizes staff members who empower, educate, coach and support Vanderbilt colleagues and show outstanding commitment to the university's mission through strong, courageous leadership that builds partnerships, engagement and trust. This year there are two recipients in this category.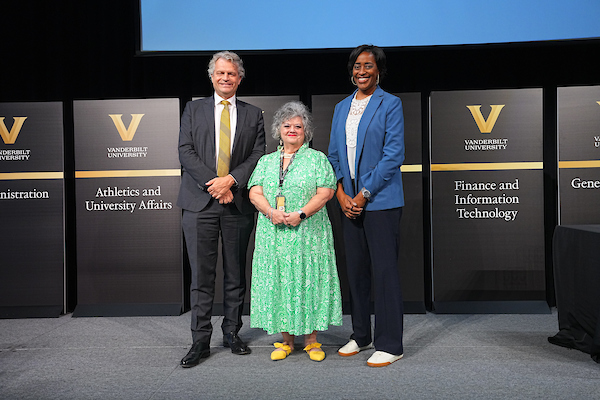 The first is Beth Sims, administrative coordinator at the School of Nursing. According to her colleagues, Sims is a natural leader who inspires those around her. She is approachable, empathetic and always willing to help. She mentors and supports junior staff members, and she fosters a positive and collaborative work environment. Sims also spearheads important diversity, equity and inclusion initiatives at the School of Nursing. She has helped train more than 300 employees and 800 students on EDI tools such as Narrative 4, which uses storytelling to build empathy and understanding.
"Beth takes a proactive leadership role to create an environment where people have meaningful discussions with each other, developing a deeper understanding of other perspectives and building a more intellectually enriching environment," Diermeier said.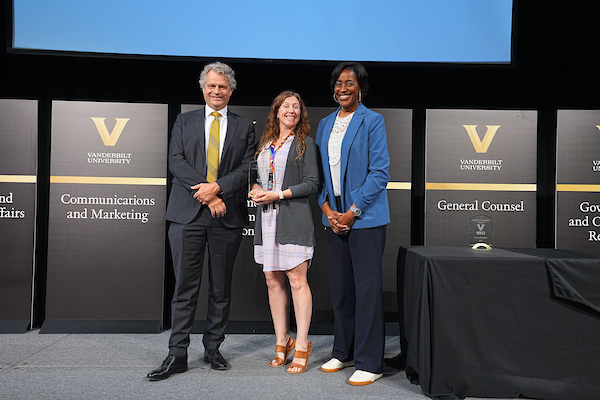 The second recipient is Bryn Sierra, program manager for the Medical Scientist Training Program. When Sierra joined the program, the team was in the middle of preparing for a National Institutes of Health site visit. Sierra jumped in without hesitation and quickly learned about her new job. During the NIH site visit, she confidently described her role in the program and her mission to advocate for students, displaying her genuine care for the MSTP students as future physician-scientists and as people.
"Bryn brings her skills as a listener, ally, learner and teacher to every discussion and leads by being a role model," Diermeier said.
Professional Excellence Award
This award recognizes a person who goes beyond specific job duties to support Vanderbilt's mission and success by demonstrating excellence, positively influencing the work environment, fostering cooperation, achieving goals and overcoming obstacles.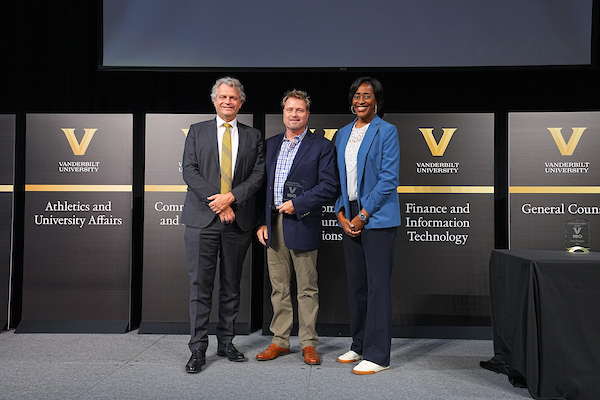 This year the award goes to Scotty Glasgow, senior training coordinator for the Facilities Department. The focus of Glasgow's work is on how to better engage employees and their talents. His many initiatives include: creating a Pre-Board Program to train and engage new employees and make them feel welcome; overseeing safety training and becoming OSHA certified to help keep Facilities' more than 500 staff in compliance with state and federal OSHA standards; leading the Employee Appreciation Committee and working on a comprehensive recognition program for 2024; and leading Facilities University, a six-week, hands-on experience teaching faculty and staff about the inner workings of the department.
"Scotty never shies away from an idea that will help support Vanderbilt's people and its mission," Diermeier said. "He has influenced real cultural change within his department through an environment of acceptance, inclusion and connection."
Research Excellence Award
This award recognizes a staff member whose support of research has made a significant impact on the process of discovery and the pursuit of knowledge at Vanderbilt. This year there are two winners.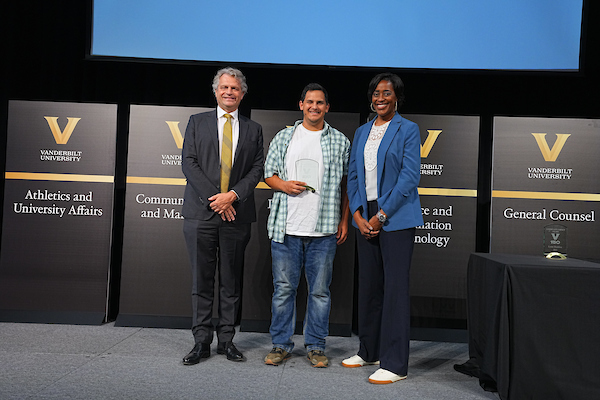 Alec Rodriguez is a research assistant in the lab of Professor of Molecular Physiology and Biophysics Alyssa Hasty. He joined the Hasty lab in summer 2019 and took on responsibility for the mouse colony, managing more than 200 cages of mice. Rodriguez has embraced this opportunity to learn more about mouse husbandry, from feeding and weighing the mice to genotyping and helping to coordinate complex mouse breeding schemes. He has become so proficient at this that he finds time to take on other tasks and enthusiastically offers to assist with whatever is needed to help his colleagues with their work.
"Alec's lab colleagues say: 'Alec is always willing and excited to help push research forward in our lab. It's his selflessness and enthusiasm that help keep the Hasty lab operating at full speed each day, and we are so grateful for him,'" Diermeier said.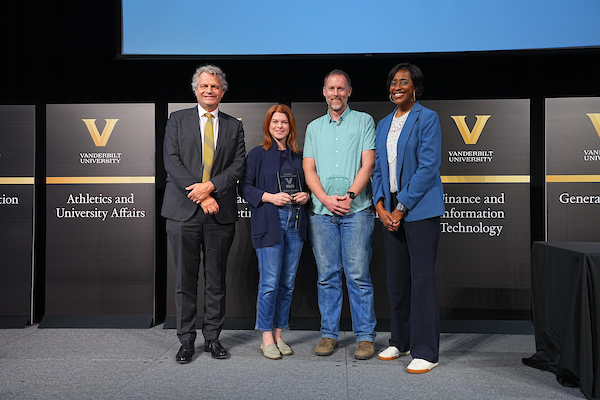 Melissa Chambers and Scott Collier, co-directors of the Center for Structural Biology Cryo-Electron Microscopy Facility, are the award's other recipients. Cryo-electron microscopy allows a specimen to be viewed at cryogenic temperatures under an electron microscope. The Cryo-EM facility at Vanderbilt supports researchers investigating crucial biological questions. The data collected advance our basic understanding of the mechanisms of human physiology, pathology and disease therapeutics. As co-directors, Chambers and Collier have been integral to establishing the Vanderbilt Cryo-EM facility and supporting its growth to boost biomedical research at Vanderbilt. They created a road map for the future of Cryo-EM at Vanderbilt, provided scientific expertise to acquire the necessary Cryo-EM instruments and did the administrative work of establishing a business model, equipment rates and billing system for this shared resource.
"Through their work, Scott and Melissa are supporting the ongoing scientific discoveries at Vanderbilt that will ultimately lead to improving human health," Diermeier said.
Student Impact Award
This award goes to staff members who, through access, resources, mentorship or service, have had a positive impact on Vanderbilt students' quality of life and continued success at the university. This year, two teams are being honored.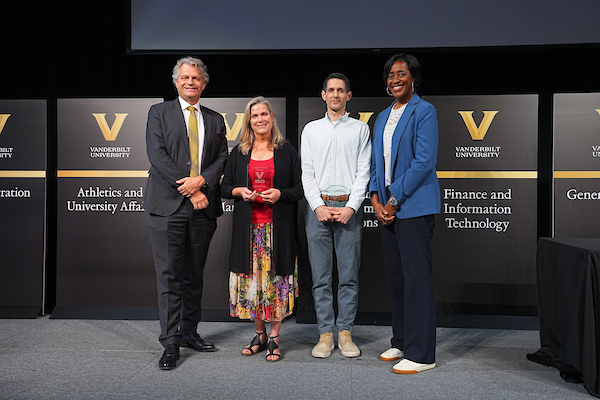 The first is Chris King and Lauren Rains with the Health Professions Advisory Office.
The national acceptance rate to medical school is 42 percent, a source of much consternation for students who aspire to a career in the medical profession. The HPAO team guides students through the application process, advises them on coursework and helps them to explore medical professions by providing experiences in clinical settings. During the past academic year, the team fielded more than 2,000 student appointments in addition to designing programming and creating learning opportunities. In the past academic year, Vanderbilt student applicants had a first-time acceptance rate of 77 percent, and, of those, more than 50 percent were accepted to top 30-ranked medical schools.
"With this team on their side, our students develop a thorough understanding of the medical school application process and become confident in their ability to achieve their dreams," Diermeier said.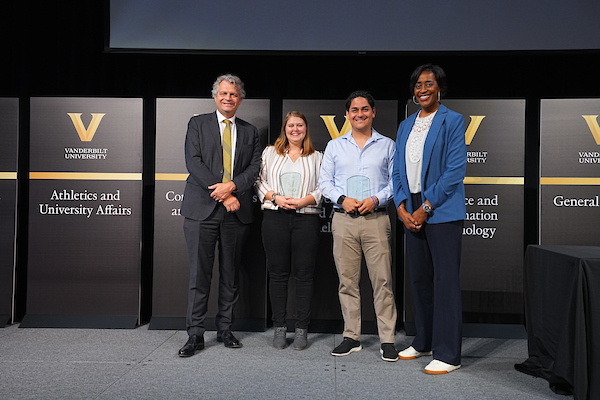 The second team is Sebastian Larrea and Valerie Schweizer-Robinson with LAPOP.
LAPOP is a survey research lab at Vanderbilt that studies opinions and behaviors in Latin America. Larrea and Schweizer-Robinson are co-leaders of LAPOP's Undergraduate Research Assistant Program. Through many hours of planning and effort, they transformed a run-of-the-mill research assistant program into a multifaceted and much-sought-after experience that features mentoring, progressive skill-building and networking. Students are expected to work hard, but they also can expect to be treated as valued members of the Vanderbilt research community. As a result, undergraduate involvement in LAPOP has grown significantly under their leadership.
"The students who work with LAPOP develop skills for their future endeavors and have an even better Vanderbilt experience," Diermeier said.
Dare to Grow Prize
This prize honors members of the Vanderbilt community who embody the university's motto, Crescere aude, which translates to "dare to grow." These individuals have demonstrated agility and creative solutions in their work, adopting a "dare to grow" mentality. This year the prize goes to the core team leading the efforts to catalog, assign, address and track the findings outlined by the Faculty Senate Task Force on Administerial Effectiveness.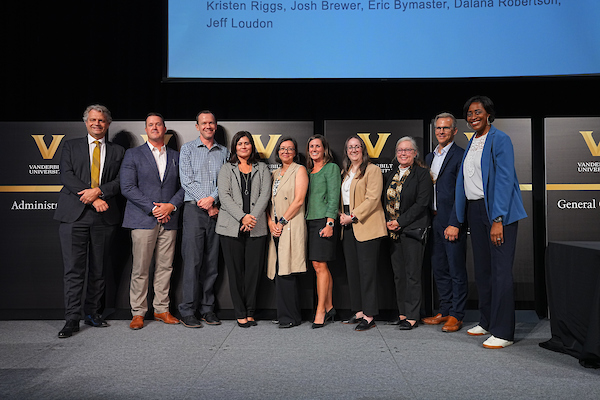 Brigitta Jozefowski, School of Engineering
Sarazen Kokodynsky, College of Arts and Science
Magdalena Paszewska, School of Engineering
Kristen Riggs, School of Nursing
Josh Brewer, College of Arts and Science
Eric Bymaster, Finance
Dalana Robertson, Finance
Jeff Loudon, Data and Strategic Analytics
These staff members stand apart in their leadership, hard work and commitment to finding and implementing solutions to the observations raised in the TFAE report. This report, the result of a two-year effort to investigate administrative burdens and their significant impact on faculty, could not be solved by just one department. Thanks to the diligence of this group, 92 percent of the observations have been resolved today.
The interdisciplinary work of the team spanned conversations with staff, faculty and administration. The effort was particularly unique in pairing administrative leadership with resource staff in the trenches, working side by side with faculty within the schools. This new level of engagement allowed for significant progress in understanding the needs of faculty and identifying and implementing solutions.
"The changes implemented by this group will enable faculty and staff to focus on work supporting Vanderbilt's mission instead of dealing with administrative tasks," Diermeier said.
"This effort shows what we can accomplish when we come together with a common purpose to lift our community and our mission."
The 2023 staff award winners will receive a monetary prize and a keepsake honoring their contributions to the university.
RELATED STORY: Staff vital to Vanderbilt's 'noble mission,' Diermeier says at fall assembly