Media Inquiries
Latest Stories
By Jenna Somers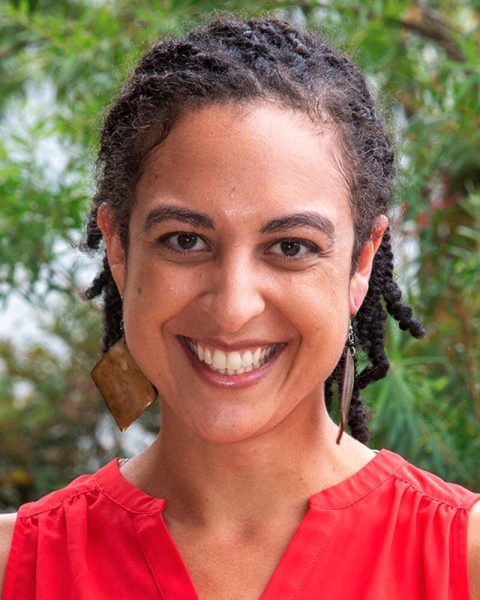 Youth violence prevention researcher Krista Mehari joined Vanderbilt University Peabody College of education and human development in May as assistant professor of psychology and human development. As a community-based researcher, Mehari works with schools, police departments, local businesses, and organizations to understand factors that catalyze youth violence and to develop violence prevention programs and strategies.
In June, the Society for Prevention Research recognized the importance of Mehari's work with the ECPN John B. Reid Early Career Award, "bestowed on someone who has shown a commitment to prevention science through outstanding contributions to research, policy, or practice," SPR says.
"I consider SPR my academic home, so receiving this award felt like an I-have-arrived moment of approval from folks I respect and who are leaders in prevention science," Mehari said. "Because my work is community-based, I do everything in partnerships, so it takes a long time to get things off the ground.  Being officially recognized by an entity that I deeply respect, that said this work is good and meaningful to our field was really rewarding."
In recent years, Mehari has received important federal grants in support of novel research on gun violence prevention and multi-systemic interventions to reduce suicidality and violence affecting African American youth.
"My research aims to help create safe communities where youth have the opportunity to thrive," Mehari said. "I'm particularly interested in working with communities of color that tend to be disproportionately impacted by violence, and I want to understand what leads up to violence so that we can work to prevent it."
In 2020, while a professor at the University of South Alabama, Mehari became one of the first researchers in the country to receive a grant from the Centers for Disease Control and Prevention to study gun violence after funding for such research had been quashed by Congress for more than two decades. The three-year, $1.87 million grant supports Project GRIP (gun-related injury prevention), which aims to address a cultural divide between public health strategies to prevent gun violence and suicide and the lived experiences of gun owners and users.
Mehari's research team has conducted 250 in-depth interviews in Mobile, Alabama, with gun-owners and people who live in neighborhoods experiencing high rates of gun violence to identify concepts associated with gun use, ownership, and exposure. Using data from these interviews, the team designed surveys to further assess these concepts with 1,000 youth participants in Mobile and 2,000 adult participants nation-wide. Concluding later this year, the study will provide novel insights into Americans' gun-related attitudes, behaviors, and practices associated with increased risk for violence and suicide.
Relatedly, last year, Mehari began a study supported by a five-year, $3.35 million grant from the National Institute on Minority Health and Health Disparities to examine school-, law enforcement-, and community-based programs in Mobile, Alabama, designed to "reduce health disparities in violence by promoting equity in African American youths' experiences in education and law enforcement systems." These programs could possibly "reduce morbidity and mortality among African American youth, promote overall quality of life, and reduce the societal costs associated with both interpersonal violence and suicidality," the study summary says.
As part of the study's school-based programs, Mehari's team is working with schools to implement positive behavioral interventions and supports (PBIS) to facilitate positive relationships between teachers and students, establish expectations for students and help them meet expectations, and reduce exclusionary discipline. Teachers will also receive year-round training and coaching on engaging students in curriculum as well as on managing and de-escalating conflicts. By focusing on improving the education experiences of students, Mehari hopes to disrupt the school-to-prison pipeline.
Mehari's research also has had a global aspect. She was the co-principal investigator on a cyberbullying collaborative with partners in India to understand cross-cultural similarities and differences in causes of cyber bullying and how to prevent it. The team found that how people decide to engage in online aggression is culturally shaped and that parents in India and the U.S. feel helpless in understanding how their children are behaving online and how to help them develop pro-social online behaviors.
Mehari also partnered with a colleague in India to evaluate a violence prevention program at a school there. They found similarities between the U.S. and India in factors important for mitigating youth violence, such as promoting conflict resolution and emotion regulation.
Prior to joining Vanderbilt, Mehari was an assistant professor at the University of South Alabama and a fellow of the SPR Early Career Mentoring Program. She completed her postdoctoral fellowship at the Children's Hospital of Philadelphia and earned her master's degree and Ph.D. in clinical psychology from Virginia Commonwealth University.