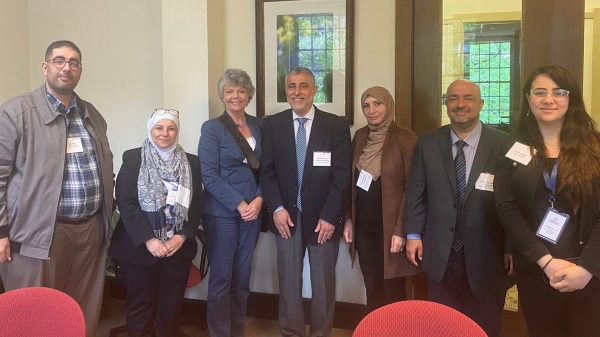 Vanderbilt University's Peabody College of education and human development hosted faculty, administrators, and staff from four Jordanian universities in a collaboration with International Research & Exchanges Board from May 8 to 12. The delegation was seeking to develop and implement a pre-service teacher education higher diploma (PSTE) and apply for accreditation with the Council for the Accreditation of Educator Preparation (CAEP) later this year.
Facilitated by Amanda Van Doorn, Peabody's director of teacher licensure, representatives from Mu'tah University, Hashemite University, the University of Jordan, and Yarmouk University visited Peabody's campus and several Metro Nashville Public Schools sites.
The delegation toured Peabody's academic facilities and met with faculty and staff, including Dean Camilla Benbow, Associate Deans Catherine Gavin Loss and Xiu Cravens, and Assistant Deans Meaghan Munday and Hasina Mohyuddin.
Van Doorn and Kimberly Paulsen, associate professor of the practice in the Department of Special Education and CAEP coordinator, presented an overview of CAEP and led a Q&A session. Brian Kissel, director of elementary education and professor of the practice of literacy in the Department of Teaching and Learning, presented a seminar on teaching diverse learners.
Chad Prather, MNPS' HR Talent Management Coordinator, and Megan Parker Peters, associate dean of education at Lipscomb University, presented a talk on teacher mentors.