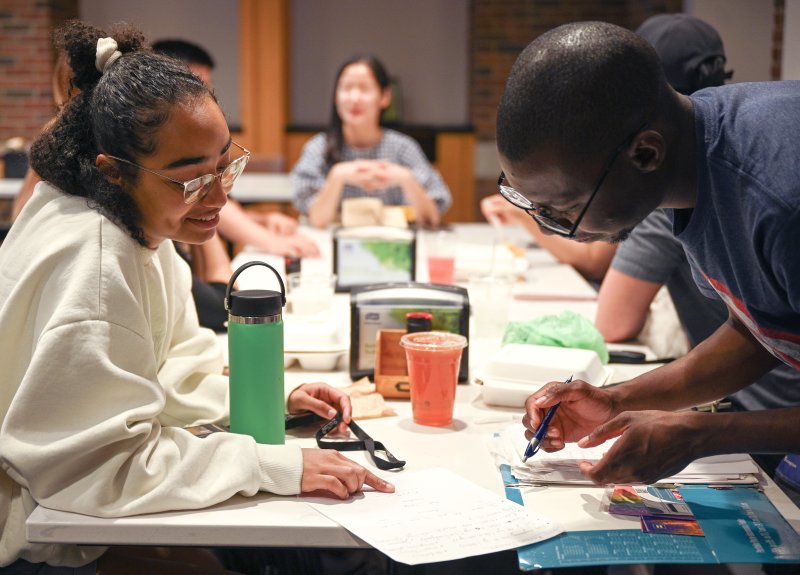 The Vanderbilt Language Tables program concluded its inaugural year on campus on April 20, bringing together students, faculty, staff and the public to explore languages and international cuisine in Vanderbilt dining halls.
A collaboration of Vanderbilt Center for Languages, Campus Dining, Student Affairs, the College of Arts and Science and the Office of Undergraduate Education, the Language Tables are part of a broader initiative to integrate language learning across campus.
"Residential colleges provide students with exceptional opportunities to engage with each other and learn and appreciate novel ways of seeing the world," said Tiffiny Tung, vice provost for undergraduate education. "Interactions between faculty, students and staff in the residential colleges are key to creating meaningful experiences that encourage growth. Our dining halls with the Language Tables program make an excellent example of how we create those opportunities for students."
First launched in September 2022 with eight language options, the Language Tables program now provides all Vanderbilt and local community members with the opportunity to practice 10 languages at any skill level: Chinese, Korean, German, French, Hindi-Urdu and Sanskrit, Italian, Japanese, Russian, Spanish and Tagalog. Each Language Table gathering is co-hosted by a volunteer faculty member and a student, and they often feature a menu created by Campus Dining chefs that relates to the evening's featured language.
For some participants, the tables are a chance to share their first language with others and enjoy a taste of home. For others, the program provides the opportunity to explore the world through new flavors and conversation.
"The Language Tables allow Campus Dining to celebrate and honor cultures and cuisine histories to which students at VU might otherwise not ever gain exposure," said Campus Dining Chef de Cuisine Brian Cochrane, who kicked off the spring semester for the German table by preparing spaetzle and goulash. "We strive to offer authentic dishes from regional cuisines to pair with the target language, highlighting the beautiful diversity of people and prompting conversations regarding culture and experience."
Hosting the gatherings in dining halls within residential colleges has increased students' access to informal language exchange opportunities, said Chalene Helmuth, director of Vanderbilt Center for Languages, who noted that dining halls often serve as a "crossroads" for campus community. Helmuth also underscored the impact of language learning on individual and institutional global citizenship.
"Communication in a second or third language encourages intercultural competence," she said. "Being able to communicate with others from different cultures and languages is essential to our global presence and participation as an institution, and these kinds of unstructured exchanges are deeply valuable to our community's language acquisition."
Bonnie Dow, dean of academic affairs in the College of Arts and Sciences, echoed the importance of developing global citizenship at Vanderbilt, emphasizing the off-campus connections between the Language Tables and Nashville-based international communities.
"Nashville is such a diverse city," Dow said. "We have all kinds of languages represented by our population, and the Language Tables program is a great opportunity to engage with the local community. The access language can give you to other experiences and other types of people is just enormous, and I love that this project is helping us tap into that."
The Language Tables program is coordinated by David Johnson, lecturer of Russian in the Department of German, Russian and East European Studies. Have questions about the Language Tables program? Email Johnson at david.matthew.johnson@vanderbilt.edu or visit the Vanderbilt Center for Languages website.
The Language Tables program will return at the end of August to coincide with the start of the fall 2023 semester.