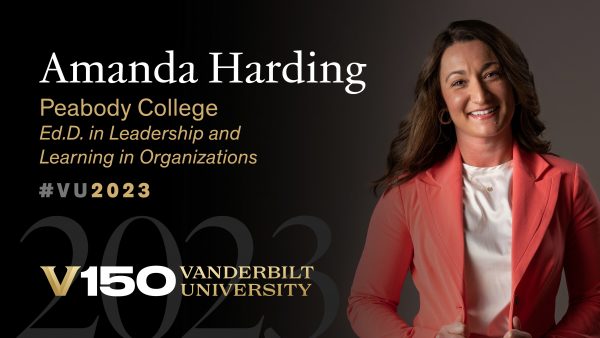 By Amy Wolf
Amanda Harding wears three hats at Vanderbilt—one as a university staff member, another as a doctoral student pursuing her degree online and a third as president of the advisory group that represents Vanderbilt staff members. Her desire to further her education complements and inspires her work in the online learning space as assistant director of strategy and operations for Vanderbilt's Office of Digital Education.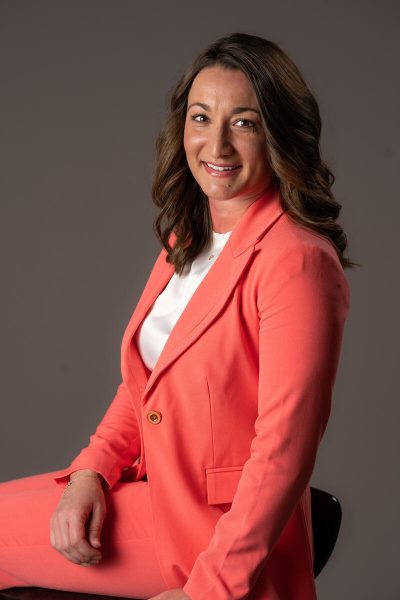 "I've always considered myself a lifelong learner, so when I started at Vanderbilt, I quickly explored opportunities to advance my career through a degree program," said Harding, who is earning a doctor of education from Peabody College of education and human development. "I found a great fit in the Leadership and Learning in Organizations online program, and I am part of the program's first cohort, which is super exciting."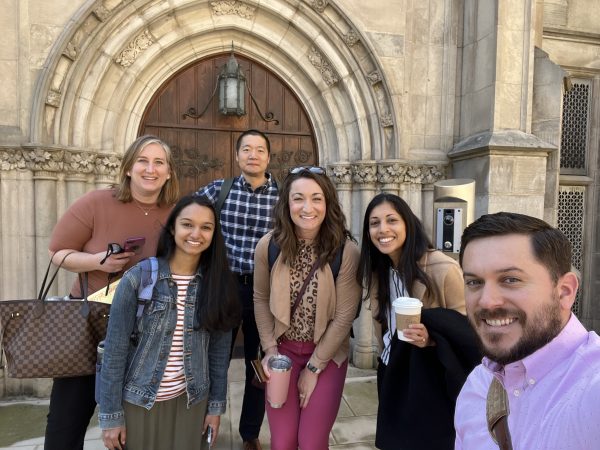 When she started the program, Harding was also part of the team launching Vanderbilt's Data Science Institute, which includes a master of science in data science program that enables discovery by harnessing and translating complex data.  
REAL-TIME APPLICATION
Harding's studies and excitement around being an online learner led her to transition into a new position with the Office of Digital Education, a new university initiative to create and support diverse online learning programs at Vanderbilt. 
"With the leadership program, I have been able to apply exactly what I'm learning in the online classroom and transfer those experiences into the work I do every day," she said. "It has been really exciting to see what I do and learn translate to the real world." 
Harding brings her expertise in strategy and operations to her staff role to ensure that online learners feel just as much a part of the university as residential learners by fostering a sense of community, support and innovative learning. 
STAFF LEADER
Harding also brings a unique perspective to understanding the needs and challenges of the Vanderbilt community by representing its more than 4,500 full-time staff members as president of the University Staff Advisory Council.
"The value of being a student, a staff member and a leader on campus is really being at the intersection of all these different viewpoints, perspectives and experiences and being able to figure out how they intertwine to make the entire Vanderbilt community a better place to study, work and live," she said.
"I think my experience serving in all three roles allows me to see and think about the unique ways in which we can accomplish big goals for Vanderbilt."
THREE QUESTIONS …
WHAT ADVICE WOULD YOU GIVE TO A STAFF MEMBER THINKING ABOUT GOING BACK TO SCHOOL?
"It's really worth it to go back for an advanced degree! Yes, it might be scary; it might be challenging, but you can do this at Vanderbilt because you have a community of people around you for support. And Vanderbilt supports staff members with a tuition benefit. And you don't have to rush. I took five years." 
WHAT WAS A PIVOTAL MOMENT IN YOUR EXPERIENCE?
"I've had a really wonderful opportunity to lead and also be part of groups that are putting forward proposals for important change on campus. A pivotal experience for me with the University Staff Advisory Council was when we put together a professional development proposal that we shared with Human Resources. They took those recommendations and implemented some of the ideas, one being the Staff Mentorship Program. I was also recommended to be a mentor, which was such an honor. It makes the work we do so special."  
VANDERBILT IS…
"For me, Vanderbilt is a place of discovery. I've been able to discover myself both personally and professionally, and it's really where I've been able to grow the most. Having the opportunity to reflect on not only my time as a professional for the last seven years, but my time as a student, they have been monumental in shaping who I am as a person and, I think, where I'm going in the future."