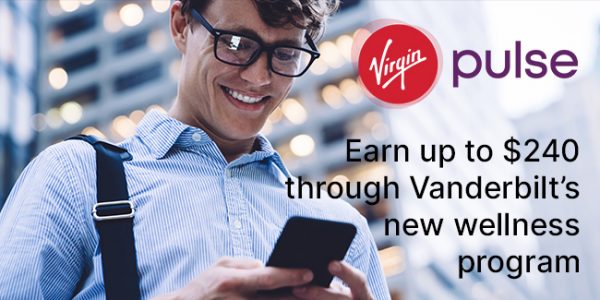 Virgin Pulse is Vanderbilt's new wellness program that is available to all benefits-eligible employees regardless of their enrollment in Vanderbilt benefits. Included in Virgin Pulse is an expanded incentive program that includes: 
Receive points ($40 Pulse Cash) for completing the Health Risk Assessment.

 

Earn up to $50 per quarter by participating in a variety of wellness challenges and activities.

 

Earn points every day by interacting with the platform.

 
Earning Points in Virgin Pulse
Virgin Pulse encourages members to interact daily with the platform. Members can earn points every day for quick, easy-to-complete activities, which then convert to Pulse Cash: 
Physical activity: Earn up to 140 points for steps or active minutes (can be entered manually or from synced device)* 
Daily Cards: Two new tip cards are presented to members each day and award points for reading them 
Healthy Habits: Members can choose from hundreds of healthy habit trackers and get credit for tracking up to three every day 
Sleep: Earn points for sleep habits (can be entered manually or from synced device)* 
Members earn higher point values for repetitive actions such as taking 7,000 steps or 15 activity minutes 20 days in a month or tracking healthy habits 10 days a month. 
*You do not have to sync devices to earn points for actions if you prefer not to. Rewards are also given for manually entered data. 
Redeeming Pulse Cash
Pulse Cash can be redeemed in the Virgin Pulse store on the platform. Within the Virgin Pulse store, members can purchase a wide range of health and wellness products such as compatible fitness trackers, fitness and training equipment, and headphones. Members can also transfer their Pulse Cash to donate to a charity or purchase a gift card to popular stores. The gift cards are like cash, and you can spend the dollars any way you choose.     
Pulse Cash cannot be deposited into HSA/HRA accounts. 
Virgin Pulse Platform
A desktop browser version of Virgin Pulse is available, so you do not need to download the app to your phone to access the same benefits.  
Sign up today on the Virgin Pulse website or by calling 888-671-9395.
Visit the Office of Health and Wellness website for FAQs or email support@virginpulse.com for member inquires.