By Jenny Abrams
Nicole Joseph, associate professor of mathematics education at Vanderbilt Peabody College of education and human development, will be presented with the 2023 Louise Hay Award for Contributions to Mathematics Education by the Association for Women in Mathematics. Joseph will receive her award at the Joint Mathematics Meetings on January 4-7, 2023, in Boston, Mass.
In its award announcement, the Association for Women in Mathematics noted that Joseph is being recognized for her "contributions to mathematics education that reflect the values of taking risks and nurturing students' academic talent that are central to Louise Hay's legacy."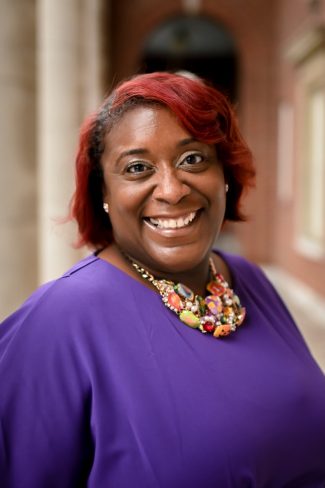 Joseph's research explores Black women and girls' experiences and identities in mathematics and how their underrepresentation in mathematics is shaped by whiteness and white supremacy. She is the principal investigator of the Intersectional Study of Black Women and Girls in Society and director of the Joseph Mathematics Education Research Lab (JMEL). Joseph has also organized the annual Tennessee March for Black Women in STEM.
"We at Peabody College are so proud of Nicole Joseph and her accomplishments. This is a remarkable recognition for a talented educator and researcher still early in career," said Camilla P. Benbow, Patricia and Rodes Hart Dean of Education and Human Development. "Nicole's work provides practical solutions to improve opportunities for Black girls and women in the field of mathematics."
Joseph's research stems from her own experience growing up feeling alone as a Black girl in a mathematics class where other students didn't look like her. Her experiences shaped her drive to tell the stories of Black girls and women and how they differ from their white girl and Black male counterparts.  She refers to herself as a "Black girl cartographer in the field of mathematics education" in that she "cares about the well-being, outcomes, and learning experiences of Black girls and women." Through scholarship, teaching, and service, Joseph hopes to support Black girls and women and influence students and families.
Of her award, Joseph stated, "It gives me hope that the AWM committee recognized my work in this important way. I am grateful to the selection committee and the AWM for this tremendous honor."
Joseph has authored numerous peer-reviewed articles and book chapters. A book, Interrogating Whiteness and Relinquishing Power:  White Faculty's Commitment to Racial Consciousness in STEM Classrooms was published in 2016 (Peter Lang). Another, Making Black Girls Count in Math Education: A Black Feminist Vision of Transformative Teaching (Harvard University Press) has just been published.
Joseph previously received the American Educational Research Association's Early Career Contributions Award for Scholars of Color (2018) as well as Vanderbilt's Chancellor's Award for Research on Equity, Diversity, and Inclusion (2019). She is a board member for The Mathematics Learning Center.
Joseph initially worked as a math teacher and instructional math coach in the state of Washington. She then went on to obtain a Master's degree from Pacific Oaks College Northwest in Washington and her Ph.D. in curriculum and instruction from the University of Washington. After working at the University of Denver, Joseph joined the Vanderbilt Peabody faculty as assistant professor in 2016 and was promoted to associate professor with tenure in 2021.
According to the Association for Women in Mathematics, "The Hay Award recognizes outstanding achievements in any area of mathematics education. Louise Hay was widely recognized for her contributions to mathematical logic, for her strong leadership as head of the Department of Mathematics, Statistics, and Computer Science at the University of Illinois at Chicago, for her devotion to students, and for her lifelong commitment to nurturing the talent of young women and men. The annual presentation of this award is intended to highlight the importance of mathematics education and to evoke the memory of all that Hay exemplified as a teacher, scholar, administrator, and human being."