Vanderbilt's approach to scholarship and the creation of knowledge is rigorous and collaborative, and Discovery Vanderbilt will further catalyze the engagement, reach and impact of scholars' cutting-edge work across all the university's schools and colleges.
This initiative commits significant resources to dramatically increase faculty, student and staff success in pursuing bold new ideas and extending the global reach of discoveries made by researchers and innovators in all parts of the university.
Today marks the beginning of our Discovery Vanderbilt series, which will showcase how Vanderbilt is generating knowledge, perspectives and solutions—through recent successes in the areas that demonstrate the university's highest-caliber scholarship and by highlighting new accomplishments of students and faculty driving discovery.
The following examples embody how the university has demonstrated ambition and ability to succeed in the three targeted outcomes of Discovery Vanderbilt: engagement, reach and funding. 
Engagement
Discovery Vanderbilt will deepen opportunities for our students, faculty and staff to engage and collaborate across disciplines, working shoulder-to-shoulder as scholars, innovators and problem-solvers.  
The Vanderbilt Undergraduate Research Fair, hosted by the Office of Experiential Learning and Immersion Vanderbilt on Sept. 8, demonstrated the spirit of engagement in research and discovery already in place across the disciplines at Vanderbilt. More than 160 undergraduate students showcased their research to more than 700 attendees.
Students presented on topics such as studies on chemotherapy dosage among breast cancer patients, neural correlates of social motivation in adults with autism and analyses of the effectiveness of premedical curricula, as well as explorations of the impact of politicians with psychopathic tendencies. The fair offered awards for top research posters, as judged by faculty, data research specialists and staff members, and it was an opportunity for the students to connect with full-time researchers at the institution.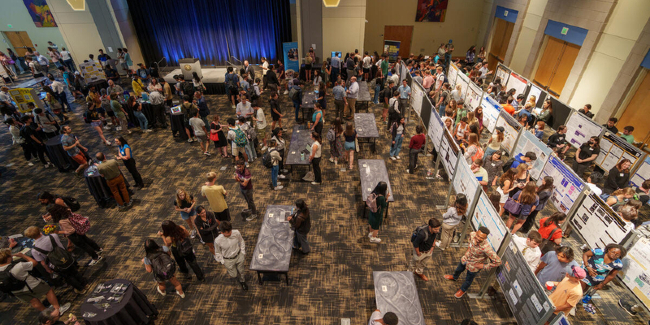 The fair also included presentations from students and faculty on their interdisciplinary research collaborations and hosted breakout sessions where students could connect with research opportunities offered by faculty across the university's schools and colleges.   
Read more about the 2022 Vanderbilt Undergraduate Research Fair. 
Reach 
Discovery Vanderbilt will develop partnerships that allow us to extend and promote our research and innovation—making our impact clearly visible on a regional, national and global scale.   
Vanderbilt University was chosen to host the 2023 Clinton Global Initiative University annual meeting in March. The announcement was made by Clinton Foundation Vice Chair Chelsea Clinton on stage with Chancellor Daniel Diermeier at the 2022 Clinton Global Initiative annual meeting in New York in September.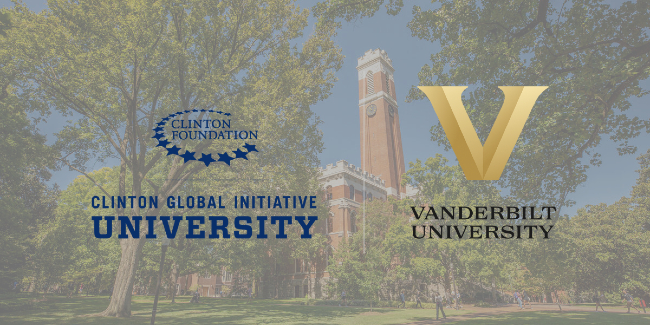 The March event will bring students from around the world to Vanderbilt's campus to collaborate with influential leaders, experts and innovators on solving humanity's most pressing problems. CGI U participants, including a cohort of Vanderbilt undergraduate, graduate and professional students, will develop Commitment to Action projects, which address important social, economic and environmental challenges.  
The event will include opportunities for members of the Vanderbilt community, including students beyond the CGI cohort, faculty and staff to connect with speakers and global experts who will come to campus for the three-day event. CGI U will also allow socially minded entrepreneurs and innovators to learn more about Vanderbilt and connect with the university's scholars across the schools and colleges.  
Read more about Vanderbilt hosting the 2023 Clinton Global Initiative University. 
Funding
Discovery Vanderbilt will expand and diversify funding for research and innovation, maximizing Vanderbilt scholars' ability to reach for new and higher-impact awards that will make their boldest ambitions possible. 
In April, Vanderbilt University and Vanderbilt University Medical Center announced that the two entities had reached a combined total of $1 billion in external research funding in 2021. The milestone was representative of the university and medical center's growing reputation as research powerhouses, as well as the ability of faculty to attract prestigious, high-dollar awards.  
Together in fiscal 2021, Vanderbilt and VUMC received more than 3,100 external awards totaling $1,090,386,890. Awards include those from the National Institutes of Health, the National Science Foundation, the Department of Defense, the Department of Education and the Centers for Disease Control and Prevention. The $1 billion in funding in 2021 went to projects such as evidence-based improvements to classrooms and major roadways, positive momentum toward new drug targets for treating devastating diseases, changing national health guidelines and using advanced computational approaches to pursue new foundational knowledge about the human body.   
Read more about Vanderbilt's historic external funding milestone.  
Learn more about Discovery Vanderbilt, and watch for the next edition of the Discovery Vanderbilt regular series soon.