At the Clinton Global Initiative 2022 meeting in New York City today, Clinton Foundation Vice Chair Chelsea Clinton announced that Vanderbilt University will serve as the host campus for the Clinton Global Initiative University annual meeting on March 3–5, 2023. The gathering is an opportunity for students from around the world to collaborate with influential leaders, experts and innovators on solving humanity's most pressing problems.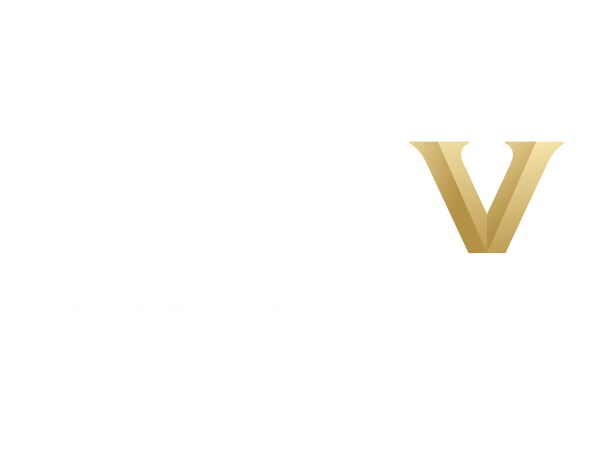 Each year, thousands of undergraduate and graduate students apply to participate in CGI U's unique community of learning, leadership and action. At the CGI U annual meeting that kicks off the year-round program, participants develop their Commitment to Action projects, which address important social, economic and environmental challenges. Commitments developed from the CGI U 2022 meeting include a commitment to build software that predicts and manages the fluctuating health conditions of COVID "long haulers" to regain a semblance of normalcy and better health, a commitment to develop a water delivery system by using new methods of water delivery and water purification for a community in Bukonko, Uganda, and a commitment to help address the current substance abuse epidemic by providing harm reduction information and services in Madison, Wisconsin.
"We are so excited to bring student leaders from around the world to Vanderbilt next year, and to support their efforts to improve lives and experiences on their college campuses, in their communities, and across the globe," said Clinton Foundation Vice Chair Chelsea Clinton. "Vanderbilt is a campus dedicated to both social innovation and fearless inquiry, and we are delighted to announce that they will be our host campus partner for CGI U 2023."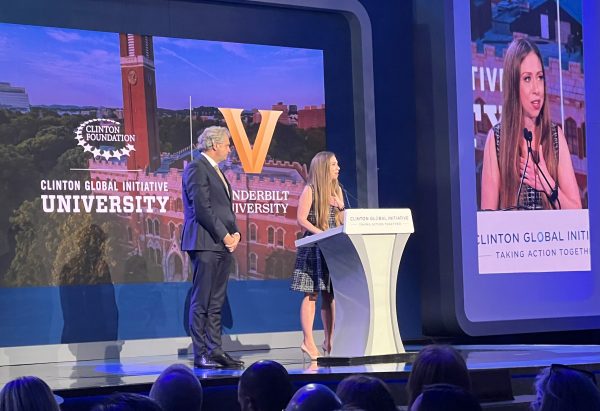 Since 2007, more than 11,000 students have participated in the CGI U program, representing more than 1,000 schools, 163 countries and all 50 states. Previous CGI U host campuses include the University of Chicago; Northeastern University; University of California, Berkeley; University of Miami; Arizona State University; Washington University in St. Louis; George Washington University; University of California, San Diego; University of Texas at Austin; Tulane University; Howard University; and member schools of the American Association of Community Colleges.
"Vanderbilt is honored to be the host campus for the 2023 Clinton Global Initiative University annual meeting," said Daniel Diermeier, chancellor of Vanderbilt University. "Our university and the Clinton Foundation share the beliefs that collaboration brings out the best in humanity and that diverse perspectives and open dialogue are needed to drive innovation and discovery. In assembling experts and students from around the world and across a variety of disciplines and backgrounds, this meeting will offer a tremendous opportunity to scale local solutions on a global level."
The CGI U annual meeting will take place the same month that Vanderbilt kicks off its yearlong sesquicentennial celebration, marking 150 years since the university's founding.
Stay up to date on CGI U at Vanderbilt
Beginning in 2019, CGI U expanded its support for student leaders by providing a year-round virtual curriculum with enhanced mentorship and social impact programming. In 2020, this support included $100,000 in funding for student projects that address the COVID-19 pandemic; a partnership with IBM to help students develop app-based projects that address COVID-19 and climate change through Call for Code; and programming with the Peter G. Peterson Foundation that included a discussion with Chelsea Clinton on how young people are reinventing civic engagement.
In 2021, CGI U and Verizon launched a partnership to help students develop innovative technology solutions to pressing domestic issues, with the opportunity to earn a spot in an accelerator program and pitch for seed funding. This past April, the 2022 CGI U annual meeting featured conversations with first lady Jill Biden, former U.S. Secretary of State Hillary Clinton, author Chimamanda Ngozi Adichie, U.S. Surgeon General Dr. Vivek H. Murthy and more.
HOW TO APPLY FOR CGI U
Applicants must be enrolled as an undergraduate or graduate student at an institution of higher education when they submit their CGI U application.
Prospective students can learn more and apply to this year-round program at cgiu.org. The application deadline is December 16, 2022. Applicants are required to submit a detailed plan for their Commitment to Action, a social impact project that addresses a specific problem that they have identified in their application.
The CGI U program, including the annual student event, is free for accepted students. Students with questions about the application process can email cgiu@clintonglobalinitiative.org.
ABOUT VANDERBILT UNIVERSITY
Founded in 1873, Vanderbilt University is globally renowned for its transformative education and research. The university's 10 schools reside on a parklike campus set in the heart of Nashville, Tennessee, providing a collaborative culture that empowers leaders of tomorrow. Top-ranked in both academics and financial aid, Vanderbilt offers an immersive residential undergraduate experience, with programs in the liberal arts and sciences, engineering, music, education and human development. The university also is home to nationally and internationally recognized graduate schools of law, education, business, medicine, nursing and divinity, and it offers robust graduate degree programs across a range of disciplines.
Vanderbilt is committed to the strength of its interdisciplinary research enterprise and to inclusive excellence, believing that profound breakthroughs happen when scholars of different perspectives, races, gender identities, ethnicities and socioeconomic backgrounds work together. The university's prominent alumni base includes Nobel Prize winners, members of Congress, governors, ambassadors, judges, admirals, CEOs, university presidents, physicians, attorneys and professional sports figures.
Learn more at vanderbilt.edu.
ABOUT THE CLINTON FOUNDATION
Building on a lifetime of public service, President Bill Clinton established the Clinton Foundation on the simple belief that everyone deserves a chance to succeed, everyone has a responsibility to act, and we all do better when we work together. For nearly two decades, those values have energized the work of the foundation in overcoming complex challenges and improving the lives of people across the United States and around the world.
The foundation works on issues directly or with strategic partners from the business, government and nonprofit sectors to create economic opportunity, improve public health and inspire civic engagement and service. Its programs are designed to make a real difference today while serving as proven models for tomorrow. The goal of every effort is to use available resources to get better results faster—at the lowest possible cost.
The foundation firmly believes that when diverse groups of people bring resources together in the spirit of true cooperation, transformative ideas will emerge to drive life-changing action.
Learn more at clintonfoundation.org.