by Ann Marie Deer Owens
Among the university's highest priorities is helping staff at all levels find opportunities to grow and develop professionally, Chancellor Daniel Diermeier said during his remarks at the 2022 Fall Staff Assembly.
"It is important to me and essential to the future of our university that Vanderbilt be an outstanding place to work and build a career," Diermeier said. "Vanderbilt exists to unlock human potential, and this, importantly, includes the potential of our staff. We want to do this at every part of the university."
The third annual Fall Staff Assembly was held on Sept. 29 at the Student Life Center, with the option to watch virtually. View a recording of the event. Diermeier expressed gratitude for the Future of Work committee, which has collaborated with university leadership and Human Resources on a series of investments to enhance staff life at Vanderbilt.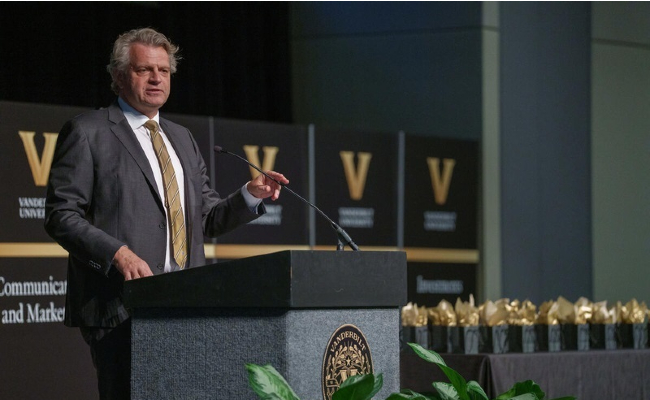 "Based on the recommendations of a Future of Work subcommittee, we have increased paid parental leave from two weeks to eight," Diermeier said. "We have also implemented a reproductive health and parenting coordinator to provide support and information for staff who are pregnant or parenting."
Other new initiatives include faster reimbursement for those taking courses through the Employee Education Assistance Program and enhanced employee assistance and well-being services to be launched early next year.
Diermeier credited the staff for a large portion of the university's momentum. "Last year, for the first time, we exceeded $1 billion in external research funding, a key indicator of the vitality of our research enterprise and its careful stewardship by Provost Raver, her team and many of you in our schools and colleges," Diermeier said.
The chancellor also looked forward during his remarks to consider the university's future direction.
"The answer is clear," Diermeier said. "We must apply our tremendous strength, collaboration and ambition toward our next 150 years of impact. One way we must do this is by expanding our reach around the world."
Diermeier also emphasized the importance of bold investments in discovery and research, continued investments in undergraduate and graduate education, and a doubling down on the university's commitment to free expression and open inquiry.
"As we look ahead to our sesquicentennial, I am filled with optimism—both for the goals we have set forth, and also for the parts of the story that will continue to evolve or may not be fully predictable or clear. Together we can advance our mission as a world-class university."
Amanda Harding, president of the University Staff Advisory Council, moderated the Fall Staff Assembly, which included remarks from Rebecca Swan, chair of the Faculty Senate and professor of pediatrics, and student leader Lola Faleye, a member of the Class of 2023.
The event included the presentation of six awards for staff member and team excellence by Diermeier and Vice Chancellor for Administration Eric Kopstain. In addition, the Dare to Grow Prize was unveiled.
Community Impact Award
The Community Impact Award recognizes a full-time staff member or team that represents Vanderbilt through community engagement, service, leadership or other outreach, and creates a better understanding of the university to external audiences.
Paige Ellenberger, educational coordinator, Vanderbilt Student Volunteers for Science
"Paige works to improve, innovate, and maintain high standards by aligning all lessons to the Tennessee Academic Standards for Science, holding yearly teacher training sessions, serving students in all socioeconomic circumstances, and making herself available as a resource to teachers," Diermeier said.
Innovation Excellence Award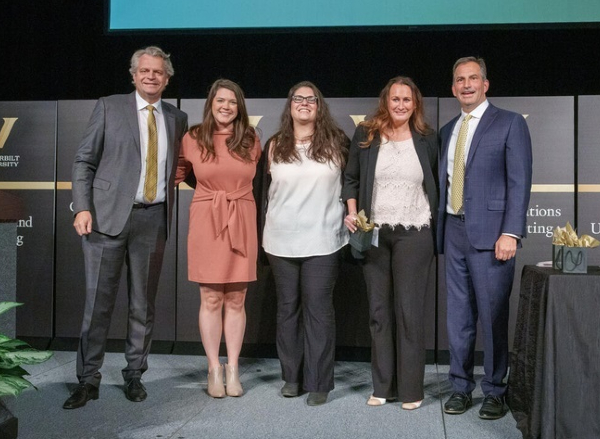 The Innovation Excellence Award is given to a staff member, or staff group or team, for excellence in innovation demonstrated by implementing or attempting a new system or approach that has had a meaningful and significant impact on a process, program or initiative at Vanderbilt. This award was presented to the three core leadership team members of NORA—Network of Research Administrators:
Allison Varble, School of Nursing
Beth Rivas, School of Medicine Basic Sciences
Emma Pacilli, School of Medicine Basic Sciences
"Growth in the digital landscape and in the research enterprise at Vanderbilt, and the resulting need for accurate and organized data, have presented challenges for Vanderbilt's research administrators. With years of experience as research administrators across multiple Vanderbilt departments and schools, Allision, Beth and Emma created the NORA network as an innovative approach to addressing such challenges through collaboration," Diermeier said.
Leadership Excellence Award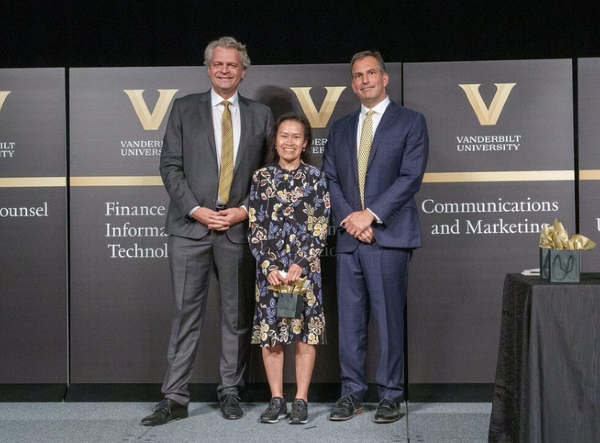 This award recognizes a staff member who empowers, educates, coaches and supports Vanderbilt colleagues and shows outstanding commitment to the university's mission through strong, courageous leadership that builds partnerships, engagement and trust. There were two recipients in this category:
Olivia Soxayachanh, team leader, Vanderbilt Finance
Laura Barker, team member, grounds maintenance, Plant Operations
"One of the things that makes Olivia such a good leader is her passion for sharing her knowledge, and the care and patience with which she does so," Diermeier said. "Olivia creates an environment for her team that is rich in knowledge and welcoming to those who come to learn."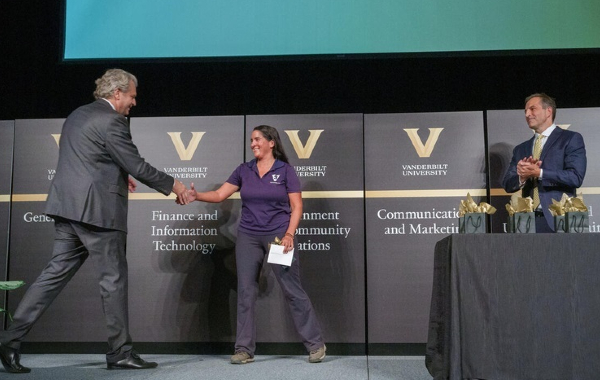 "Laura's leadership and dedication have been crucial in supporting the health and vitality of our campus grounds and thereby helping maintain an important part of our campus culture and identity," Diermeier said.
Professional Excellence Award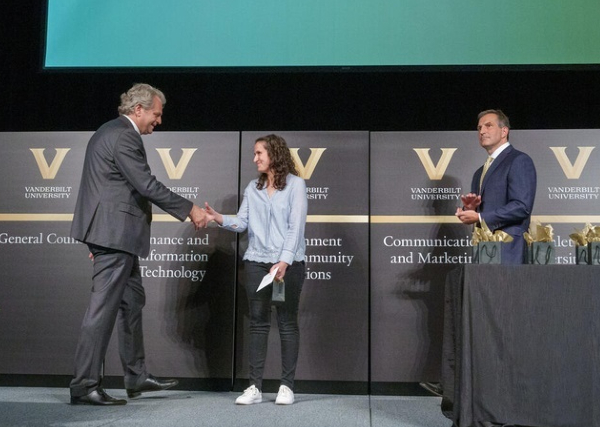 This award recognizes a person who goes beyond specific job duties to support Vanderbilt's mission and success by demonstrating excellence, positively influencing the work environment, fostering cooperation, achieving goals, and overcoming obstacles. There were two recipients in this category:
Micala Maddox, lab manager, Department of Psychology, College of Arts and Science
Carol Nelson, team member, Campus Dining
"By sharing her knowledge, advising and supporting her colleagues, and advocating for and appreciating the animals, Micala helps create the highest standards of care in Vanderbilt labs," Diermeier said.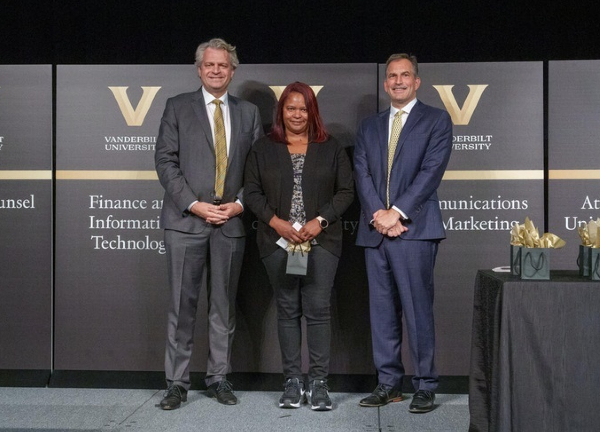 "Carol treats students like family, mentors all the members of the Campus Dining team, and is a model of superior customer service," Diermeier said. "All newly hired staff at the Commons Dining Center spend time with Carol so that she can teach them the things that will enable them to do their jobs well, and so that they can be inspired by her can-do spirit, care and empathy."
Research Excellence Award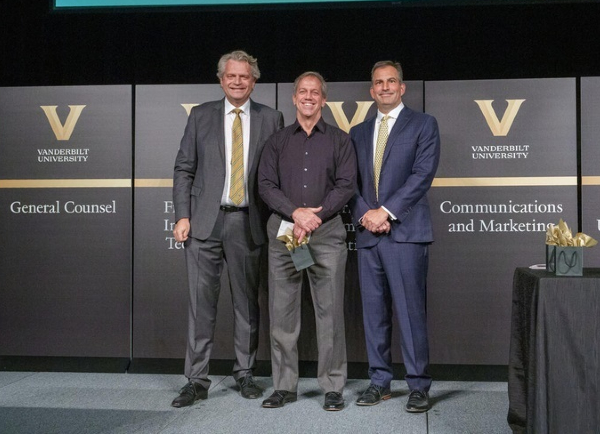 This award recognizes a staff member whose support of research has made a significant impact on the process of discovery and the pursuit of knowledge at Vanderbilt.
John Fellenstein, director and sole machinist in the Vanderbilt Physics Machine Shop
"In the last year, John has developed projects to support chemistry, biology, physics, geology and medicine and its associated basic sciences," Diermeier said. He excels at understanding the needs of scientists and then translating those needs into physical manifestations cut from Teflon, aluminum, stainless steel or brass."
Student Impact Award
This award goes to a staff member who, through access, resources, mentorship or service, has had a positive impact on Vanderbilt students' quality of life and continued success at the university.
Tim Groves, manager, Frist Nursing Informatics Support Services
"With care, expertise and innovation, Tim has contributed to the success of more than 800 nursing students each year over the last six years and enabled them to take full advantage of the learning experiences that the Vanderbilt School of Nursing offers," Diermeier said.
Dare to Grow Prize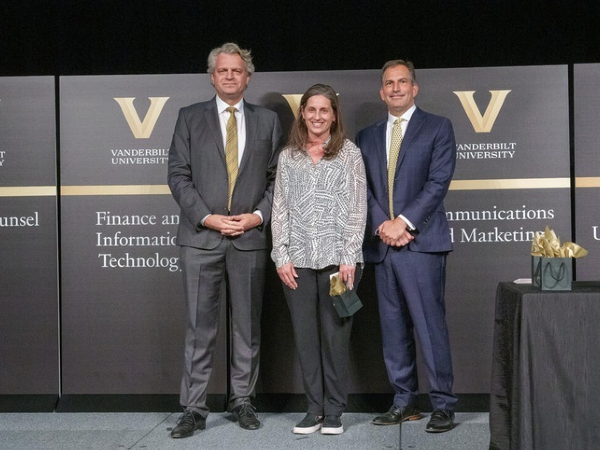 This new prize honors members of the Vanderbilt University community who embody the university's Latin motto, Crescere Aude, which translates to "Dare to Grow." These individuals and teams have demonstrated agility and creative solutions in their work, adopting a "Dare to Grow" mentality.
Jana Blick, senior director of research finance
Athletics equipment operations and business office
            Brett Herring, assistant athletic director for business operations
            Jordan Hunt, director of equipment
            John Mardirosian, associate director of equipment
            Trent Pearson, head football equipment manager
            Phillip O. Brown, senior associate athletic director and chief business officer
"Jana exemplified creative problem-solving to extend an opportunity for discovery," Diermeier said. "An early career faculty member had won a prestigious and coveted grant, but because of a communication that never made it to him, he was about to lose the remaining unspent funds. A solution arose to spend the remaining funds on equipment to support the faculty member's research—but supply chain disruptions and delays rendered that an uncertain solution, given the expectation that NSF would require quick delivery of equipment once funds were drawn. Jana did something easier said than done—she got on the phone with the National Science Foundation. She had a courageous 'why not try' attitude that ultimately got the job done while ensuring the university was a good steward of the funds."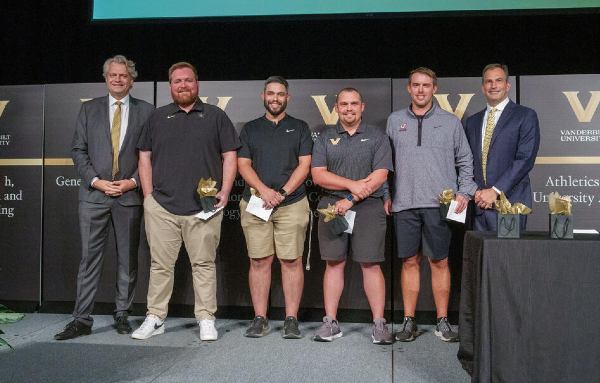 "A few weeks ago, before Vanderbilt Football's season opener at the University of Hawaii, the team's new game jerseys were delivered to campus late because of supply chain delays, and the jerseys still needed to have numbers and nameplates embroidered once they arrived," Diermeier said. "They found an embroidery shop in Dallas, Texas, able to take on the work. Phil and Brett arrived in Hawaii with most of the jerseys ready. Jordan, John and Trent connected them to the University of Hawaii's equipment manager, who gave them the name of a tailor in Honolulu that finished the job with 23 minutes to spare. Brett, Jordan, John, Trent and Phil modeled the ethos of teamwork we see in our student-athletes, and they dared to be inventive and agile for the sake of our Commodores."
Staff award winners will receive a monetary award and a keepsake honoring their contribution to the university.