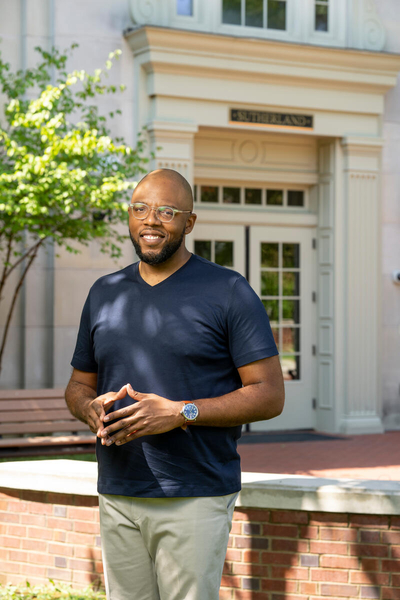 Vanderbilt's uniquely personal and collaborative residential college experience offers one of the most rewarding aspects of student life at the university. Undergraduate houses and colleges are led by faculty who live in community with students. Meet the university's newest faculty heads of house and heads of college in this special series.
Name: Chezare A. Warren
Residential college: Sutherland House
Faculty position: Associate professor of equity and inclusion in education policy
Years at Vanderbilt: One
Hometown: Chicago
Favorite song: "Hold Me Now" by Kirk Franklin
Favorite book: Becoming by Michelle Obama
Favorite food: Jamaican cuisine (e.g., ackee and saltfish, curried goat, rice and peas)
Favorite spot on campus: My office (You just have to come by to see why. 😊)
What are you most looking forward to for the upcoming academic year? Getting to know first-year students living in Sutherland House and teaching my graduate seminar on critical theories of race.
Why did you want to be a faculty head of house? As a former middle school and high school math teacher, I most miss ongoing interpersonal engagements with young people that lead to substantive relationships. Building such relationships is hallmark to the faculty head of house experience. Also, becoming faculty head of house provides me the opportunity to share the same social and emotional support that I have benefited from during my career. I'm so excited to both observe and contribute meaningfully to our undergraduate students' growth and development in real time.
Tell us a funny or poignant experience you've had at Vanderbilt. I participated in two faculty salons this past academic year. Both provided opportunities to engage in deep discussion with students about my varied interests. A standout experience was meeting students at one of those dinners who were members of a Vanderbilt student organization called The Music Room. I loved talking music business, songwriting, production and recording. It was a beautiful opportunity to bring my full self to work and share interests beyond my professional intellectual pursuits.
What do you love about working at Vanderbilt? I love the combination of outstanding students, generous colleagues and a work environment that offers every support needed to achieve at the highest level.
Read about other faculty heads of house in this special series.