Mariana Byndloss, assistant professor of pathology, microbiology and immunology at Vanderbilt University School of Medicine, and William Wan, assistant professor of biochemistry at the Vanderbilt University School of Medicine Basic Sciences, have been named 2022 Pew Scholars in the Biomedical Sciences.  
Additionally, The Pew Charitable Trusts and the Alexander and Margaret Stewart Trust have selected Dr. Alexander Bick, assistant professor of genetic medicine at Vanderbilt University School of Medicine, to join the 2022 class of Pew-Stewart Scholars for Cancer Research. 
Mariana Byndloss, Pew Biomedical Scholar

 
Childhood obesity is a disease that affects 20 percent of U.S. school-age children, but scientists still don't understand the reasons for this epidemic. Byndloss' research aims to narrow this gap in knowledge by focusing on how obesity risk factors such as exposure to antibiotics and a high-fat diet may affect the beneficial relationship between the gut microbiota and the intestinal epithelium and promote obesity during early life. The primary goal of this research is to aid in the creation of therapeutic strategies that focus on the intestinal epithelium as a possible target for the treatment of childhood obesity and related complications.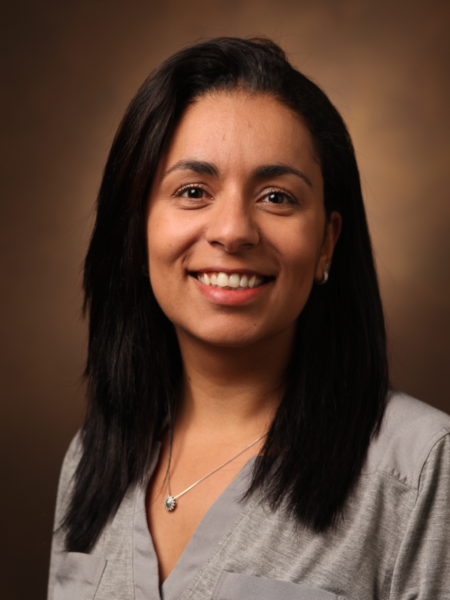 "I am honored to have been chosen as a Pew Biomedical Scholar. This award is a recognition of my research group's work since I started at VUMC. I could not have achieved this without their dedication," Byndloss said. "The Pew Biomedical Scholar award will provide critical support for our research program, which focuses on understanding how intestinal dysbiosis, a functional imbalance in the microorganisms living in our guts, caused by environmental factors may be a key factor in multiple human diseases, including childhood obesity." 
William Wan

, Pew Biomedical Scholar

 
Mononegaviruses are an order of viruses that share a number of common features: they have single-stranded nonsegmented RNA genomes; they bud from host cells within membrane envelopes; and while they have distinct morphologies, each virus has a unique structure. Mononegaviruses include a number of important emerging, reemerging and neglected human pathogens, including Ebola, measles and rabies.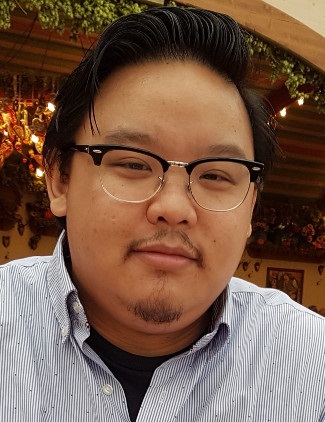 Despite their impact on human health, much is still unknown about the mechanisms behind the life cycles of these viruses, including viral replication, assembly and infection. To figure out how these virus mechanisms work, Wan's lab studies their molecular pathology—how their molecules interact with host cells to drive the infection process. Wan's research deploys methods from a cross-section of disciplines, including molecular biophysics, biochemistry, cell biology and structural biology.  
"As a Pew Scholar, our lab will use and develop cutting-edge methods like cryo-electron tomography to determine how Ebola virus infects host cells," Wan said. "Being chosen as a Pew Scholar is a great honor that not only acknowledges the innovativeness of our approach, but more broadly the importance of basic science in driving fundamental new discoveries. As such, the Pew Scholarship will enable us to address riskier questions that have the potential to yield groundbreaking insights into Ebola virus pathology." 
Alexander

Bick, Pew-Stewart Scholar for Cancer Research

 
Hematopoietic stem cells give rise to multiple blood cell types in our body. As people age, a process known as clonal hematopoiesis can occur, where hematopoietic stem cells become mutated and spur a substantial portion of blood cells with those mutations. These blood cells can progress to blood cancers, but many do not end up with cancer. Bick will develop an algorithm to determine why and how only a small subset of precancerous cells drive the development of blood cancers.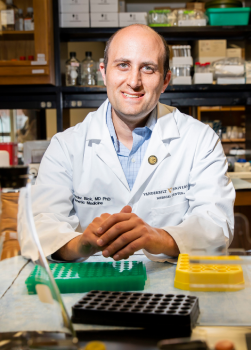 The lab will use state-of the-art genomic techniques and computational biology to identify specific genes in 1 million individuals with CH, characterizing the mechanisms that allow hematopoietic stem cells to mutate, replicate and become cancer-causing. Work from the Bick lab could have significant impact on early intervention strategies to combat cancer and identify individuals who are most at risk for developing malignant disease. 
"I could not be more excited to join the Pew community, a group of scientists I have looked up to for many years," Bick said. "I am deeply grateful to the Pew and Stewart trusts for their support. Securing funding for bold, creative projects can be difficult for early-career scientists. I am grateful for Vanderbilt University and Vanderbilt University Medical Center's support of my candidacy and for providing such a collaborative environment to pursue scientific discovery." 
The Pew Scholars Program in the Biomedical Sciences provides funding to young investigators of outstanding promise in science relevant to the advancement of human health. The program makes grants to selected academic institutions to support the independent research of outstanding early-career junior faculty. This year's class of 22 scholars was selected from 197 nominations submitted by leading U.S. academic and research institutions to receive four years of funding to invest in exploratory research. 
The Pew-Stewart Scholars Program for Cancer Research, now in its ninth year, is a national initiative to support promising early-career scientists whose research will accelerate discovery and advance progress to a cure for cancer. The early-career scholars that comprise the 2022 class are spearheading innovative research efforts designed to find cures for cancer, with each receiving a four-year grant to advance their initiatives. Bick is among this year's six scholars recognized for their tremendous potential to solve some of cancer's greatest challenges.  
"Biomedical innovation is essential to solving current and emerging global health issues," said Susan K. Urahn, Pew's president and CEO. "We are pleased to support this talented and inspiring cohort and their research." 
Previous Pew biomedical scholars across Vanderbilt and VUMC include Nancy Carrasco (1989), David Cortez (2003), Ethan Lee (2004), Lauren Parker Jackson (2016) and John Karijolich (2018). 
According to the Pew Trusts website, Vanderbilt will receive $75,000 per year for four years for each recipient, totaling $900,000 to support the three scholars' research efforts. 
Limited Submission Opportunities at Vanderbilt
Byndloss, Wan and Bick were selected as the institutional nominees for the 2022 Pew Biomedical Scholars Award and the Pew-Stewart Scholars for Cancer Research Award, which were announced across campus as Limited Submission Opportunities (LSO). LSOs are external funding opportunities where sponsors limit the number of applications Vanderbilt can submit. In the case of the Pew Scholar awards, all three VU and VUMC nominees were awarded.
For the VU/VUMC joint competition for the Pew-Stewart Scholars for Cancer Research Award, Research Development and Support, within the Office of the Vice Provost for Research, the VUMC Office of Research and the Vanderbilt-Ingram Cancer Center coordinated on the review and selection of nominees. Learn more about VU Limited Submission Opportunities and the VUMC Limited and External Funding Opportunities.