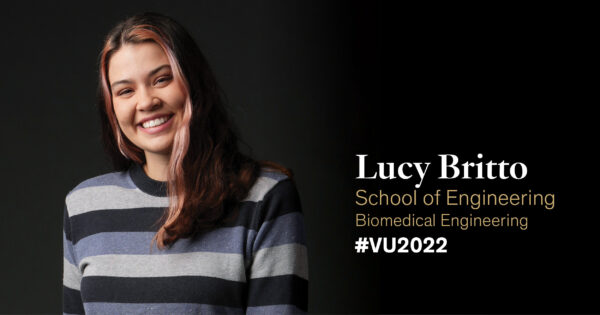 By Amy Wolf
When digging into a scientific challenge, biomedical engineering major Lucy Britto aims to do more than solve a problem. She also wants to open doors to the scientific community by helping others understand the solution and broadening access for traditionally underrepresented groups.
The Brazilian American from Franklin, Tennessee, is a V-Squared engineering mentor, helping first-year students navigate their engineering studies and overcome challenges. She is also a peer mentor for the Maximizing Access to Research Careers program. Designed by the National Institutes of Health in conjunction with Vanderbilt and other research universities, the MARC program empowers undergraduates with diverse backgrounds to pursue biomedical studies.
"The pay-it-forward aspect to these groups has been incredible," Britto said. "I want to give younger students the courage to feel that they can do it too. A big part of that for me is just sharing my struggles with trying to get involved and the hurdles and shyness I faced. Ultimately, the opportunities and people that have supported me are the reason that I'm succeeding today."
Britto was selected to be a MARC program scholar in 2020, which enabled her to attend cancer biology symposiums and do additional breast cancer research in the tumor and tissue microenvironment lab of Marjan Rafat, assistant professor of chemical and biomolecular engineering.
Britto said biomedical engineering is a perfect fit for her.
"I love the design aspect of solving problems along with my innate interest in biology and the human body, in conjunction with the ability to help people," she said. "My intent, as cliché as it sounds, is to make a difference."
Britto's next step will be working toward her Ph.D. at the joint Georgia Tech and Emory University biomedical engineering program. She received multiple awards to support her studies, including a five-year National Science Foundation graduate research fellowship.
FINDING BELONGING
The community aspect of Vanderbilt is something Britto said she will treasure the most because it connected her to people with diverse backgrounds, experiences and ideas.
"I think Vanderbilt really values you both as an academic student and a person," Britto said. "I've been provided with resources on a broad spectrum of academic support, like research opportunities and graduate courses that really encourage my curiosity and learning. But at the same time, I've had these platforms to develop as a person with confidence, mentorship, even getting involved in art and dance, and seeing my friendships grow."