Media Inquiries
Latest Stories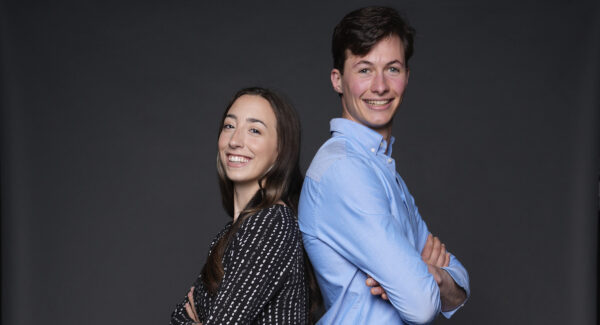 by Amy Wolf

Strategically managing precise steps up a wall or cliff at breakneck speeds is exactly where Michael Finn-Henry, an engineering student and contender for the 2024 Paris Olympics, finds clarity. Speed rock climbing is a finesse sport that requires fast feet and an even faster brain.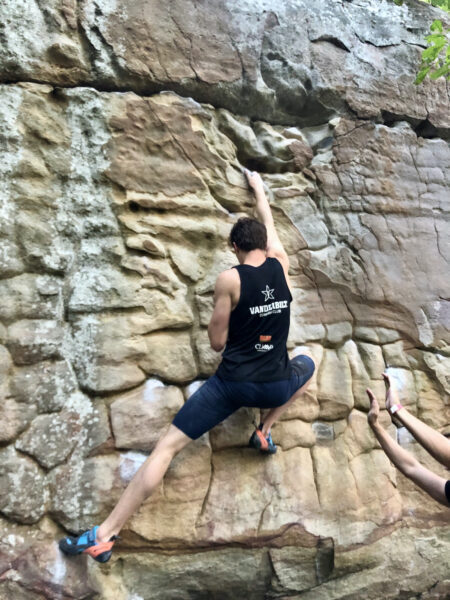 Finn-Henry didn't start with Olympic dreams when he scaled his first wall in middle school. At the time, it was recommended therapy for students with dyslexia.
"Rock climbing helped me learn new approaches to overcoming obstacles of all kinds and really changed my life," the Massachusetts native said.
The combination of rock climbing and dyslexia has unlocked an extraordinary ability in Finn-Henry to visualize and problem-solve.
"Given I can't read textbooks in a traditional way, I learn and create through hands-on experience," he said.
The skill is something he has translated into mechanical engineering and the invention of a breakthrough medical device designed to delay hemorrhaging—a device that's on the path to FDA trials.
"I always think of my life as this three-legged stool with climbing, engineering and my double deficit dyslexia all focusing on this idea of finding creative solutions to overcome obstacles," said Finn-Henry, who is a Bruce and Bridgitt Evans, Class of 1981, Honor Scholarship recipient. "I look for the clear objective and then the minutiae of how to go about actually making that problem work and how to make the device work and how to work with my dyslexia. It's sort of that overcoming-obstacles trifecta."
CLIMBING PARTNERS
His scientific yin found a business-savvy yang when Finn-Henry launched the Vanderbilt Climbing Club, and medicine, health and society student Olivia Busk joined.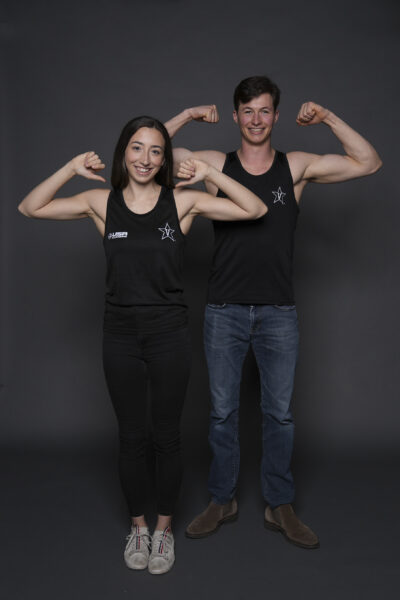 "I have never been able to do anything halfway, so I looked for the most skilled person on the team so I could learn quickly," said Busk, who had been a competitive ballerina. "I sort of started training like an Olympian with Michael from day one, and it's really paid off."
During the 2022 USA Climbing Collegiate National Championships, which took place April 21–23, Finn-Henry placed first in the country in speed climbing. He is the new collegiate national record holder with a speed climbing time of 6.10 seconds. Busk placed seventh. The Vanderbilt Climbing Club placed third as a team.
PARTNERS IN INNOVATION
While climbing, the two found they share a passion for making a difference and an interest in medicine.
Busk had been an ambulance EMT for four years before transferring to Vanderbilt and discovering her affinity for blending business and medicine.
For years, Finn-Henry had been doing research in H. Fort Flowers Professor of Mechanical Engineering Michael Goldfarb's lab, where he had developed a keen desire to use his engineering skills to create life-changing medical devices.
Then the COVID-19 pandemic hit in 2020, cancelling climbing and their respective business and engineering internships.
"We decided why not try to find our own idea and make something work," Busk said.
"We have this great synergy," Finn-Henry added. "Me on the engineering side, her on the medical business side—and combining that, we could really make a big difference in the world."
SEARCHING FOR A PROBLEM TO SOLVE
The duo sent out hundreds of emails to faculty and staff at Vanderbilt University Medical Center asking for ideas or problems that could be solved with a device.
"We thought we were going to get zero emails back, but instead we received almost 200 replies and had so many incredible meetings," Busk said. "It honestly was one of the most shocking experiences because these medical professionals were so excited to work with two Vanderbilt students and dream up solutions to problems."
Finn-Henry and Busk soon met two VUMC surgical fellows who would become the founding partners of their company EndoShunt Medical.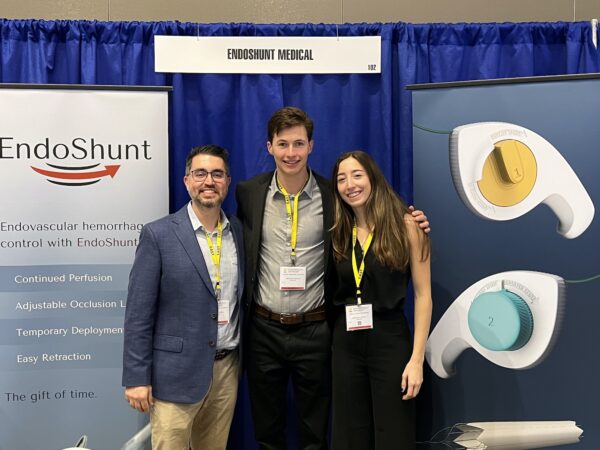 "Over my course of talking with them, they were clearly extremely intelligent, hardworking people with a drive and initiative that was inspiring. I knew I wanted to work with them," said Dr. Jeremy Levin, who is now assistant professor of trauma surgery at Indiana University Health Methodist Hospital. "My confidence in what we're doing is a pure reflection of my confidence in Michael and Olivia."
Former VUMC surgical fellow Dr. Milad Behbahaninia was drawn to the team partially because he had been an undergraduate engineering major.
"We surgeons are the customers of what medical engineers produce, so it's an ideal collaboration," said Behbahaninia, who now works as a trauma surgeon at HonorHealth John C. Lincoln Hospital in Phoenix. "There is an air of collaboration around all of Vanderbilt, on the clinical side and the undergraduate and graduate side, which makes what we're doing possible."
COLLABORATING WITH THE WOND'RY
The team soon joined the Sullivan Family Ideator program through the Wond'ry, Vanderbilt's Innovation Center. The Ideator program leads innovators across the university through an evidence-based idea evaluation process and connects them with mentors and experts in customer discovery, business, manufacturing and more.
Their next big step was winning a $50,000 grant from the National Science Foundation's Innovation Corps or I-Corps program. At Vanderbilt, the NSF partners with the Wond'ry and the Vanderbilt Institute for Surgery and Engineering (VISE),  to help bring STEM ideas to life.
"Through the NSF's I-Corps program, we met with 300 surgeons across the United States to really refine our product," Finn-Henry said.
THE DEVICE
Through collaboration, research, and trial and error, the team created a targeted hemorrhage control product called EndoShunt. The device is designed to hold off massive internal bleeding to give trauma surgeons time to work on a major injury, without completely blocking blood flow to other parts of the body.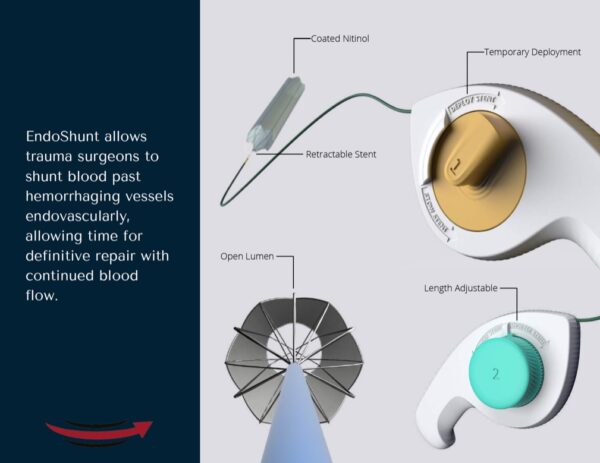 Behbahaninia explained that the device goes into the vein and creates a blockage of the hole, while a shunt allows necessary blood to pass, allowing the rest of the body to function normally.
Behbahaninia and Levin were working as active trauma surgeons during the I-Corps interviews, so Finn-Henry and Busk became quick-study experts in the field of hemorrhage control and conducted thorough interviews that shaped the success of the product.
"You need people as tenacious as Michael and Olivia to put these types of ideas into reality, and I have 100 percent confidence in our product," Behbahaninia said.
PIVOTAL MOMENT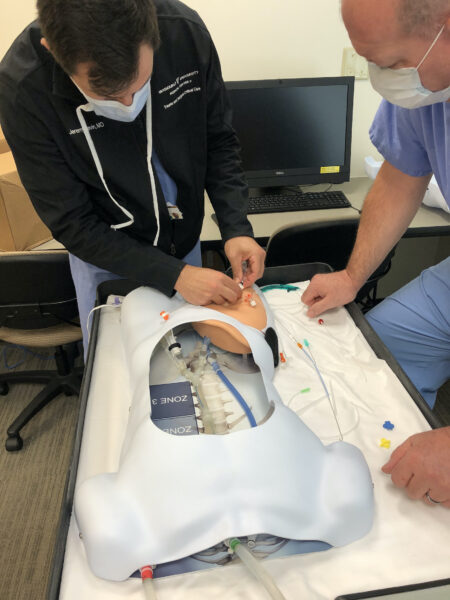 Finn-Henry and Busk recalled what they considered a breakthrough moment in this journey.
"One of the most pivotal moments for me was when the surgeon who runs the biggest trauma center in the country took the time to talk with us," Busk said. "Before we even mentioned what EndoShunt does, he described the need for our exact device! When we explained our device to him, he jumped on it immediately and asked how quickly we could get it into his hospital."
ENDLESS SUPPORT
Finn-Henry said his mentor Professor Michael Goldfarb and Wond'ry mentors Deanna Meador and Stryker Warren were instrumental in helping them through the arduous grant proposal steps, as well as the hurdles of manufacturing.
"With Professor Goldfarb's experience commercializing research, he was able to help us avoid many pitfalls. He's been an amazing mentor, and I hope to follow in his footsteps," Finn-Henry said.
Busk said that two classes she and Finn-Henry took in entrepreneurial business processes and planning and technology-based entrepreneurship, taught by professors Joseph Rando and Yiorgos Kostoulas, respectively, were essential to their success.
NEXT STEPS
The next step for the device is the FDA trials, and the team is ready.
"My confidence in what we're doing is a pure reflection of my confidence in Michael and Olivia and the high-caliber work we've accomplished so far," Levin said.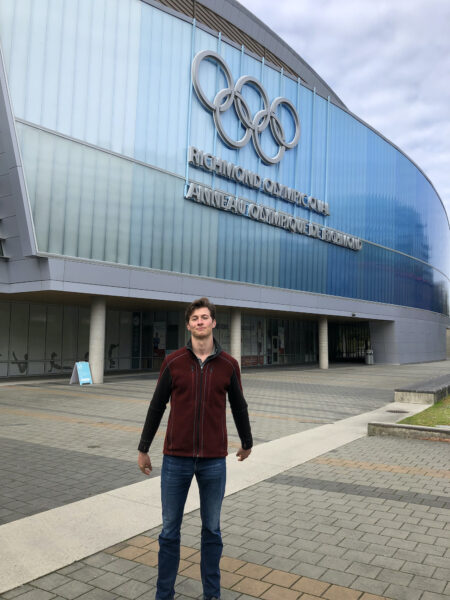 As for Finn-Henry and Busk, they are planning to manage the next steps of EndoShunt together while elevating their rock climbing training, with hopes of Michael competing in the 2024 Paris Olympics. Then Finn-Henry will work toward his medical-focused mechanical engineering Ph.D. at Harvard University. Busk will begin work at global consulting firm McKinsey & Company and has plans to complete an MBA.
CULTURE OF COLLABORATION
The two strongly believe their partnership and progress are the result of a culture of collaboration fostered across Vanderbilt.
"I have been shocked by how willing people are to help. Everyone has met two potentially overconfident undergrads with such an openness and excitement to collaborate. They've wanted to see us succeed and have done everything in their power to help us get to where we are, and that's just such a privilege," Busk said.
"I think that entrepreneurship is really all about collaboration and finding innovative ways to rethink challenges, which I've had to do all my life," Finn-Henry said. "Vanderbilt has given me this new perspective on how to reimagine questions and partner with people with unique talents and specialties to create something that's greater than the sum of its parts."