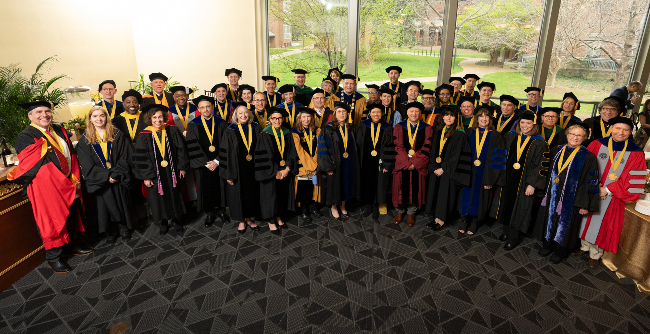 Vanderbilt Chancellor Daniel Diermeier and Provost and Vice Chancellor for Academic Affairs C. Cybele Raver honored 36 scholars from across the university at an endowed chair investiture ceremony on campus March 30.
Among the honorees were Chancellor Emeritus Nicholas Zeppos, Cornelius Vanderbilt Chancellor Emeritus Chair; Blair School of Music Dean Lorenzo F. Candelaria, Mark Wait Dean's Chair; Vice Provost for Graduate Education and Graduate School Dean André Christie-Mizell, Centennial Chair; and School of Nursing Dean Pamela R. Jeffries, Valere Potter Distinguished Chair in Nursing.
Raver also was a member of the 2021 cohort of endowed chairs honored at this event. She is the Cornelius Vanderbilt Chair.
"For our faculty members, endowed chairs are the highest honor that a university bestows," Diermeier said in remarks at the event, which was at the Vanderbilt Student Life Center. "They signify, across the academy, that these individuals have achieved—whether by scholarship, research, artistic creation or teaching—all the laurels to which their profession aspires."
Distinguished faculty members from eight colleges and schools were presented with a specially designed medallion that symbolizes the attainment of this position and will become part of their official academic regalia.
Their research areas provide pathways to solutions to the world's most pressing issues, spanning from anthropological studies of K-12 STEM learning settings and the intersection of law and emotion to cancer and immune cell metabolic engineering and the development and evaluation of new vaccines and therapeutics, including influenza, pertussis and COVID-19.
Raver encouraged honorees to view the ceremony as a celebration of their extraordinary accomplishments to date and as the beginning of their futures.
"Already, you demonstrate both the highest-caliber scholarly rigor and tremendous impact on society," Raver told the chair recipients. "Today, we lift up your work—and the promise it holds for our boldest aspirations still to come."
Numerous donors, for whom many of the endowed chairs are named, were in attendance. In his remarks, Diermeier acknowledged the essential role they play in Vanderbilt's pursuit of the lifelong realization of human potential.
"With their support, our donors have expressed the firm belief that the relentless pursuit of knowledge, understanding and innovation is the surest way to improve the human condition and move society forward," Diermeier said. "And they believe that to empower the next generation with transformative learning is among the most impactful and lasting gifts one can provide."
Vice Provost for Faculty Affairs Tracey George served as emcee of the ceremony and presented the newly endowed chair holders.
There are 448 endowed chairs across the university. In recognition of the significance of endowed chair designations, all current chairholders also will receive the new medallions.
The following faculty members were celebrated on March 30:
A similar ceremony was held Feb. 24 to honor 26 faculty members, most of whom received the designation in 2020. Most of the March event honorees received the designation in 2021. February's event marked the first endowed chair investiture ceremony in Vanderbilt's history, although the school's tradition of endowed chairs dates back to 1918.