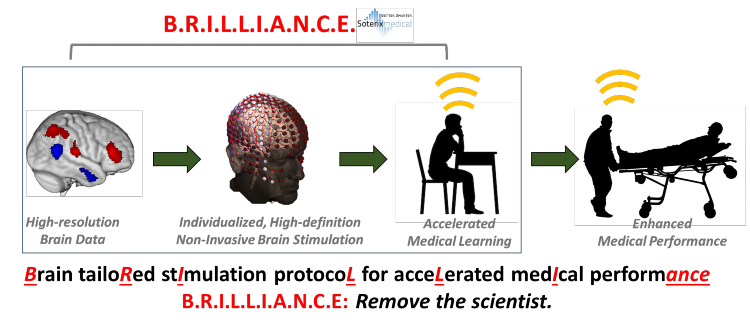 by Jenna Somers
For U.S. Army personnel operating in the field, sudden situations requiring medical knowledge—such as an IED explosion—are particularly stressful as well as dangerous. With prior training, however, soldiers who earn the Expert Field Medical Badge are prepared to respond and potentially save lives.
Applying insights from the emerging field of educational neuroscience, a transdisciplinary team from Vanderbilt University, Soterix Medical and the U.S. Army recently won the $500,000 first-place prize in the U.S. Army Medical Research and Development Command's xTechBrain Operant Learning Technology (xTechBOLT) prize competition, which seeks to promote high-risk, high-reward research in learning and memory retention. By applying a new brain stimulation technique, the transdisciplinary team hopes to enhance the learning of those studying to earn the badge with the ultimate goal of applying this technique to a range of fields and disciplines.
The prize-winning team represents one of several collaborations to arise from Vanderbilt's educational partnership agreement with Army Futures Command, which was spearheaded by the Office of the Vice Provost for Research to expand the university's leadership in soldier-inspired innovation.
Led by Katherine Aboud, research assistant professor and National Institutes of Health Outstanding Scholar of Neuroscience, and Laurie Cutting, Patricia and Rodes Hart Professor at Peabody College and a member of the Vanderbilt Brain Institute, the Vanderbilt team is affiliated with the university's Soldier-Inspired Innovation Incubator. They advanced to the finals of the xTechBOLT competition earlier this year with their project "Individualized, High-Definition Non-Invasive Brain Stimulation (HD-NIBS) for Enhanced Medical Learning." The team aims to improve performance on the Expert Field Medical Badge test, the most failed medical test in the Army.
"Peabody College has been a locus of innovation in educational neuroscience, especially in collaboration with our peers in the Brain Institute and the School of Engineering," said Camilla P. Benbow, Patricia and Rodes Hart Dean of Education and Human Development. "With this endeavor, Professors Aboud and Cutting are working at the leading edge of brain-based applications to improve learning."
The xTechBOLT competition initially awarded $35,000 to the Vanderbilt team for proof-of-concept testing before Aboud, Cutting and colleagues beat four other teams for the top prize. They also received support from Vanderbilt's 2020 Trans-institutional Programs (TIPs) initiative award, "Soldier-Inspired Innovation Incubator for Discovering Research-Based Solutions (VRA)."
"Professors Aboud and Cutting leveraged their unique scientific capabilities to bring together a winning team combining soldier insights with state-of-the-art technology. Congratulations to the team for bringing home the top prize and demonstrating the impact that's possible through soldier-inspired innovation," said Doug Adams, Daniel F. Flowers Professor of Civil and Environmental Engineering and director of the Soldier-Inspired Innovation Incubator.
For this project, unique brain profiles of participants are created by gathering MRI and EEG data to identify individual brain patterns, or signatures, in areas of the brain used during learning. These areas are then targeted for stimulation by Soterix Medical's HD-NIBS technology, High-Definition transcranial Alternating Current Stimulation (HD-tACS).Placed on a person's scalp, electrodes promote communication between multiple areas of the brain and target those areas responsible for higher-order learning.
As a requirement of the xTechBOLT competition and to support non-scientists facilitating medical learning retention, the team created the software BRILLIANCE (for Brain tailoRed stImulation protocoL for acceLerated medIcal performance). At the click of a button, BRILLIANCE takes a person's brain data and outputs stimulation parameters for individualized learning enhancement and then sends that information to Soterix's HD-tACS technology.
"With the xTechBOLT prize, we will be able to better pinpoint how different individuals learn information, and how to best facilitate acquiring new knowledge from reading. This project thus both synergizes and builds upon decades of work in our lab," Cutting said. "This exciting new scientific direction has considerable promise for addressing significant needs within the Army."
During the proof-of-concept phase, the team tested their protocol on a small cohort of civilian volunteers who were given the Expert Field Medical Badge test. This initial study showed that 86 percent of subjects experienced enhanced learning related to stimulation, with an average overall improvement of 17 percent in learning facts and a maximum short-term memory increase in 57 out of 180 medical facts. Moreover, the study found that participants who were non-responsive to non-individualized stimulation were highly responsive to individualized stimulation, proving the importance of the tailored approach in enhancing learning retention.
Having won the competition, the team plans to solicit up to 120 soldier volunteers from the 101st Airborne Division at Fort Campbell, Kentucky, to assess BRILLIANCE. The next stage will continue to focus on the Expert Field Medical Badge test, with the ultimate goal of enhancing test performance and, most critically, medical performance on the battlefield, where soldiers may need to administer life-saving treatment with no time to spare. That latter aspect of recalling training during high-stress situations is of key interest to the xTechBOLT competition and one that the team hopes to explore in this next round of testing.
 "With this prize, we will have the opportunity to potentially transform how we approach medical learning so that more lives are saved on and off the battlefield," Aboud said. "Vanderbilt is the perfect environment to bring all of these resources together, and it is a privilege to work with this team of individuals who are genuinely dedicated to the needs of individual soldiers."