Chancellor Daniel Diermeier held Vanderbilt University's first Spring Staff Assembly on May 20 to share a state of the university address and present a new series of annual staff awards. Nearly 1,000 people attended the virtual event, which was streamed live from the Student Life Center. Vanderbilt held its first staff assembly last October, launching a  twice-yearly tradition of recognizing staff.
>>>Watch the full 2021 Spring Staff Assembly
Vice Chancellor for Administration Eric Kopstain welcomed everyone to the event, thanking staff for the "great energy, enthusiasm, commitment and compassion that you bring to your work every day."
Chancellor Diermeier began his address by reflecting on the university's accomplishments over the past year, in particular the role of staff in advancing Vanderbilt's mission and addressing the challenges of the COVID-19 pandemic. He emphasized that the entire Vanderbilt community worked together with one goal: "to create an environment where our students and our faculty can thrive, where our athletes can compete, our musicians perform and our artists create."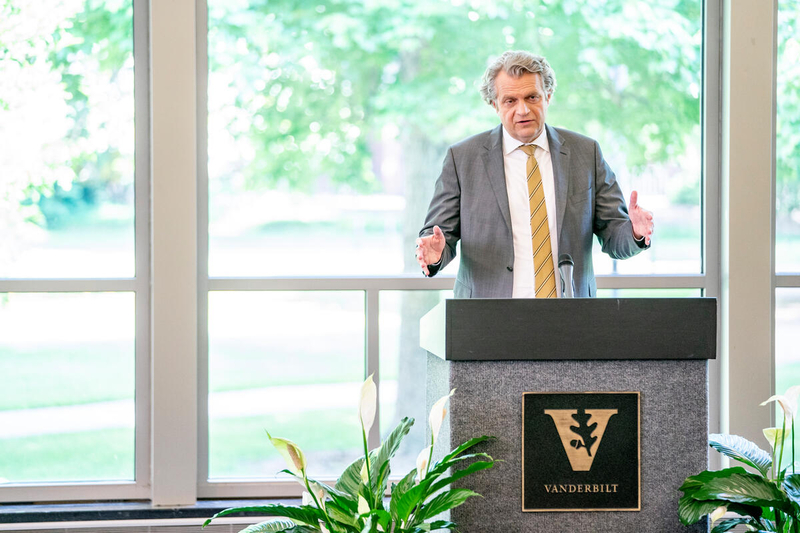 Diermeier attributed Vanderbilt's ability to hold in-person classes, as well as in-person Commencement ceremonies, successfully and safely to the "remarkable ingenuity, profound dedication and collaboration" of Vanderbilt staff.
"Our staff embraced new models, navigated uncertainty, put others first like never before and came up with new solutions to problems that none of us imagined necessary even a year and a half ago," he said. "And together, all of this made this year our proudest moment in the history of the university and an important time in human history."
UNIVERSITY STAFF ADVISORY COUNCIL HIGHLIGHTS
The Spring Staff Assembly included remarks by Tiffany Lawrence Givens, University Staff Advisory Council president. She highlighted several of USAC's key successes of the past year, including:
The establishment of Martin Luther King Jr. Day as a paid staff holiday.
The Events committee raising more than $5,300 during the virtual Second Harvest food drive, providing 21,000 meals for families in need.
The Staff Life committee's work with the Human Resources Employee Learning and Organizational Effectiveness team to enhance opportunities for professional development.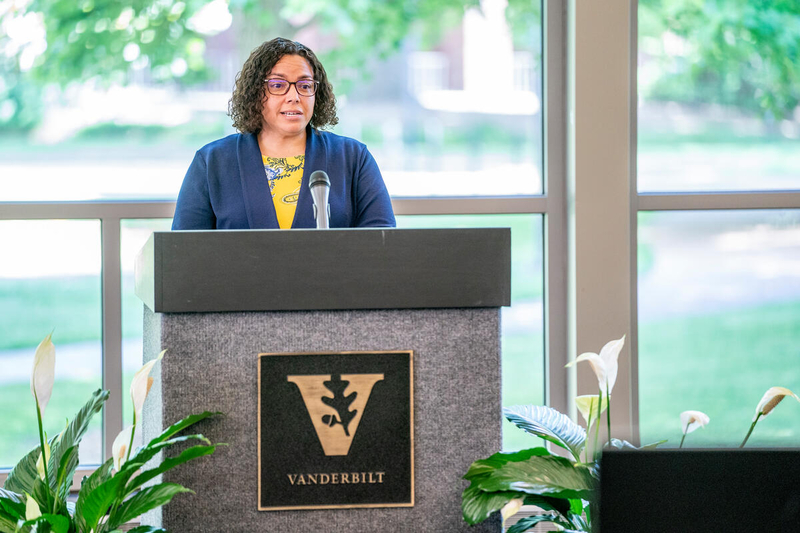 RESOLUTIONS
The assembly also included the presentation of two resolutions recognizing Vanderbilt staff for their dedication and efforts. Faculty Senate Vice Chair Ben Harris presented a resolution on behalf of the Faculty Senate honoring Vanderbilt staff for facing the "challenges of the last years with extraordinary courage and resolve."
Board of Trust Chairman Bruce Evans shared a resolution established by the Board of Trust in April, in appreciation of Vanderbilt staff.
"Each of our staff members has done so much to advance our university's operations, traditions and mission during this historic year," Evans said. "Your hard work and determination have allowed Vanderbilt to continue to foster learning, discovery and camaraderie at a time when such values hold particular importance."
STAFF AWARDS
The assembly culminated with the presentation of staff awards. Diermeier presented individual and group awards to staff, including the Commodore Award and a new series of awards honoring staff excellence. Dr. André L. Churchwell, vice chancellor for equity, diversity and inclusion and chief diversity officer, presented the annual Diversity Leadership Award.
Early Impact Award
The new Early Impact Award recognizes staff members who have worked at Vanderbilt for a minimum of one year and less than five years and who have exhibited excellent performance that shows promise of future growth. The winners receive a prize of $2,500 and an engraved award. Vanderbilt honored two individuals with this award:
Bill Burgess, assistive technology specialist, Student Access
William G. Hansen, administrative assistant III, Health Sciences Education
Mentorship Excellence Award
The new Mentorship Excellence Award goes to a full-time staff member who serves as a role model by inspiring colleagues and promoting professional development. The winner receives a prize of $2,500 and an engraved award. The university honored one individual with this award:
Ally Sullivan, executive director of Business Operations, Facilities
One Vanderbilt Excellence Award
The new One Vanderbilt Excellence Award recognizes staff teams, departments and/or groups that have demonstrated collaborative excellence on behalf of the university community. Selected team members each receive $1,000 and an engraved award. Two teams were selected to receive the One Vanderbilt Award:
Housekeeping Services/Plant Operations
Marina Bazdarevic
Helga Eubanks
Ericka M. Foster
Ricky Hughes
Aaron Longhurst
Lattica L. Mitchell
Beatrice R. Nolan
Chris Reddon
Katesha S. Roland
Leo Sguera
Mamand I. Taabur
Hobert E. Woods
Residential Experience
Courtney Berry
Daniel Coradazzi
Evyn Cosgrove
Nadine De La Rosa
Olivia Farley
Michael Jones
Leslie Lemus
Lauren Moon
R.C. Stabile
Lauren Tillman
Kerrie Turney
Jorge Wellmann
Diversity Leadership Award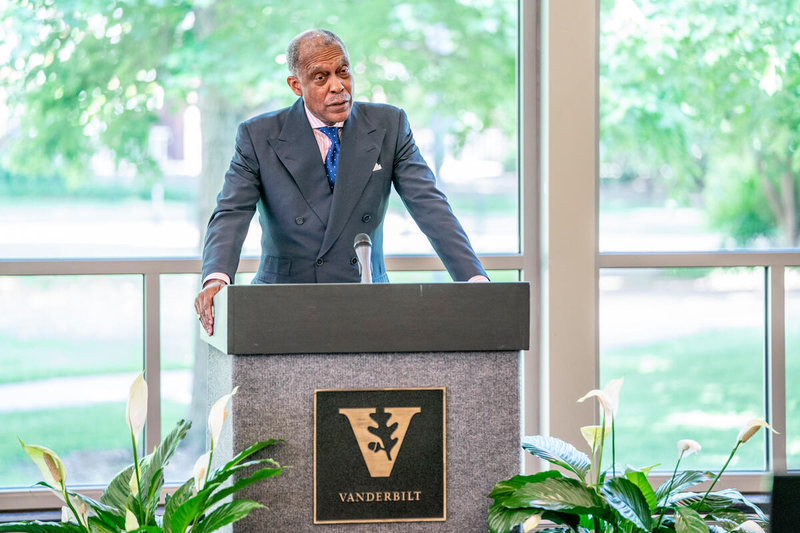 Churchwell presented two Diversity Leadership Awards. This award recognizes staff members who have exhibited an outstanding commitment to equity, diversity and inclusion and have demonstrated exemplary contributions to developing a culturally diverse and welcoming university community. This year's two recipients received $2,500 and an engraved Galileo Award:
Midori Lockett, chief impact officer for Government and Community Relations
Antonio Robinson, project manager, Information Technology
During the assembly, Churchwell also reflected on Vanderbilt's significant gains in equity, diversity and inclusion efforts this year, including:
The development of the Board of Trust's ad hoc Equity, Diversity and Inclusion Committee.
The release of an in-depth report on EDI at Vanderbilt for 2019–20.
Symposia on critical topics featuring Vanderbilt faculty members, staff and students in conversation with other scholars and prominent thought leaders.
Increased community partnerships, including with the National Museum of African American Music.
Commodore Award
Chancellor Diermeier concluded the assembly by presenting Vanderbilt's flagship award of overall excellence—the Commodore Award. This honor is given to staff members who have made significant contributions to Vanderbilt's pursuit of excellence in education, research and community service. Winners receive an award of $5,000 and an engraved crystal bowl. The Commodore Award was given to two staff members:
Valeria Y. Cobb, assistant teacher at the Susan Gray School
Randall P. Tarkington, senior director of Residential Experience in the Office of Housing and Residential Experience
The next staff assembly will be in the fall and will include the presentation of six additional new honors, including awards for Community Impact, Professional Excellence, Innovation Excellence, Research Excellence, Student Impact and Leadership Excellence.