Chancellor Daniel Diermeier thanked the Class of 2021 for leadership that "sets the bar high for future generations of Vanderbilt students" during his first Commencement address at the university's in-person and virtual ceremony on May 15 at Vanderbilt Stadium.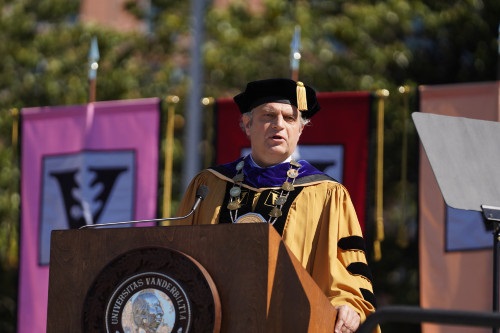 "At the start of this historic year, I challenged each and every one of you to do your part to make this our university's finest hour," Diermeier said. "You have done that and more. You not only have stepped up amid unknown—and unknowable—circumstances, you made this year a resounding success."
During his inaugural Commencement address, Diermeier spoke to more than 4,850 graduating seniors and their guests at the stadium as well as those watching online.
Vanderbilt's 146th class graduated after a year rocked by a raging COVID-19 pandemic, a resulting global economic crisis, and racial justice protests sparked by the killing of George Floyd.
"I thank each of you—and encourage you to thank each other—for what we have accomplished together this year," Diermeier said. "This is a proud moment; take the time to savor it."
Diermeier highlighted Vanderbilt's culture of collegiality that first attracted him to the institution. "We have great resources: a renowned faculty, illustrious alumni, SEC athletics and a beautiful campus that sits in the heart of an exciting city," he said. "But what really sets up apart is that we all share a commitment to lift each other up—to contribute our talents, our hard work, our insights and compassion to the greater good and to the benefit of our university.
"I knew this was true when I began exploring the opportunity to become Vanderbilt's ninth chancellor," he said. "It was this radiant spirit that so intrigued me about the possibility of leading this university and of joining its unique and special culture."
He also shared some Vanderbilt history from the 1930-31 school year, just after the start of what would become the Great Depression. Then-Vanderbilt Chancellor James Kirkland told assembled students that "Your education becomes part of your life and cannot be taken from you. … The university demands of you sacrifice and toil. We offer you, in exchange, a kingdom and a crown."
Diermeier urged the new graduates to continue to tap into Vanderbilt's incredible community and "to support it—with energy, commitment and affection."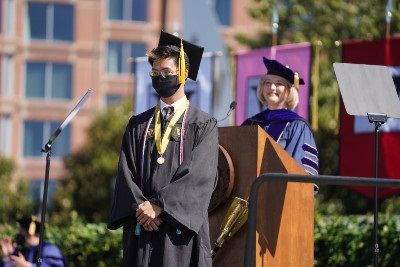 Prior to the chancellor's address, Provost and Vice Chancellor for Academic Affairs Susan R. Wente presented the Founder's Medals to the top scholars in each of Vanderbilt's undergradate schools and colleges, a historic tradition that has distinguished Vanderbilt Commencements for 143 years. Founder's Medalists for the graduate and professional schools were honored at their individual school ceremonies on Saturday, May 15, and Sunday, May 16.
Wente also recognized 41 faculty members who are retiring in 2021 and have attained emerita or emeritus status.
In addition, Vanderbilt University Board of Trust chairman Bruce Evans read aloud a resolution adopted by the board in appreciation of Vanderbilt students.
" … Be it resolved that the Board of Trust expresses its deepest and most sincere gratitude to each and every Vanderbilt student for their hard work, adaptation and compassion during a year that has defined and advanced our ability to persevere."
Read the full Board of Trust resolution.
More than 3,900 Vanderbilt students completed their degrees for the 2020-21 academic year, including 2,220 graduate and professional students.
Graduate and professional ceremonies
Graduate and professional students in the Class of 2021 were honored with separate ceremonies held by their respective schools across campus on May 15 and 16. These ceremonies also were available virtually for those unable to attend.
Watch the livestreamed Class of 2021 Commencement ceremonies.

A total of 2,938 graduates from the Class of 2021 registered to attend the in-person ceremonies (1,515 undergraduates, and 1,423 graduate and professional students). Some ceremonies were held for the first time ever at Vanderbilt Stadium to meet health and safety protocols while others were held in tents.
Strawberries and chocolate
In a new twist on a longstanding and beloved Vanderbilt tradition of completing each Commencement with strawberries, each graduate attending in person had the opportunity to pick up a takeaway box of chocolate-covered strawberries, truffles and a commemorative gift.
Graduates Day
The special weekend of celebrations for the Class of 2021 started with a virtual Graduates Day address by Dr. Anthony Fauci, the nation's top leader in infectious disease research and a renowned biomedical scientist. Fauci received Vanderbilt University's prestigious Nichols-Chancellor's Medal, one of the university's highest honors, which is given to individuals who define the 21st century and exemplify the best qualities of the human spirit. It was created and endowed by Vanderbilt Law School graduate Ed Nichols and his wife, Janice, in honor of Edward Carmack and Lucile Hamby Nichols.
Watch Dr. Anthony Fauci's Graduates Day address.