Dr. Anthony Fauci, America's leading expert on infectious disease research, called on the Class of 2021 during his Graduates Day address to use the skills they honed at Vanderbilt to help Americans come together on what should be a universal goal: defeating the COVID-19 pandemic. Fauci spoke virtually to the 2021 graduates and their families on May 14.
"What you have experienced as a result of the profound upending of your lives by COVID-19 is truly unprecedented," Fauci said. "But we will not fare well as a nation through the current challenge of a pandemic—and the inevitable future challenges that our country will face—if we do not pull together with a singular purpose of the common good."
"We will not fare well as a nation through the current challenge of a pandemic—and the inevitable future challenges that our country will face—if we do not pull together with a singular purpose of the common good." –Dr. Anthony Fauci
Fauci is the 2021 recipient of Vanderbilt University's prestigious Nichols-Chancellor's Medal, one of the university's highest honors, which is given to individuals who define the 21st century and exemplify the best qualities of the human spirit.
"His career single-handedly represents the power of communication and the ability for discovery and collaboration to change lives around the world. These are the very values that our graduates have learned and are prepared to carry out into society," Vanderbilt Chancellor Daniel Diermeier said.
Fauci, who has served as director of the National Institute of Allergy and Infectious Diseases at the National Institutes of Health since 1984, commended the students for their "discipline, teamwork and respect for fellow students," which kept Vanderbilt campus COVID-19 infection numbers low, allowing for on-campus classes and research to continue. Fauci also mentioned the long-running research at Vanderbilt that led to the development of the COVID-19 vaccines.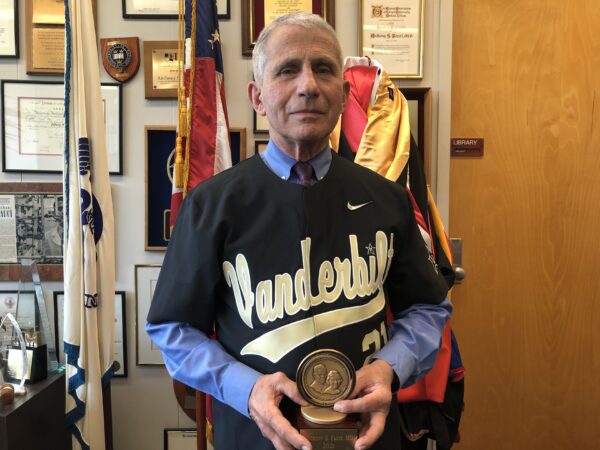 "Several of your Vanderbilt scientists, whom I know quite well, have played major roles in the development of a substantial public health response to this pandemic through the implementation of high-impact biomedical research," he said.
Fauci stressed that the pandemic exposed some "great failings of our society," such as dramatic health disparities, discrimination, poverty, drug abuse, violence and inadequate education. Fauci looked to the graduates to take an active role in public service and to work to help heal these pressing societal issues.
"At this critical time in our history, our country and the world need your leadership," he said. "You are going to play an important role in shaping this new normal. Perhaps it can even be a better normal."
In addition to his leadership at the NIAID, Fauci now serves as chief medical adviser to the Biden administration and is a member of its COVID-19 response team. He has advised seven presidents on HIV/AIDS and on many other domestic and global health issues. He was one of the principal architects of the President's Emergency Plan for AIDS Relief, a program that has saved millions of lives throughout the developing world.
Fauci has been honored with numerous awards, including the Presidential Medal of Freedom and the National Medal of Science.
Nichols-Chancellor's Medal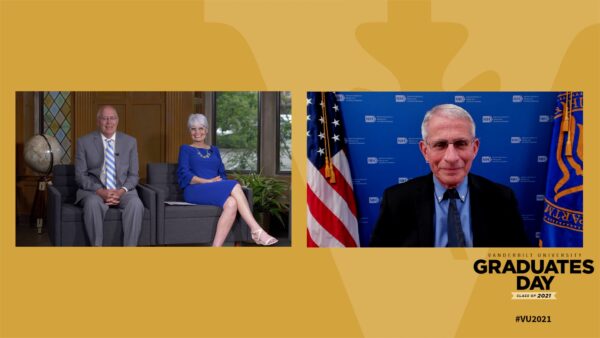 Fauci is the 18th recipient of the Nichols-Chancellor's Medal. It was created and endowed by Vanderbilt Law School graduate Ed Nichols and his wife, Janice, in honor of Edward Carmack and Lucile Hamby Nichols.
Caroline Kennedy, bestselling author, attorney and former U.S. ambassador to Japan, was the recipient of the 2020 Nichols-Chancellor's Medal. She spoke virtually as the Graduates Day speaker for the Class of 2020 on April 30, 2021. (Her talk was rescheduled from last year due to the postponement of Commencement during the pandemic.)
A full list of past medalists can be found here.
Interfaith and alumni community welcome
In keeping with a Graduates Day tradition, representatives from the Vanderbilt Interfaith Council, Vanderbilt Student Government, Senior Class Fund and Vanderbilt Alumni Association delivered words of support and prayers for members of the Class of 2021. The speakers included:
Interfaith Council president Madelynn Roche, Class of 2022
Hindu faith student speaker Anup Challa, BE'21, MS'21, School of Engineering
Judaism faith student speaker Miriam Mars, BA'21, College of Arts and Science
Muslim faith student speaker Hanan Fakhruddin, BA'21, College of Arts and Science
Christian faith student speaker Demiana Farag, BA'21, College of Arts and Science
Alumni Association president Tim Warnock, BA'84
Senior Class Fund president Grant Brown, BS'21, Peabody College
Graduate and professional student representative Erica Johnson, BS'15, MDiv'21, Divinity School
Student Government president Veer Shah, BS'21, Peabody College
Watch the full Graduates Day ceremony here. 
Commencement ceremony
The undergraduate Class of 2021 was honored with a combination in-person and virtual Commencement ceremony on Saturday, May 15, at Vanderbilt Stadium. Chancellor Diermeier led the event and delivered his inaugural Commencement address to the graduates and their guests.
Watch the virtual Commencement ceremony here.
Graduate and professional students in the Class of 2021 were honored with separate ceremonies held by their respective schools across campus May 15–16. These ceremonies also were available virtually for those unable to attend.