The Surgical Outcomes Center for Kids summer research internship in pediatric neurosurgery is accepting applications through Friday, May 14.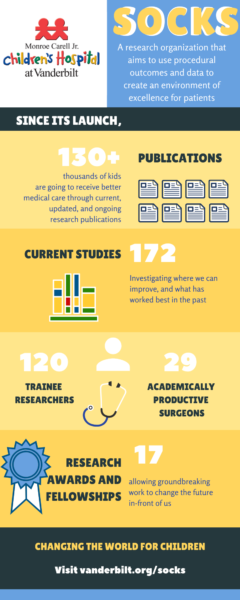 The SOCKs program, within the Monroe Carell Jr. Children's Hospital at Vanderbilt University Medical Center, provides a research infrastructure to pediatric surgeon-scientists, giving them the time and opportunity to bring their academic research interests together with their clinical work. The program helps participants improve the frequency of submitting publications to peer-reviewed journals while continuing to perform patient care.
The part-time, paid internship will begin in late May and last through early August. The hands-on experience will focus on clinical research topics within pediatric neurosurgery.
Upon completion of the program, the student will have experience in
Constructing a rational hypothesis
Understanding clinical research methodology
Clear identification of future directions and clinical implications of current research
Effective communication of research findings
Ethical conduct of research
Eligible students are those interested in a medical career and have completed at least one year of undergraduate or post-graduate study from an accredited school or university. Previous research experience is not required. Applicants are required to submit a resume, a statement of interest and their GPA. Selected applicants will participate in a virtual interview with members of the SOCKs team.
Since its launch, the SOCKs program has produced over 130 publications aimed at improving health and care of children through 120 trainee researchers and 29 academically productive surgeons. By assessing surgical and patient-centered outcomes members provide data for informed decision making, standards of excellence and improvement initiatives.