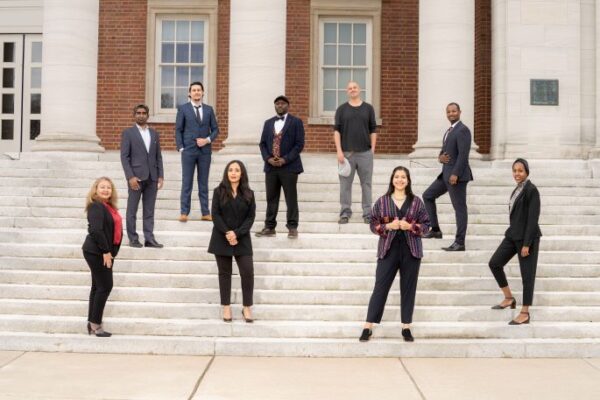 By Sarah Crane
In January, nine mid-career professionals from nine countries arrived in Nashville to complete the Hubert H. Humphrey Fellowship at Vanderbilt University.
Sponsored by the U.S. Department of State's Bureau of Educational and Cultural Affairs, the Humphrey fellowship program focuses on professional development and mutual exchange for applicants who have shown a commitment to leadership and service in their home countries. The fellows in the 2020–21 cohort come from Algeria, Belize, Egypt, Guatemala, Israel, Mauritius, Rwanda, Sudan and Uganda.
These nine individuals have been attending virtual Humphrey seminars since August 2020 to get to know each other, engage in leadership workshops, and prepare for their stay in Nashville. In past years, the fellows would arrive in Nashville in August and complete the entire program in person.
Though the program this year started remotely because of the COVID-19 pandemic, the fellows are now prepared to learn from and engage in their new community. They participated in a virtual welcome night with "Friendship Families," who are local to Nashville and help the fellows settle in to their new city.
The fellows have met with area leaders and Vanderbilt professors, and learned about local government and nonprofit organizations. Boaz Tsabar, a Humphrey Fellow from Israel, found the experience helpful in his understanding of a new educational context. "Getting to know the key organizations—their  role, responsibilities and activities—is a great way to understand the American education system," Tsabar said.
The fellows will participate in weekly seminars to supplement their learning, audit classes across Vanderbilt's campus and engage in professional development opportunities.
To learn more about the Humphrey fellowship at Vanderbilt, please visit the website.