Media Inquiries
Latest Stories
Chancellor Daniel Diermeier credits Vanderbilt's uniquely collaborative spirit—coupled with a willingness to take bold action when needed—for the university's strong position after the triple crises of 2020.
At his inaugural Spring Faculty Assembly, which was virtual, Diermeier reported that the university is in "great shape" after weathering three crises: the COVID-19 pandemic, financial challenges sweeping higher education, and a moral crisis with renewed calls for racial and social justice in a deeply divided nation.
"We were able to bring back our students safely and provide the most impactful education of all of our peers," Diermeier said. "We distinguished ourselves from other universities that had to deal with the same challenges. We also continued our path-breaking research and investments in faculty, welcoming 26 full-time, tenure-track and tenured faculty at the start of the academic year."
He noted that Destination Vanderbilt, a $100 million university initiative to recruit new faculty, is helping draw junior-level scholars with exceptional promise to campus.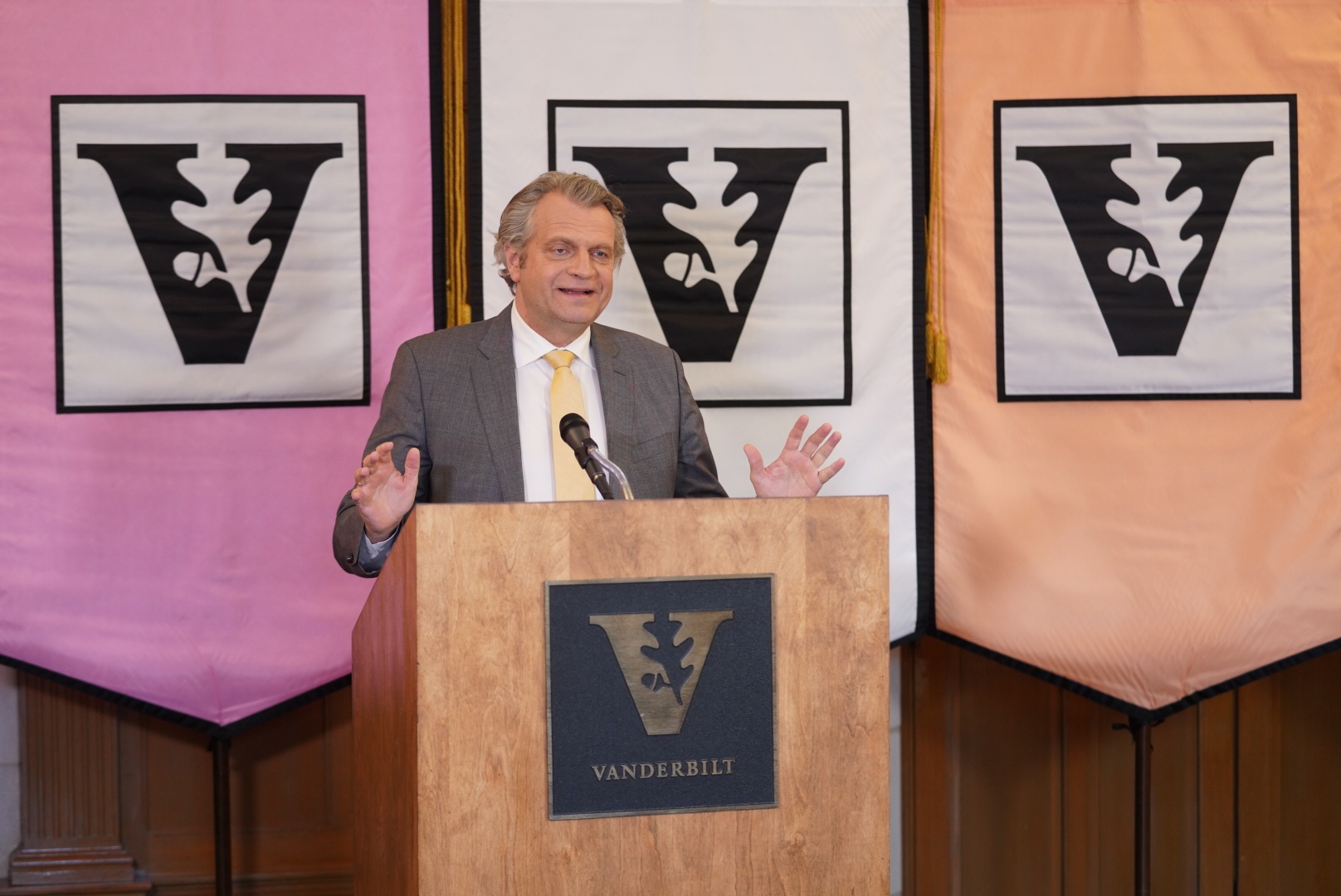 "We have done all of this in a collaborative spirit, in a cooperative culture. We took care of each other as one community, but we were also willing to take intentional risks when the situation demanded it," Diermeier said.
Diermeier thanked Vanderbilt medical faculty—including Dr. James Crowe Jr., Dr. Buddy Creech and Dr. Mark Denison—whose biomedical research has helped shape the university's response to the pandemic. And he credited the financial stewardship of Chancellor Emeritus Nicholas S. Zeppos and Provost Susan R. Wente, who served as interim chancellor, for the university's ability to avoid mass furloughs and layoffs that were happening at other institutions.
The chancellor described Vandy United, a recently announced $300 million investment in student-athletes and athletics programs, as an excellent example of a "bold and ambitious project to significantly improve the environment for student-athletes and the fan experience." Diermeier listed the many positives that athletics can bring to higher education, including increased engagement by alumni. For example, when senior student-athlete Sarah Fuller became the first woman to play and score points on a Division 1 football team in the Power 5, Vanderbilt received 2.1 billion related social media impressions.
"That's not just about kicking extra points," Diermeier said. "It demonstrates that we have a history of trailblazing and creating opportunity, and in this particular case that we were the place where boundaries were broken and created additional opportunities for young women. As a consequence of that, thousands of girls in the United States and beyond wake up today dreaming of going to Vanderbilt, because they believe Vanderbilt is the place where they can realize their potential."
Diermeier cited the university's significant progress on sustainability efforts, including recognition by the U.S. Green Building Council with a 2020 Leadership Award. He is also pleased with Vanderbilt's increased focus on equity, diversity and inclusion initiatives and conversations, pointing to the recent daylong symposium, "Racial Justice, Freedom and Activism in Nashville and Beyond: Then and Now."
Diermeier said that the need for more online classes the past year reinforced the value of Vanderbilt's residential education for undergraduate students, many of whom  expressed appreciation for the opportunity to be on campus. "However, we also learned that technology provides additional opportunities to connect virtually with alumni and other stakeholders," he said. One example is the Chancellor's Lecture Series, where the online format no longer limits the audience to the 1,200 seats in Langford Auditorium.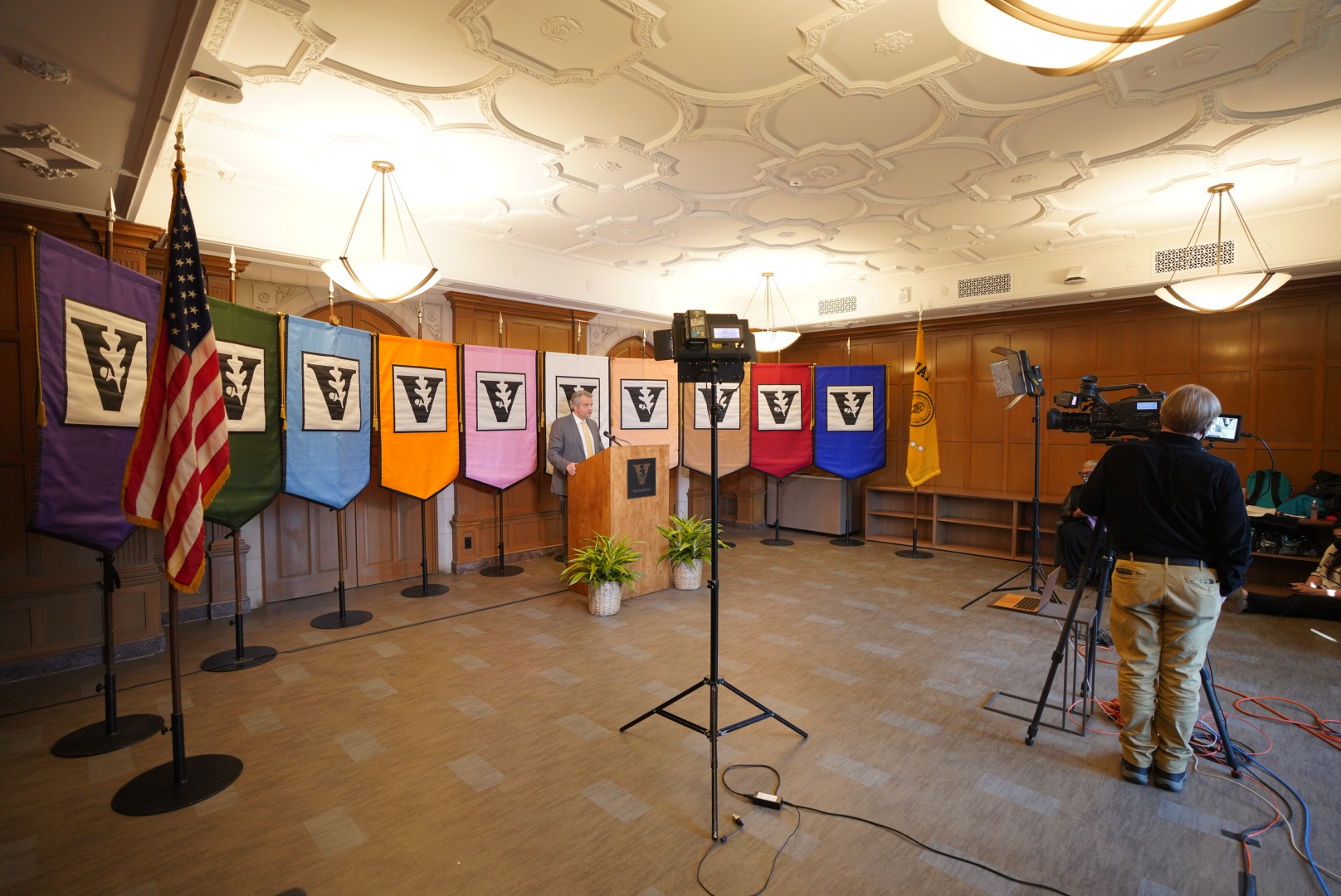 In closing, Diermeier expressed gratitude to Provost and Vice Chancellor for Academic Affairs Susan R. Wente for her many accomplishments at Vanderbilt. "Susan led the university through the onset of the pandemic—a historic moment in our nearly 150-year history. She designed our meticulous Return to Campus plan and always put the Vanderbilt community first. I'm grateful for her strong foundation and her partnership. We are all better for it."
Diermeier then announced the winners of the spring faculty awards.
Following the award presentation, Faculty Senate Chair Catherine McTamaney addressed the virtual audience, providing highlights of the work of the senate during a highly unusual year. "One of the many lessons from this year is the world still turns, even in the midst of crisis," McTamaney said. "Upon our return to campus in August, the senate continued its COVID-related work while addressing many of the original charges we'd articulated before the pandemic struck."
In her report, McTamaney announced the creation of the Task Force on Clinical, Practice, Lecture and Research Faculty Standing to develop recommendations to address structural, organizational and cultural barriers to the full and equitable contributions of scholars, researchers, practitioners and artists across the university.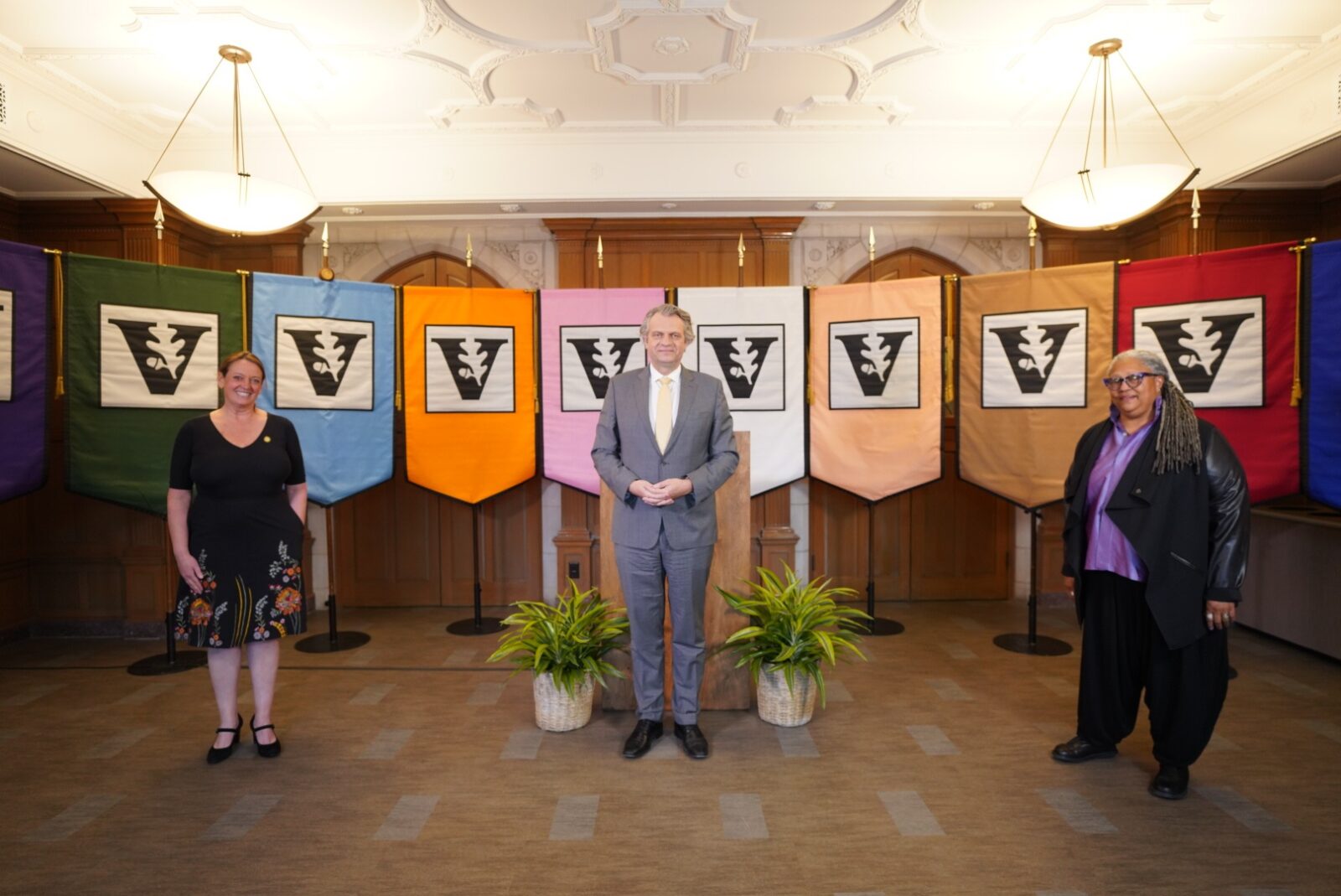 The final speaker was Emilie Townes, dean of the Divinity School and distinguished professor of womanist ethics and society, who delivered an emotionally powerful presentation centered on the childhood chant, "Sticks and stones may break my bones, but words will never hurt me."
As a child, Townes said she remembered being taught the saying by many adults, including family members and teachers. As she grew older, she began to wonder why the older adults taught Black children the adage with such vigor. "They had to know that we would figure it out as we grew older and experienced more in life and living," she said.
Townes' research found one of the earliest citations of the saying from a U.S. religious periodical that had a largely Black audience, The Christian Recorder, in March 1862.
Townes provided examples of how words can be extremely harmful, including those that perpetuate negative, demeaning caricatures and stereotypes based on other races, genders, religious beliefs and more.
In her conclusion, she noted that while words can harm, they can also heal. "And this is where we in the academy can be helpful, if not necessary, as we engage in putting the knowledge we have into public spaces and are constantly learning to help create a democracy that we can live in."
Recorded performances by Vanderbilt Blair School of Music faculty provided a musical prelude and postlude for the virtual assembly.