Media Inquiries
Latest Stories
Prominent scholars, journalists, historians and activists gathered virtually for a daylong symposium discussing the fight for equity. "Racial Justice, Freedom and Activism in Nashville and Beyond: Then and Now" was hosted by Vanderbilt University on March 26.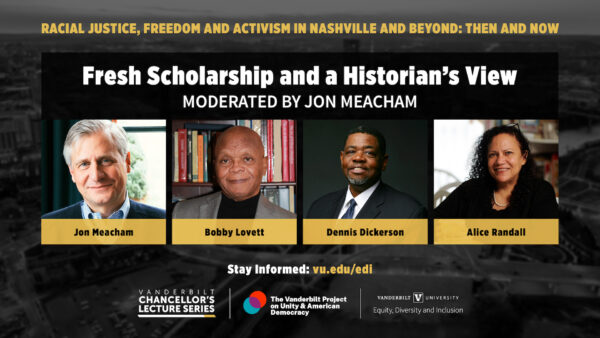 Esteemed leaders from the Nashville movement in the 1960s, including Distinguished University Professor emeritus at Vanderbilt, the Rev. James Lawson, whom the Rev. Martin Luther King Jr. described as "the leading nonviolence theorist in the world," shared insight on how we can learn from earlier movements to make more progress today. 
"America is experiencing a moment of reckoning in the wake of numerous acts of racial violence. It is our imperative to help educate and create an open dialogue for progress," said Dr. André L. Churchwell, vice chancellor for equity, diversity and inclusion and chief diversity officer for Vanderbilt University and Vanderbilt University Medical Center.  
In the session "Fresh Scholarship and a Historian's View," Dennis Dickerson, the Reverend James M. Lawson Professor and professor of history at Vanderbilt talked about how valuable it was for young protestors to receive training and education before the lunch counter sit-ins and other demonstrations. He explained that when Lawson was a student at Vanderbilt Divinity School, he, along with the Rev. Kelly Miller Smith and Diane Nash, led numerous training seminars and classes teaching young people how to successfully participate in nonviolent protest.  
"Following Jesus meant you opposed war, you were anti-militarist and engaged in the pursuit of peace," Dickerson said. "Lawson was focused on developing a moral methodology to energize and invigorate protest." 
In the session "Past Voices in Conversation with Current Activists," multiple generations shared in a passionate discussion about their personal and professional roles in turning anger and frustration into progress. 
"A society pushing racism, sexism, violence, what I call 'plantation capitalism,' is a society that desperately needs transformation—social, economic, political, spiritual change and revolution," said Lawson, who was recognized in 2005 as a Vanderbilt Distinguished Alumnus and honored in 2018 as a Vanderbilt Trailblazer. "No matter our lofty documents, the majority of people in the U.S. did not and do not have full civil rights." 
The group discussed how deeply rooted challenges around racism and white supremacy go far beyond politics and that multiple actions are needed to make systemic change. 
"The fallout from centuries of systemic oppression remain," said Caroline Randall Williams, writer-in-residence in medicine, health and society. "America has work to do to fulfill the spirit of our beloved founding documents like the Declaration of Independence and the Constitution. As Black people, we're the ones who should demand that these documents live up to things that they didn't even know they meant." 
Lawson commended the Black Lives Matter movement for being the first group to bring up in public debate whether all law enforcement should carry lethal weapons. He cited other countries whose police do not all carry guns. He also praised the prominent role of women as leaders in the current fight for racial justice. 
Current organizer and Vanderbilt Divinity School student Justin Jones and Charlane Oliver, co-executive director and co-founder of The Equity Alliance, recalled the shooting death of Trayvon Martin as the catalyst that fueled their need to fight for change. 
"The Trayvon Martin death was the Emmett Till of our time. And if that didn't call you to justice, I question your soul," Oliver said.   
But Jones expressed frustration with supporters, especially from past generations, chastising current protesting tactics. 
"I think it's interesting that we love to celebrate movements when those campaigns are over, but in the midst of it, even some of our allies are criticizing similar actions," Jones said. He's received criticism from allies for protesting in the streets because it blocks traffic and for using the term "Black Lives Matter" because some consider it controversial. 
Groups in multiple sessions talked about the dangerously nuanced and covert changes in racism over the decades and the power that state lawmakers have to promote bigotry.  
"Politicians have taken a scalpel to voting rights and cut us out," Oliver said. "They've taken a scalpel to health care legislation. Look what has happened during this pandemic with Black people being disproportionately affected because we don't have health care." 
In discussing the 2020 election, Jamil Smith, senior writer for Rolling Stone, added, "If nearly half of the country's voters don't care how their vote could impact marginalized and underserved populations, that's a fundamental problem with the American project." 
In another session, historian and retired Tennessee State University professor Bobby Lovett and Alice Randall, writer-in-residence, Department of African American and Diaspora Studies at Vanderbilt, agreed that white supremacy ideology is ingrained in the country's founding and continues to poison parts of America today.  
"Trauma is woven into the fabric of the founding. Of the 61 people who signed the Declaration of Independence, 50-some of them owned slaves. And more recent DNA research shows they or direct family members raped enslaved women. So that trauma is transcending generations," Randall said. 
Lovett and Randall stressed the need to acknowledge historical facts and continually update the historical record as more information becomes available. 
Jon Meacham, Carolyn T. and Robert M. Rogers Chair in American Presidency, added, "It's very hard to heal a wound that you ignore."  
Journalism is an arena where experts saw improvement. In the panel, "News and Media's Role in Nashville's Civil Rights Movement," Yamiche Alcindor, White House correspondent for PBS NewsHour and political contributor to NBC and MSNBC, talked about the rise in BIPOC representation in journalism in Washington and across the country. 
The symposium was hosted by the Office for Equity, Diversity and Inclusion in partnership with the Chancellor's Lecture Series and the Vanderbilt Project on Unity & American Democracy.