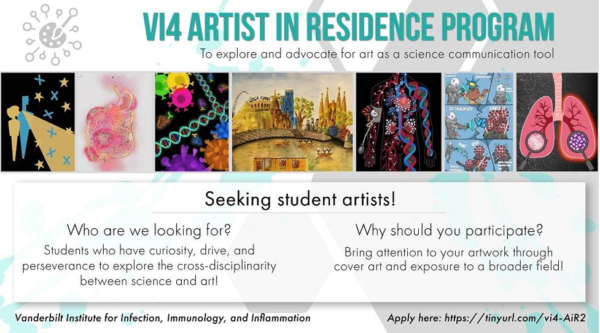 The summer 2021 Artist in Residence program applications are now open to all undergraduate students nationwide. Applications submitted online will be accepted until April 2. The residency is facilitated by the Vanderbilt Institute for Infection, Immunology and Inflammation.
The AiR program is an opportunity for undergraduate students interested in art-science intersections to explore innovative means of science communication. The residency consists of an artistic collaboration, within a research environment, with top-tier laboratories across the country.
Student artists will be immersed in the laboratories they are matched with to create artwork related to the labs' research. The goal of the residency is for work created during the 10-week program to be included in scientific manuscripts, submitted as cover art to various scientific journals and to promote the laboratories on public-facing platforms, including social media. In addition to the labs' promotion of the artists' work, collaborations may be featured at VI4 events and other exhibitions sponsored by ArtLab or in other Vanderbilt exhibits.
Examples of work from past artists-in-residence can be found here.
The internship is being conducted remotely and can be completed in parallel with other summer activities. There are 20 slots for the 10-week program. The residency will include a supply budget and a $500 stipend for accepted students.
The VI4 was established to bring together leading researchers in the areas of infection biology, immunobiology and inflammation in a concerted effort to understand key processes underlying disease. The institute's ultimate goals are to translate these discoveries into new therapies and to engineer strategies to harness the benefits of the human microbiome to improve human health.