Chancellor Daniel Diermeier thanked the university's staff during Vanderbilt's first Fall Staff Assembly for their hard work, perseverance and expertise to launch the Return to Campus plan, ensuring a promising start to the academic year. More than 1,250 staff attended the inaugural event, held virtually due to COVID-19 protocols.
"The Return to Campus plan took countless hours of work from our staff members. This was a major endeavor—one that required from you unprecedented coordination, innovation and trust in our common purpose," Diermeier said. "We know this was not the easy path, but we chose this path because our mission demanded it."
Diermeier began his first major address to staff by noting the important roles of staff members on campus.
"Whether you work in administration, Academic Affairs, communications, IT, finance facilities, dining or another critical area, you are driving our mission to support world-class scholarship and provide an empowering education to the leaders of tomorrow," he said.
Some staff were among the first to return to campus during the pandemic in order to perform essential duties. Others have continued to work remotely, often balancing childcare, family and other responsibilities.
He emphasized that everyone must continue to follow protocols that will help keep students on campus for learning and provide a safer environment for colleagues and the community. Staff who have been working remotely will continue to do so for the time being.
Diermeier said that while the pandemic prompted economic concerns for Vanderbilt and higher education in general, the university is in a position of relative financial strength compared to some of its peers. He credited the wise stewardship of previous university leadership and a reduction in expenses last spring for this encouraging news. The university will continue to exercise caution and flexibility as needed in the days ahead.
Building upon the institution's progress in equity, diversity and inclusion will be a cornerstone of future planning at Vanderbilt. The newly released 2019-2020 Diversity Report highlights some of the new initiatives, such as employee resource groups launched by the Office for Equity, Diversity and Inclusion and Human Resources. These include the Association of Vanderbilt Black Faculty and Staff and the LGBTQI+ Staff and Faculty Affinity Group.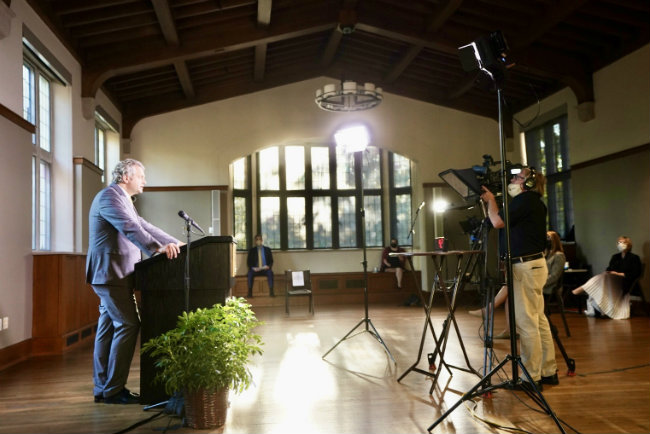 "Another important part of diversity is celebrating our past, and honoring the trailblazers at Vanderbilt, across our city and our nation," Diermeier said. The chancellor announced that Martin Luther King Jr. Day, an important time for historical reflections, will now be a paid staff holiday at Vanderbilt. He expressed thanks to the University Staff Advisory Council for its advocacy of this change.
In addition, the university will grant two administrative closure days at the beginning of the winter break. Paid time off for staff will begin on Tuesday, Dec. 22 (instead of Dec. 24).
The chancellor said that the university remains committed to FutureVU, which provides a framework for campus planning efforts while considering core themes that include accessibility, sustainability, transportation and more. Recent developments include a new daily parking program that will increase sustainable commuting and flexibility in regards to on-campus parking options.
In closing, Diermeier said that he "believes deeply in the collaborative spirit of One Vanderbilt and your ability to play a vital role in our scholarly and educational mission."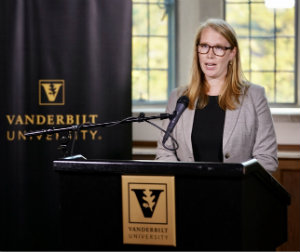 Caroline Johnston, president of USAC, also addressed the staff, providing an overview of the work of the advisory group to the university. She expressed thanks for the university leadership turning the USAC proposal to make MLK Day a paid staff holiday into reality.
Diermeier then presented the Anchor Down, Step Up Excellence Awards to nine individuals and 10 teams. These are one-time awards designed to recognize exceptional effort and innovation during this extraordinary time. Each recipient will receive an undisclosed cash award.
Diermeier concluded the assembly by surprising Vice Chancellor for Administration Eric Kopstain with the final award. "He has put the safety of our community first, while also upholding our mission: to provide an empowering education," Diermeier said.