Video by Zack Eagles
I Am Vanderbilt celebrates the people of Vanderbilt and the unique talents and contributions they bring to their work at the university each day.
Natalee Erb knows that Vanderbilt students undergo a great deal of personal growth outside of the classroom, and that their undergraduate experience begins to take shape soon after they arrive on campus.
As associate director of residential colleges, she works to develop and carry out programming for first-year, transfer and new international students to make them feel more at home on campus, as well as guides the 160 peer mentors and student leaders who will support them in that journey.
"Residential colleges are very important because they give students a complete experience," Erb said. "What they're doing in the classroom is so important for their intellectual growth and development, but what they're doing outside of the classroom is complementing that to form whole human beings who are well-equipped to change, really, the world."
Erb's desire to make new students feel nurtured and supported stems from her own experience as a college freshman.
"I was definitely very introverted, very shy, and I didn't go out of my way to make a lot of friends my first year," said Erb, who takes some responsibility for the experience. "It wasn't until I found an outlet, a community—I became a resident adviser my second year—that I felt I had a reason to stay on."
Erb came to Vanderbilt in 2011 to pursue a master's degree in higher education administration at Peabody College and served as a graduate assistant in the dean's office at The Martha Rivers Ingram Commons. "I knew when I went to grad school that orientation was the functional area I wanted to land in, because I had a negative experience as a first-year student and I wanted to be able to fix that for others," she said.
"Residential colleges are very important because they give students a complete experience."
Since earning her degree in 2013, Erb has been heartened to see the physical growth of Vanderbilt's residential colleges, as well as the deep sense of identity and loyalty students feel toward the living-learning communities in which they reside.
"I think what we're doing in the residential college system is integral to the Academic Strategic Plan, because everything we do connects with the plan to ensure our students are getting the most robust and professional preparation they can before going out into the world," she said. "Since I'm working every day to build that system and keep it running, that's one of the things that makes me feel my job is integral to the mission of the institution."
"Because Natalee is so mission-focused, it makes everybody in the group buy in to that and believe in it and work harder," said Sophia Lee, a senior medicine, health and society and cinema and media arts double major from Corpus Christi, Texas, who is serving as a VUceptor under Erb's mentorship for a third year. "We all become little versions of Natalee, where we're so efficient and competent, because we have such an efficient and competent and dedicated leader."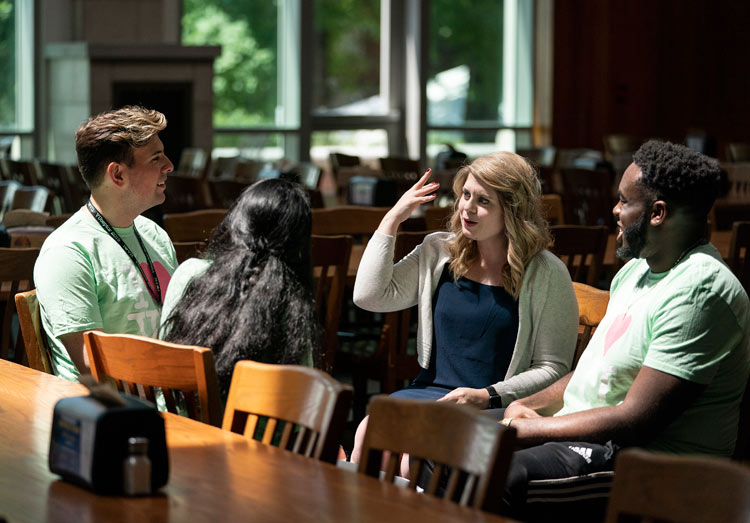 Erb says she wants the residential colleges to be a place where high-achieving Vanderbilt students can relax and find respite from the stresses of academics and daily life on campus. "I want them to feel like they have a space to be who they are, and to lean into that as much as possible."
More I AM VANDERBILT Stories