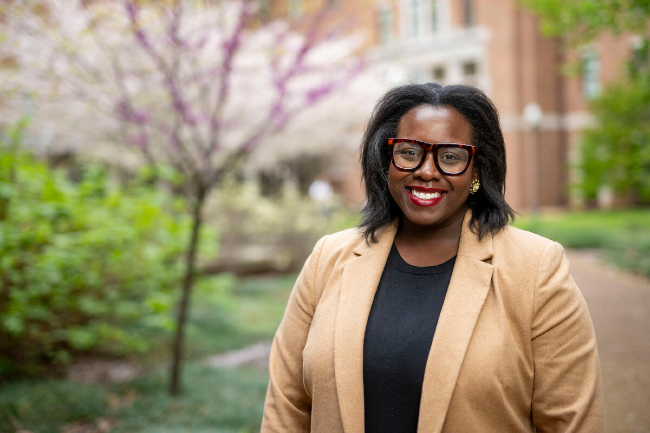 I Am Vanderbilt celebrates the people of Vanderbilt and the unique talents and contributions they bring to their work at the university each day.
Krystal Clark began her Vanderbilt career nearly 11 years ago working closely with students, first as associate director of Greek Life then as director of Student Leadership Development. In her current role, she seeks to make VU a better workplace for the university's more than 9,000 faculty and staff.
Since September 2020, Clark has served as director of Employee Learning and Engagement in Vanderbilt University Human Resources. She leads a small but dedicated team in offering a robust slate of learning experiences, leadership development opportunities, appreciation and recognition efforts and other avenues to increase engagement among employees.
"Our employees have played—and continue to play—a large role in Vanderbilt's status as a world-class institution of higher education," Clark said. "I do my part to contribute to Vanderbilt's mission by providing opportunities for employees to discover, appreciate and utilize with intention the best parts of who they are as they carry out their roles at the university.
"One can't pour from an empty cup, and my job allows me to provide sustenance that will help our employees play their roles in making our mission come to life," she said.
Clark has a deep love of public speaking and facilitation. "I am most comfortable when I'm in front of a room," she said. "Being with our employees virtually and in person presenting workshops and facilitating meaningful conversations is my favorite part of my work."
A native of Virginia, Clark credits friends in Nashville and colleagues at Vanderbilt with keeping her grounded, among other pastimes. "My Peloton is helpful in keeping me moving, which is critically important to my well-being. I play music all day, which de-stresses me. And I'm a big fan of movies and binge-watching on most streaming services," she said. "I'm not afraid to take a mental health day, and I'm a strong proponent of using your PTO."
–Kara Furlong