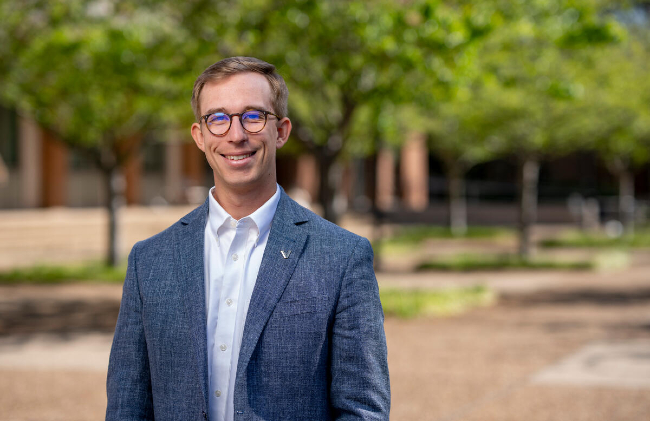 I Am Vanderbilt celebrates the people of Vanderbilt and the unique talents and contributions they bring to their work at the university each day.
Paul Flournoy's work focuses on a vital aspect of the Vanderbilt student experience—what comes next.
As a career coach at the Vanderbilt Career Center since February 2020, Flournoy encounters students feeling both excitement and anxiety about their futures.
"My role is focused around supporting students at Vanderbilt through coaching appointments and educating via our Vandy In Career Communities workshops," said Flournoy, who works with students going into STEM careers. "We meet the students where they are, so whether they have a plan or are just getting started, we can work with them on resources or best practices to be confident in their professional development."
Flournoy said he finds the job rewarding. "Being a Career Coach is unique because I have the privilege to collaborate with dedicated educators and serve incredible students who have a passion for making an impact in their field.
"Our office contributes to the Vanderbilt mission by working with students to gain clarity on their futures and identifying ways to highlight the skills necessary to succeed," he said. "I take incredible pride in connecting with each student that steps into our office, fostering an environment where they feel comfortable and motivated, and adapting my coaching style to each student's needs to bring out their best."
Away from work, Flournoy finds balance through exercise and spending time with family and friends. "I'm a big Philadelphia sports fanatic as well, so I'm usually thinking about Super Bowl LII. Go Birds!" he said.
"What I appreciate most about the Vanderbilt community is the collective commitment to learn and grow, together," said Flournoy. "It is a community that is never satisfied and always interested in creating a bold new path for all."
–Kara Furlong