Video by Zack Eagles
I Am Vanderbilt celebrates the people of Vanderbilt and the unique talents and contributions they bring to their work at the university each day.
Each year through field trips, science camps, open houses and stargazing nights, thousands of Middle Tennessee school students and community members visit Vanderbilt Dyer Observatory, where outreach astronomer Billy Teets engages them in the process of lifelong learning and discovery.
"Astronomy is at the heart of every child," Teets said. "One of the great things about being at the observatory is that we expose them to all these different facets of astronomy that they may not get at home or at school. That really spurs their interest, and a lot of them leave here wanting to know more."
A typical camp session at Dyer has students constructing water rockets, making star wheels, participating in a planetarium show and discussion, and using dry ice to create model comets—all under the guidance of "Dr. Billy," as he is known at the observatory.
Teets' own fascination with astronomy started in childhood and picked up steam in high school. After taking his first physics course as a college undergrad, he switched his major from engineering to physics and set his sights on becoming an astronomer.
While pursuing a Ph.D. in physics with a concentration in astronomy at Vanderbilt, Teets began volunteering at Dyer Observatory, located atop one of Nashville's tallest peaks near Radnor Lake State Park and part of the university's Division of Government and Community Relations. He fell in love with the place and the work, and after completing his degree joined Dyer full-time in 2012 as the observatory's outreach astronomer.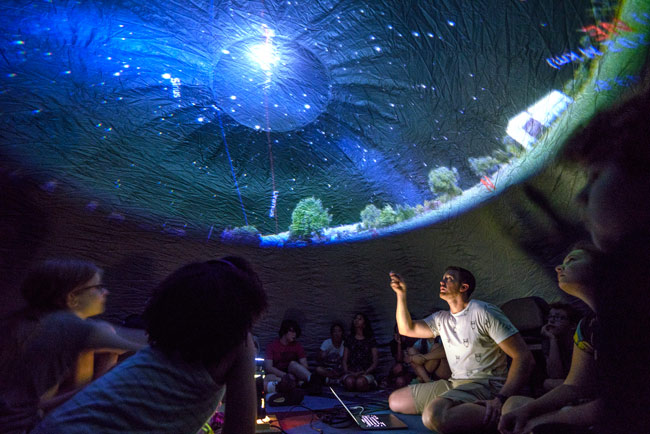 "Billy is one of the most amazing people I've ever met," said Rocky Alvey, director of Vanderbilt Dyer Observatory. "He seems to never tire of explaining a subject, and he has a unique ability to take complex science and make it understandable. I can't tell you how many times he's given talks or conducted workshops here, and people walk away saying, 'He made it so simple. Now I understand it.' Billy has a way of doing that, and we're very lucky to have him."
For Teets, the most satisfying part of his role is when a "lightbulb" goes off for a student.
"When we have a child who finally realizes something and you see their face light up, that's one of the most rewarding things," he said. "You know that you've done your job and made an impact on them."
More I AM VANDERBILT Stories